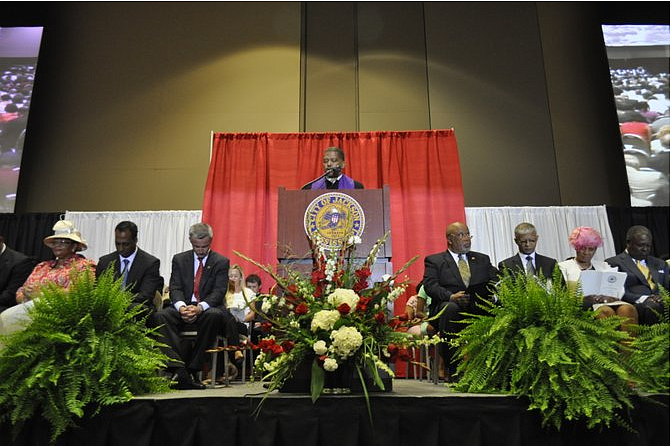 The Mississippi Supreme Court ruled today that a Jackson pastor, who was convicted of a sex crime in another state but had the conviction expunged, does not have to register as a sex offender in Mississippi.
Jeffrey A. Stallworth pleaded guilty to a misdemeanor sexual assault of a woman in Maryland in 2002, requiring him to register as a sex offender.
Later, in 2010, a Maryland judge expunged the conviction. Stallworth argued that he should not have to appear on the Mississippi sex offender registry. The Mississippi attorney general's office, which is representing the state, disagreed with Stallworth's argument.
In a split decision, the state supreme court agreed with Stallworth's interpretation.
"Under Mississippi law, an expungement removes all records relating to an arrest, indictment, trial, and finding of guilt, in order to restore one to the status occupied prior thereto," Presiding Justice Jess Dickinson wrote for the majority, which included justices Ann Lamar, James Kitchen, David Chandler, Leslie King and Josiah Coleman.
Dickinson continued: "At the moment Stallworth's Maryland conviction was expunged, the law provides that he was restored to the status he had occupied before he was convicted, which means that—in the eyes of the law—he had no conviction. And before Stallworth was convicted, he had no duty to register as a sex offender. So if we are to follow the law and recognize that Stallworth has been returned to that status, then we must find that he has no present duty to register as a sex offender."
Writing for the minority, Justice Michael Randolph, said: "The one fact that has remained constant in all of these proceedings, whether in Mississippi or Maryland, is that Petitioner entered a plea of guilty to committing a sex offense. The only new issue Petitioner brings to this Court is whether a Maryland expunction order relieves Petitioner of a duty to register as a sex offender. No Mississippi records of Stallworth's status as a sex offender have been expunged."
Chief Justice Bill Waller and Justice Randy Pierce concurred with Randolph's opinion.
Stallworth is also a candidate for the Hinds County Board of Supervisors.