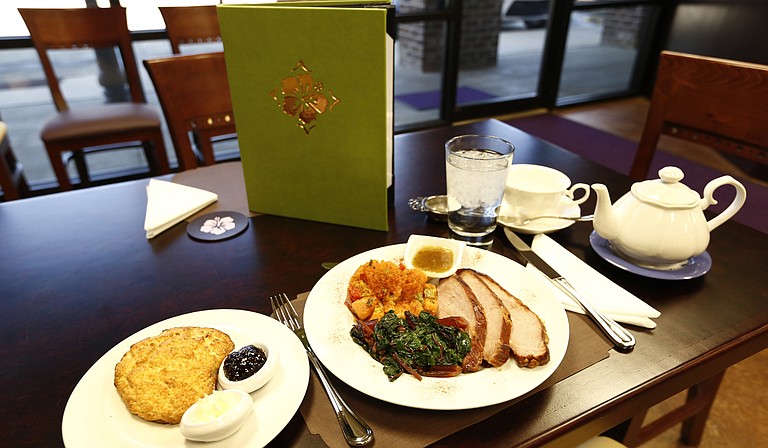 Wednesday, April 15, 2015
The Jackson area's restaurant scene seems to grow every time you look, and the last few months have been no exception. Here are some of the new local food and drink offerings in the metro area.
High Biscuits (7048 Old Canton Road, Ridgeland, 769-300-4948)
Karen Gordon opened British-style tearoom High Biscuits in November 2014. She kept her operation low-key until a ribbon-cutting with the Ridgeland Chamber of Commerce April 9, which served as the tearoom's grand opening.
Gordon introduced bubble tea to High Biscuits' menu during the event. She describes bubble tea as tea with milk and sweetener poured over ice and pearl-shaped tapioca balls, from which the tea gets its name.
High Biscuits imports its teas from a British company called the English Tea Store. The selection includes a special Earl Grey tea and vanilla blend, Gunpowder (a green tea with nut and oak flavors), and a French lavender and Chinese green tea blend called Lavender Butterfly. High Biscuits' specialty house tea is a black and green tea blend with maple and blackberry flavors, and customers can order it iced or hot.
The menu offers house-made chicken salad or chopped salad, a selection of soups including a mushroom bisque or leek potato, plain cream scones and southern teacakes.
Other food selections change on a daily basis, including a variety of sandwiches, pastries, savory tarts and quiches.
High Biscuits is open from 11:30 a.m. to 8:30 p.m., Monday through Friday, and on Saturdays for pre-arranged custom 
events only.
Zeek'z House of Gyros (132 Lakeland Heights Blvd., Suite P, Flowood, 601-992-9498)
Flowood native Sean Alexander opened Zeek'z House of Gyros Feb. 16. Zeek'z offers a variety of gyros (greek sandwiches) and wraps, including beef souvlaki with sauteed onions, lettuce and tzatziki sauce, and a lettuce wrap with a seasoned chicken sauteed onions and barbecue sauce. Zeek'z also features feta pitas, cottage-fried potatoes, curly fries with Greek seasoning and more.
The restaurant offers four types of made-from-scratch hummus, including garlic, Mediterranean olive and chipotle flavors, as well as a white American cheese with bacon for its fries. The Almost Famous Wrap is a gyro filled with a cottage fry, comeback sauce, beef, lamb, lettuce and onion. Zeek'z has seven beers on draft, 10 types of bottled craft beer, to-go service and live music every Thursday night.
Zeek'z House of Gyros is open Sunday through Thursday from 11 a.m. to 10 p.m., and Friday and Saturday from 11 a.m. 
to 11 p.m.
Filter Coffee House (128 Port Gibson St., Raymond, 601-857-8102)
Raymond native Julie Durr is living her life-long dream as the owner of Filter Coffee House, which she opened Dec. 19, 2014. Julie is the primary operator of the family-owned shop, and the her daughter, Madison Durr, works in the shop, as well.
In addition to coffee, Filter offers tea, frappes, espressos, smoothies, paninis, soup, brownie bites, muffins, cheesecake and pie. Filter brews its coffee and tea with local ingredients from provider Coffee & Tea Works in Raymond.
Filter Coffee House is open Monday through Saturday from 6:30 a.m. to 9:30 p.m. and Sunday from 1 to 8 p.m. The shop features live music on Thursday and Friday nights, and college students and faculty get a 10-percent discount with ID every day.