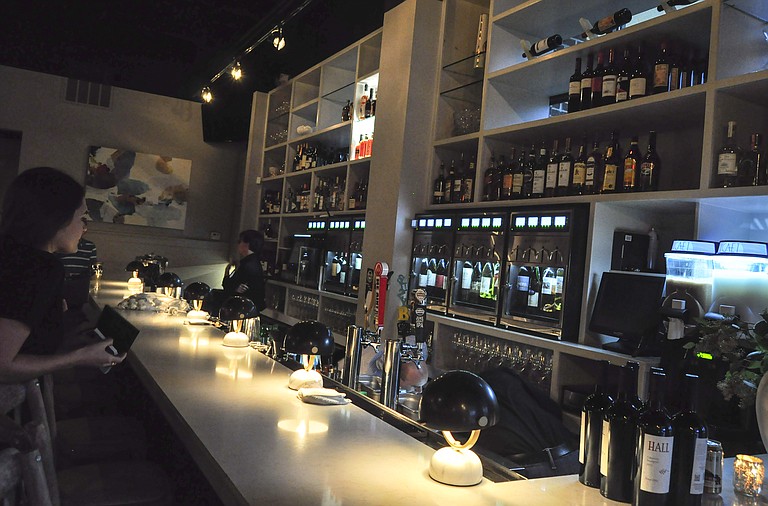 Tuesday, September 9, 2014
Award-winning chef Derek Emerson and his wife, Jennifer, owners of Walker's Drive-In and Local 463, have opened a new business in Miso's former location (3100 N. State St., Suite 102, 601-321-9169; entrance on Duling Avenue). The wine bar, CAET—pronounced "Kate"—is named after the Emersons' youngest daughter. CAET specializes in fine wines and features small plates, both sweet and savory, that complement the particular wine chosen, and tapas. The wine bar also enables guests who are going to Walker's for their meal to log in on an iPad and receive a text when their table is ready.
Emerson's secret weapon for the wine bar is a Napa Technologies wine-preservation system that keeps wine fresh for 30 days after opening by "re-corking" it with argon gas, enabling the bartenders to have a wider selection of wine by the glass. CAET will be the first location in Mississippi to have the system.
The crew opened the lounge for business on Sept. 3. It will be open for service 4 p.m. to 11 p.m. and midnight on weekends. For more information, see caetwinebar.com and "Emerson's New Groove" by Carmen Cristo (page 26) in this week's issue (Vol. 13, Issue 1) of Jackson Free Press, out Wednesday, Sept. 10.
Burgers and Blues Prepares New Location
On Oct. 1, Burgers and Blues (1060 E. County Line Road, Suite 22, Ridgeland) owner Steven Sahler will open a second location of his popular burger restaurant at 960 N. State St. (601-709-5171) in Jackson.
The Jackson Burgers and Blues location will be open Sunday through Thursday from 11 a.m. to 9 p.m. and Friday and Saturday from 11 a.m. to 11 p.m. The new Burgers and Blues will feature the same menu as the original (see burgersblues.com).
Burgers and Blues' menu features specialty items such as burgers topped with grilled pineapple or brown gravy or marinated in Lea & Perrins sauce, mini burgers, wing burgers topped with a variety of wing sauces, fry burgers and unique offerings like the Annihilator—a burger with fried egg and bacon sandwiched between two grilled cheese sandwiches and topped with ranch—and the GridIron, a burger topped with chicken bites, bacon, a fried egg, barbeque sauce and more. All burgers are available meatless, using Garden burgers.
The new Burgers and Blues location will also host the original's famous Whammy Challenge. The Whammy is a giant burger consisting of three one-pound patties and all the trimmings, served with a one-pound basket of fries and a vanilla shake. Any challenger who can finish the entire burger within 30 minutes gets their meal free; otherwise, it's $49.99. Winners also receive a Burgers and Blues T-shirt and get their picture put up on the Whammy Wall of Fame next to a signed photo from Adam Richman of the Travel Channel show "Man v. Food," which filmed at Burgers and Blues in November 2011. Any challenger who can beat the record finishing time—currently 15 minutes and 25 seconds—will also win the $1,500 Whammy Jackpot.
Three Seattle Drips Become Mocha Mugs
Two and a half years ago, Natalie and John Baten of Flowood purchased the Seattle Drip kiosks at 1800 W. Government St. in Brandon and 119 Grandview Blvd. in Madison, the Clarion-Ledger reported Sept. 3. Half a year later they purchased a third location at 5610 Highway 25 in Flowood.
Recently, the existing franchise contracts on the three coffee stops expired, allowing the couple to rebrand their purchases as Mocha Mugs.
Mocha Mugs will continue to use the same Seattle-based coffee roaster as before. The menu includes 15 signature drinks, espressos, chai tea, smoothies and frozen frappes as well as muffins, granola, biscotti, oatmeal, scones and cookies. The average time at the drive-through for each customer is about two minutes.
Each Mocha Mugs has a full-time manager and six to 10 additional employees. With fall and cooler weather approaching, the shops will soon be in their busier hiring season. Job applications are available at mochamugs.com.