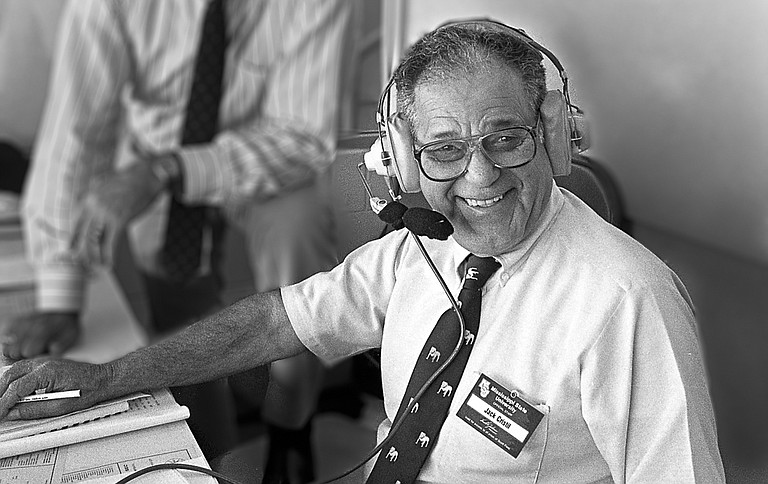 Monday, September 8, 2014
STARKVILLE, Miss. (AP) — Jack Cristil, an iconic radio announcer of Mississippi State University sports, died Sunday at 88 from complications of kidney disease and cancer.
In a news release, the university said Cristil died at the Sanctuary Hospice House in Tupelo after an extended illness
With his catchphrase of "wrap it in maroon and white," Jacob Sanford "Jack" Cristil broadcast more than 1,500 MSU contests.
Born in Memphis, Tennessee, to Russian and Latvian immigrants, Cristil declared at a young age that he wanted to be a radio announcer. After service in the U.S. Army Air Corps as an aircraft engine mechanic in World War II, he studied broadcast journalism at the University of Minnesota, then worked his way through a number of radio postings. While working in Clarksdale, he sent audition tapes to then-Mississippi State Athletics Director C.R. "Dudy" Noble, who hired him in time to start the 1953 football season with MSU's win over Memphis State.
Cristil would go on to 636 football games over 58 years, concluding with MSU's 52-14 win against the University of Michigan at the Gator Bowl in Jacksonville, Florida, in Jan. 2011. He also called 54 seasons of Bulldog basketball. When he retired after being diagnosed with kidney disease, he was the second longest tenured college radio play-by-play announcer in the nation.
"No school's broadcaster was as synonymous with their institution as Jack Cristil was with Mississippi State," MSU Athletics Director Scott Stricklin said in a statement. "Jack's passing leaves a large void, but I think all Mississippians appreciated his dedication and talent, and Jack will always be the voice of the Bulldogs."
The announcer could be famously critical of the Bulldogs on the air. After one thrashing by the University of Mississippi, he declared that the sponsored "Sonic Drive of the Game" would be his drive home to Tupelo, so void had the game been of Bulldog highlights.
"He was not a homer," said Sid Salter, MSU's director of public affairs. "He was not a warm and fuzzy guy. He called it like he saw it."
Salter worked with Cristil after his retirement to write a biography that raised more than $170,000 for journalism scholarships at MSU.
Cristil won a number of broadcasting awards and was the first person who was neither an athlete nor a coach to be inducted into the Mississippi Sports Hall of Fame in 1993.
He is survived by daughters Kay Cristil Clouatre of Baton Rouge, Louisiana, and Rebecca Cristil Nelson of Tupelo, Mississippi, and by sisters, Zelda Cristil Esgro of St. Louis and Miriam "Mimi" Cristil Lapides of West Palm Beach, Florida.
More like this story