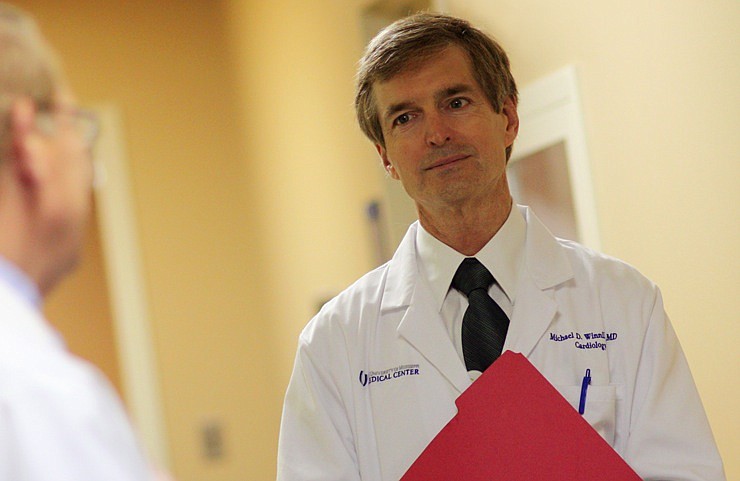 Monday, September 8, 2014
On Thursday, Sept. 4, University of Mississippi Medical Center held the grand opening of University Heart, a cutting-edge, 50,000-square-foot facility that features a complete scope of heart care, including state-of-the-art cardiac laboratories and treatment rooms. Dr. Michael Winniford is the medical director for UMMC's new facility.
Winniford is in charge of ensuring that the center is staffed with the needed health-care providers to deliver necessary care, ensuring the quality of care delivered and supervising the physician staff. He is also a practicing cardiologist at the center.
"UMMC opened its first cardiovascular catheterization laboratory in the basement back in 1960," Winniford said. "At that time, cardiology was a small program with limited diagnostic treatment options. Over the last 50 years, there's been dramatic growth and advances in the diagnostic technology for heart disease."
During those 50 years, UMMC met the increasing demand for heart testing and treatment by adding space throughout the hospital, which resulted in having heart-treatment areas widely scattered and in spaces that were becoming inadequate for the services. University Heart brings all UMMC's patient heart-care areas together under one roof.
"This gives us a new, state-of-the-art facility for diagnosing and treating patients with heart disease, increases patient convenience and leaves room for growth," Winniford said.
Winniford, 63, grew up in Dallas, Texas, and attended the University of Texas at Austin from 1969 to 1973, majoring in electrical engineering. A relative of Winniford inspired him to study cardiology after graduating.
"I had a cardiologist cousin growing up, and in college he let me shadow him at work a few times, and I became fascinated by the field," Winniford said. "I thought it was an exciting field to be in then, and that was reinforced in medical school, where I always enjoyed cardiology rotations the most. My electrical-engineering degree still comes in handy at the heart center because it helps to understand the advanced machinery that cardiology now uses. I'm glad to have had that experience."
Winniford started medical school in 1973 at Southwestern Medical School in Dallas and graduated in 1977. He completed his internal medicine training at Parkland Hospital in 1980 and his cardiology training in 1983. Winniford joined the faculty at Southwestern Medical School and remained there until he went to the University of Iowa in 1987. He directed the heart center there until 2002, when UMMC offered him the job of directing University Heart, which was still being set up at the time.
"I moved to Ridgeland and came to UMMC to start setting up the heart center, and we've been working on it here since then. We had a lot to do like identifying funding, setting up a location, and it all took a lot longer than we anticipated," he said.
Winniford and his wife, Winnifred, have three sons, Mark, Austin and Brian, and two grandchildren, Samantha and Anna.