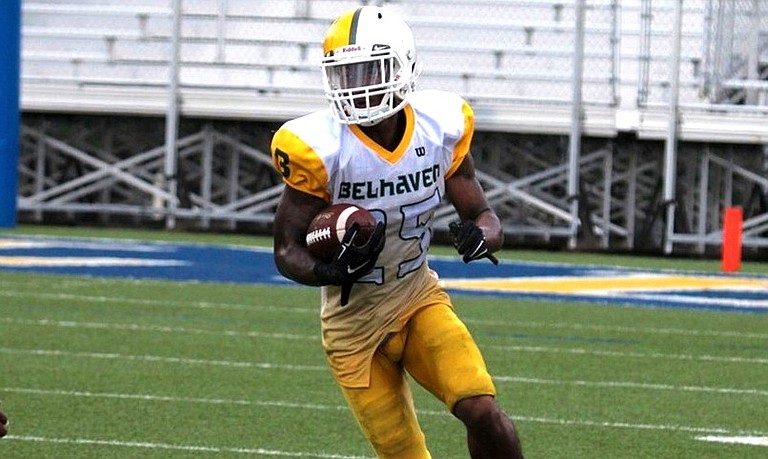 Thursday, September 4, 2014
It didn't take Belhaven University long to start the Hal Mumme "Air Raid" era off with a bang. The Blazers exploded for 29 points on the first quarter, making their opening game of the 2014 season against Texas College a runaway route with a 44-6 win.
Senior wide receiver Greg Livingston was the star of the offensive fireworks, scoring four touchdowns. The Houston native scored on three receptions and a punt return.
Belhaven got on the board before a minute and half had gone off the clock in the first quarter. Blazers quarterback Conner Preston found Livingston for a four-yard touchdown pass to give Belhaven the lead, and they never looked back.
Livingston scored his second touchdown of the day after returning a punt 39 yards to pay dirt midway through the first quarter. The Blazers led 22-0 after the Livingston punt return.
Preston and Livingston terrorized the Steers once again, this time in the form of a 39-yard touchdown pass. This second receiving touchdown for Livingston came less than one minute into the second quarter and made it a 36-0 for the Blazers at halftime.
The Belhaven offense slowed down in the second half, and they scored their final touchdown just past midway through the third quarter. Livingston scored his final touchdown of the day on a two-yard pass from Preston, which gave the Blazers a 44-0 lead.
Texas College scored its lone touchdown as the third quarter wound down. The Steers tried for a 2-point conversion but couldn't make it happen.
Livingston finished the game with 10 receptions for 93 yards and three touchdowns. He returned two punts for 39 yards and one touchdown.
The wide receiver graduated from Spring High School in Houston. After spending three seasons at McMurry University, Livingston came to Belhaven with new coach Mumme when he left the same university. At McMurry, he set several school records and received an honorable mention from the American Southwest Conference as a freshman. As a sophomore, Livingston got on the All-National Christian College Athletic Association first team and the second team as a junior.
Next up for Belhaven is their home opener against Mississippi College this Saturday. Kickoff is set for 7 p.m. at H.T. Newell Field and will be the season-opening game for MC, who is moving from Division III to Division II.