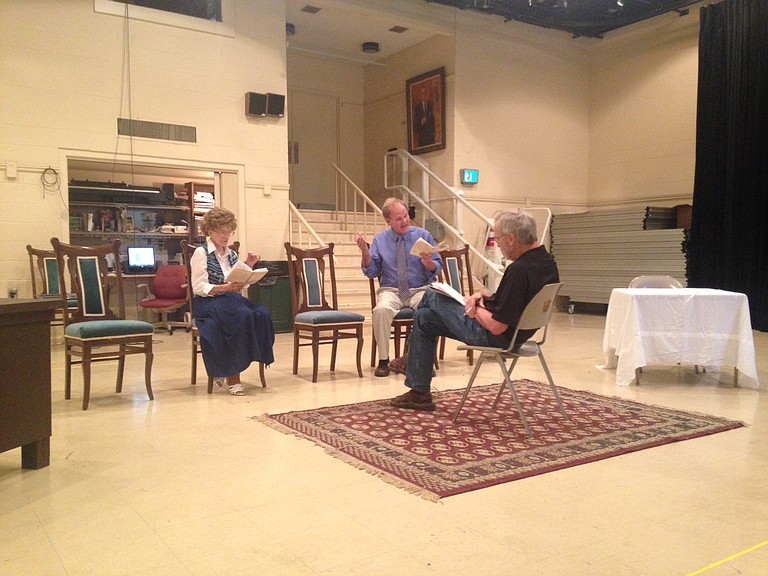 Wednesday, September 3, 2014
"Mrs. Mannerly" wants to teach Jackson some manners. New Stage Theatre and Director John Maxwell will present "Mrs. Mannerly," a play inspired by Jeffrey Hatcher's memories of his childhood etiquette classes, as the fall season opener Sept. 9-21.
The two-actor show is set in Steubenville, Ohio, in the summer of 1967. Shirley Simpson plays Helen Anderson Kirk, a mysterious older woman who teaches manners classes on the second floor of the YMCA, earning her the name "Mrs. Mannerly." Ray McFarland portrays the young playwright, 10-year-old Jeffrey Hatcher.
During the cast's second rehearsal a couple of weeks ago, the two actors practiced their lines, seated in a downstairs room of the theater. Simpson's Kirk was classy and graceful. She carried herself with the sort of reservation that incites you to analyze her every word, following them like a trail that you hope will lead to the truth.
McFarland's transition into a 10-year-old boy with a high-pitched voice was seamless; he broke into fits, huffing and protesting in the most believably childish way. Maxwell, who has directed the two actors numerous times, calls them "splendid talents"—a reason in itself for the play to succeed. He guided the two around the makeshift stage, reading excerpts from the script and giving his interpretation, urging them to let the script speak for itself and keep the simplicity of a teacher-student relationship intact.
That relationship doesn't stay simple for long, however. Hatcher, a privileged child who is only good at being polite, becomes obsessed with beating each of his classmates out to earn the first perfect score in Kirk's 36 years of teaching. He and Kirk become more complex, while the other characters remain one-dimensional, drawing the attention to the developing relationship between the main characters and accurately representing how we tend to remember things from our childhood.
When Hatcher discovers a secret from Kirk's past, he's more determined than ever to earn the perfect score, defeating not only the other students, but also Mrs. Mannerly's high standards. As the play progresses, it uses witty dialogue to explore societal themes, including how childhood shapes a person as well as the difference between how others perceive us and who we really are.
McFarland also serves as the voice for five other students who compete with Hatcher for a perfect 100 on Mrs. Mannerly's final test, a feat that has never been accomplished by any of Kirk's students.
Maxwell, who directed Fish Tale Group Theatre's "The Laramie Project" was recently cast in "Voices of Freedom Summer," says the play is pure amusement. "It's fun, it's entertainment. It's a great show to start the season because it's a general audience pleaser," he says. "There's a time for that, too."
"Mrs. Mannerly" will be at New Stage Theatre (1100 Carlisle St., 601-948-3533) Sept. 9-21. Shows on Sept. 9-13 and Sept. 16-20 are at 7:30 p.m., and matinees are at 2 p.m. Sept. 14 and 21. Tickets are $28, and $22 for students and seniors. For more information, visit newstagetheatre.com.
More like this story