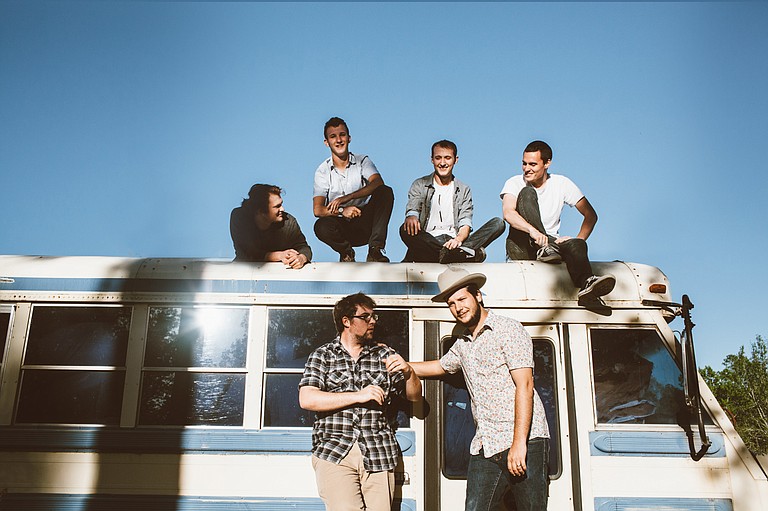 Wednesday, September 3, 2014
Oxford, Miss., band Holy Ghost Electric Show dove into the melting pot of music to create a whole new sound—something All-American. Early on, vocalist and rhythm guitarist Cody Rogers, 23, of Corinth, decided it was time for his one-man show to evolve into something grander. He enlisted the help of his brother Jake Rogers, 21, on guitar and banjo, trombone player and keyboardist Jesse James, 23, drummer Austin Wheeler, 22, lead guitarist Will Shirley, 22, and bass player Connor Wroten, 21.
The sextet began playing the local Oxford circuit, gaining fans from the nearby University of Mississippi.
"It was a lot of shameless self-promotion," Cody Rogers says. "We all worked a lot in Oxford, so we were able to slowly get into the local bars and work our way into becoming an Oxford favorite."
Because every member brings something different musically, Rogers says it's easy for the band to experiment with sound and find what works. The group's latest album, "The Great American Holy Ghost Electric Show," gathers inspiration from progressive, indie and Americana music. "We don't set out for one particular sound. Everything is borrowed from somewhere," Rogers says. "America is a melting pot of beliefs and cultures. We make American music."
Lyrically, poets Charles Bukowski and Allen Ginsberg have influenced Rogers greatly. Rogers has been writing poetry since age 12 and says his interesting upbringing—his father worked as an inner-city preacher—inspires most of their songs. Rogers says that growing up in the projects taught him to see the poetry within others' stories. A crowd-pleaser and one of Rogers' favorite songs, "Tin Man," tells the tale of a homeless man who believed he was Jesus Christ. "It's these stories that you'll never hear about that makes up our music."
For Rogers, the biggest challenge in working with a larger group of musicians is working around schedules. "We can't quit our day jobs just yet," Rogers says with a laugh. "We still gotta pay rent."
At concerts, Rogers and Holy Ghost Electric Show like to involve the listener as much as possible. He believes that bringing down the barrier between audience and musician has become easier since the release of the band's album in January of this year. "Be expecting a show that you wouldn't expect whenever you listen to the album," Rogers says, describing the experience as something between a punk-rock store and a church revival.
Despite how little time has passed since the release of "The Great American," Holy Ghost Electric Show has almost completed writing the next album. The new music will focus mainly on growing up in Mississippi and small towns, working in different viewpoints from odd characters that the band has met along the way.
"We want to show the good things people miss and miscommunications about the terrible things that still happen," Rogers says. "We want people to relate, even if they aren't from Mississippi."
Holy Ghost Electric Show will perform with Sleeping Bulls as part of Hill Country Records' Artist Showcase at Duling Hall (622 Duling Ave.) Sept. 6. Advance tickets are $10; $15 at the door. Doors open at 6:30 p.m.