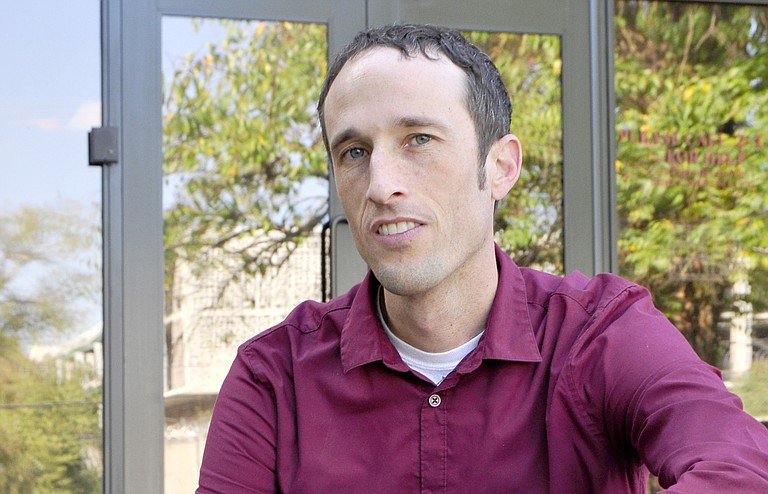 Wednesday, October 29, 2014
Jed Oppenheim
For Jed Oppenheim, activism is a family business. When Oppenheim was a kid growing up in Los Angeles, his father, Gene Oppenheim, would take him to labor union and anti-Apartheid rallies, and his mother, Patricia Hoffman, was deeply involved in labor and women's rights struggles. While he's only been in Jackson for six years, Oppenheim has made a big difference in his own right.
He worked for the Southern Poverty Law Center for five years, and co-organized activities for the Freedom Summer Youth Congress this past summer. Now he is the director of community engagement for the United Way of the Capital Area.
Before he died, Mayor Chokwe Lumumba chose Oppenheim to represent Ward 7 on the Jackson Public Schools' board of trustees. "We have a 65 percent graduation rate (in Jackson), which is a tragedy," he says. "I'm accountable to 30,000 kids and their parents or guardians in the district. That was the same before I was on the school board, because we're all accountable for our kids."
Oppenheim works to make a difference in the many issues that Jackson students face, including behavioral struggles and domestic violence.
"When I think about domestic and sexual violence, it's emotional, (and) it's physical," he says. "Maybe it's through the school system that we're able to change those conversations but also to model good behavior as adults."
—Micah Smith
Cassio Batteast
When Cassio Batteast graduated from Tougaloo College in 2003, he turned his attention to a number of social-service programs, including Knowledge Institute of New Generation Scholars, or KINGS Leadership Institute, a transitional program he helped start for African American men that teaches life skills, which goes beyond higher education.
College dropouts rarely return to school, and the debt they accrue can haunt them for decades. It's about giving opportunities rather than forcing them into schools, he says: "Because people aren't talking to them about alternative careers, they choose other routes that might end with them being locked up."
Batteast, 35, is also passionate about building families. When the Kellogg Foundation chose him for a grant last year, the Charleston, Miss., native focused his three-year fellowship on teaching Jackson fathers to take an active role in parenting. His project assists single and non-custodial fathers—parents who don't have full custody—to build relationships with their children and the children's mothers.
"A lot of times, when we're looking at engaging parents, we leave fathers out," he says.
Batteast, who fathered his daughter, Lynisse Barnes, when he was only 18, realized the importance of a father figure, something he didn't have as a child. He teaches parents that they don't have to live in the home to be a present dad.
—Micah Smith
Bruce Kitchens
Even though, as a man, Bruce Kitchens doesn't resemble most victims of domestic violence—85 percent are women—his experiences are hauntingly common among people who are abused by their partners.
Kitchens, 25, says his partner was abusive from the start of their relationship in 2007. Like many victims, Kitchens hoped she would change over time. She didn't. Kitchens hoped she would change her behavior for the couple's son, who is now 7. She did not. He thought getting married would change things, but her abuse only worsened, he says.
"I was playing the blame game," Kitchens said, convincing himself that he was causing her outbursts. In the meantime, she alienated him from his own family, leaving one person to talk to about the couple's problems—her mother.
Kitchens, a law enforcement officer with a Jackson-area agency, said his wife would not end the relationship because she did not want their son to be without a father in the home. Then, in November 2013, after he says he found evidence of infidelity and was trying to leave, his wife shot him. Later, at her trial, he said she told a mostly female jury that she had been the victim and the jury acquitted her.
Kitchens is pursuing joint custody of the couple's son, whom he said is safe and living with his ex-wife's mother.
—R.L. Nave
Bruce Case
Bruce Case almost got into professional golf management before he was called to ministry. Now, he's the senior pastor at a Madison church that focuses its efforts in the community, partnering with schools and nonprofits to serve the needy and "make tangible differences," he says.
Parkway Hills United Methodist Church works with East Flora Elementary School and Madison Countians Allied Against Poverty to provide food for students and shelter for homeless people. The church, Case says, gets its strength from the diversity of its congregation.
Amid the hostile climate toward gays and lesbians in the state after the passing of Mississippi's Religious Freedom Restoration Act, Case's church welcomes members of all orientations, instead "rallying around God's grace," he says.
Case believes the key is building relationships with people who are different than you. "Once it gets beyond the abstract, I think it changes you," he says.
Case studied golf marketing at Mississippi State University briefly before earning his bachelor's degree in business administration. After graduating, he found himself at home in his church and eventually pursued a master's of divinity from Duke Divinity School.
Born and raised in Brookhaven, Case spent four years at a church in Alaska with his wife, Jen, and son, Tripp. When their daughter, Susannah, was born, they moved back to Mississippi. Now, the four of them plus Jen's mother, Sue, live in Madison.
—Anna Wolfe
Eric Abston
Working in law enforcement on the campus of Jackson State University led Eric Abston, 39, to working with the Mississippi Coalition Against Domestic Violence.
While many cases of domestic violence are reported on campuses, a majority are unreported or ignored. "You can practically see universities as the domestic violence capital of the world," Abston says. "All the cases I saw got me to gravitate toward the subject."
Abston formerly served as a field training officer in Tennessee, where he trained police how to investigate and respond to cases of domestic violence and sexual assault.
He is currently a prevention specialist for Jackson State University's Interdisciplinary Alcohol/Drug Studies Center, where he runs information booths, take surveys and conducts classroom presentations to educate students about the dangers of impaired driving.
On Aug. 11, Abston attended a meeting of the Mississippi Coalition Against Domestic Violence. Soon after, he joined a men's think tank focused on reducing domestic violence incidents.
"(MCADV Director Wendy Mahoney) noticed that it was men who got arrested the most in domestic-violence incidents, and she thought it would be good to get men together talking about the issue," he says.
On Oct. 2, MCADV began a Take the Pledge campaign, which encourages men to take an active role in domestic violence pevention and "Be a stand up guy, not a stand by guy." Abston and his fellow pledges are working to spread the campaign at JSU and other college campuses across the state.
—Dustin Cardon
Vondaris Gordon
Vondaris "Von" Gordon, 34, has dedicated his life to racial reconciliation and helping others face the problem of domestic violence. He is the youth engagement coordinator in Jackson for the William Winter Institute for Racial Reconciliation. He helps develop the annual Summer Youth Institute, which brings young people together and teaches them to be leaders in their communities.
Gordon also works with the men's working group—nine men who meet once a month to talk about domestic violence and how to approach other men on issues such as DV and misogyny in general—of the Mississippi Coalition Against Domestic Violence and bridges his work with the institute to the coalition through the common bond of communication.
"My work at the institute is about building the capacity of young people to see (what they want) ... for their communities," Gordon says. "Working with the coalition is about helping people see the type of families they want."
Gordon graduated from Bailey Magnet School in 1998 before attending the University of Mississippi, where he helped organize the first Statewide Student Summit on Race. He was also a founding board member for the Winter Institute, where he was the only student representative.
His upbringing shaped his attitude toward his work. At the age of 8, he moved from the Delta to Jackson. At 14, he found himself in Detroit. "Each time I moved was a culture shock," he says. "The way people would perceive outsiders was fascinating to me."
His goal with the Winter Institute is to help young people build stronger communities through education, empowerment and racial healing.
Gordon and wife, Porsha, have two daughters, Anna, 8, and Elmer, 5.
—Tommy Burton
Jean Ones Austin
Jean Ones Austin, program coordinator for Catholic Charities Jackson's Engaging Men Initiative, says his biggest challenge is older males who are not usually willing to talk about domestic violence.
"They avoid it," he says. "Young men are hungry and more receptive. At first it's hard for them to stand up and call the police in order to stop the abuse from happening."
Austin, 35, is a native of Haiti whose family migrated to Mississippi when he was 14. He graduated from Jackson State University in 2005 with a bachelor's degree in business administration. He later completed his master's degree in hazardous materials at JSU in 2011.
The Engaging Men Initiative works closely with the Rape Crisis Center, the Shelter for Battered Families and New Horizon Church International ministries. The program's funding comes from the U.S. Department of Justice Office of Violence Against Women. The goal of the initiative is to engage African American men and youth to discuss domestic violence. "We want these men to recognize the proper way to treat their wives and girlfriends," Austin says. "Don't be silent."
Before settling into his position at Catholic Charities, Austin spent nine years with the Federal Emergency Management Agency. "I wanted to give back to Catholic Charities since they were so instrumental in bringing me here from Haiti," he says.
Austin is married to Nedtz Gana Kensy and is a proud father to a newborn son, Yohan Jendyn.
—Tommy Burton
Felix Anderson
Felix Anderson has always served others, whether he was working as director of agency relations for the Mississippi Food Network, vice president of programs for Memphis's Mid-South Food Bank or a corporate trainer for the Newk's Eatery chain. When his mother, Delores Mae Smith, was killed in September 2013, he wanted to serve in another way.
"I didn't realize how prevalent domestic violence was until my mom got murdered," he says. "I wanted more men to get involved."
Anderson, 38, found an opportunity to raise awareness when he spoke with Maranda Joiner of radio station 99 Jams. Joiner was putting together Synergy Night, a regular poetry and music event, and needed a microphone.
"We purchased the microphone (for that event) because my mom loved to sing and loved to speak," Anderson says. Joiner named the microphone "Delores Blue" and dedicated it to Anderson's mother, decorating it with a purple scarf to remind singers, poets and audiences of the struggle against domestic violence. This inspired him to create I Am Her Voice, which partners with the Mississippi Coalition Against Domestic Violence to mentor young men and women to serve and respect one another.
"It's not just getting young ladies to see their worth," he says. "It's getting young men to see how worthy they are as well."
—Micah Smith
Brandon Jones
Domestic violence became a key issue for Brandon Jones, 37, when he served in the Mississippi Legislature from 2008 to 2012.
"It wasn't until I got to know shelter directors and social workers who were addressing the issue on a daily basis that I ... became more interested in helping out," he says.
The problem became inescapable when former Gov. Haley Barbour suspended trustee Michael Graham's life sentence in 2008. Graham murdered his ex-wife Adrienne Klasky in broad daylight at an intersection in Jones' hometown of Pascagoula in 1989.
"I think that the governor's use of the term 'crime of passion' almost as a way to signify that the murder was somehow less," says Jones, a lawyer with the Baria-Williams firm and executive director of the Mississippi Democratic Trust.
Decades of women's efforts weren't enough. "In Mississippi, there hasn't been a concerted, consistent effort by men to be part of the solution. ... It's a really dumb and ineffective thing to for us to try to fight something as big as domestic violence with one of our genders tied behind our back," he says. "... Men can really be powerful change agents when they engage in an issue like this one, because people don't expect them to."
The Mississippi Coalition Against Domestic Violence men's working group's slogan, "Be a stand up guy, not a stand by guy," represents a good start, Jones says. "The most important thing is to encourage men to pay attention and to be vocal and to be active."
—Ronni Mott