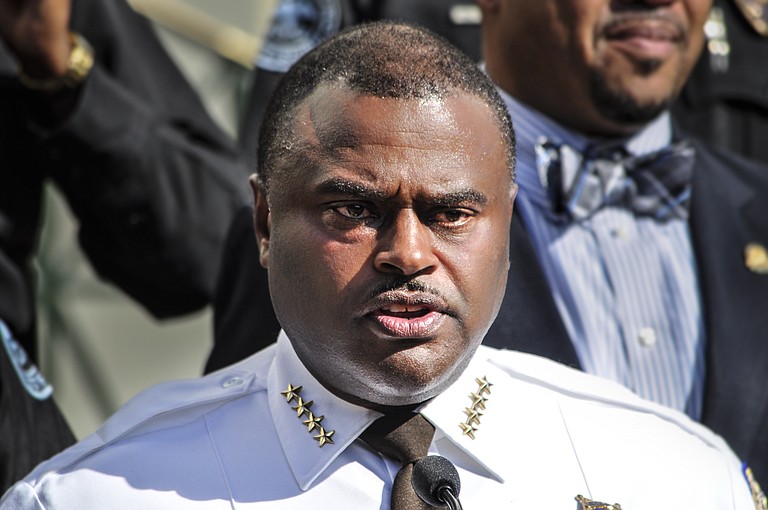 Wednesday, October 8, 2014
In the spring of 2013, David Barncy Jr. became a pretrial detainee, housed in Raymond Detention Center's Pod C. He says he spent six days sleeping on a steel bed frame with no mat and no lights in his cell; his body ached. In addition, his cell doors often malfunctioned and, once, maintenance workers had to pry the door open because he was trapped inside. Each time, Barncy said he alerted jailers about the condition of his cell.
"Often times, when a situation occurred and I made a complaint I was told 'We are understaffed' or 'Use what you can to protect yourself,'" Barncy wrote in a federal civil-rights complaint he filed in Sept. 2013 against the Hinds County Board of Supervisors, which maintains the physical building, and Sheriff Tyrone Lewis, who runs it.
Complaints such as the ones Barncy outlined in his lawsuit are not commonplace for currently and formerly incarcerated people at the county jail. Even the officials who are responsible for the jail agree that its staffing is adequate and that the aging building that shoddily built to begin with makes it hard to maintain order inside.
What those officials cannot seem to agree on is how to address it, either in the near term or the long haul. The inability to come to a consensus over fixing the jail was again thrust into the spotlight recently following a scathing report of a Hinds County grand jury that called Sheriff Tyrone Lewis incompetent to supervise the jail, one of Mississippi's largest.
Robert Smith, the county's top prosecutor called a grand jury together in 2013 after an uprising that left a housing pod unusable, the subsequent death of a prisoner named Larry David McLaurin and other incidents of unrest—empanelled the grand jury that delivered its findings on Oct. 3. Jail staff found McLaurin, his face swollen and his head lying in a small pool of blood. McLaurin's wrists and ankles were bound with an "unknown type of rope material," one jailer wrote on the incident report, although the report did not indicate whether the binding occurred pre- or post-mortem, if there had been an altercation and, if so, what sparked it. Earlier this year, an outbreak of violence on March 31 led to the death of 21-year-old Markuieze Bennett, who had been incarcerated for two years with no trial.
Lewis maintains that a logjam in the courts are the real culprit. "A detention center is a place where detainees are held for a short period of time," Lewis said during a Oct. 10 press conference.
"I can tell you that this is not happening in Hinds County because of the court system. Let me repeat: The court system is not functioning properly."
The four-page grand jury report followed inspections of the jail as well as the Hinds County Courthouse and concluded that "after hearing from (Lewis) and his team, we are of the opinion that Sheriff Lewis is incompetent to oversee the jail or keep pretrial detainees or state inmates safe in a manner or to keep the public safe from inmates."
In their findings, grand jurors note that during an inspection of the facility, they observed "the immediate after effects of arson" as well as a prisoner who exposed himself and another prisoner who possessed a cell phone, which they pointed out is a felony. In addition, the jail lacked an adequate number of jailers, and the guards on duty were frightened of the inmates.
"The inmates seemed to be in control of the jail as a result of the shortage," grand jurors wrote.
The grand jury also noted other health and safety concerns, including mildewed tiles in the prisoner's shower area, cell doors stuffed with toilet paper to prevent them from locking, several cracked glass windows and areas where lights do not work properly. The control and booking room requires new cameras and monitors and has several areas that are moldy, jurors observed.
The U.S. Department of Justice announced June 2 that the agency would open a "pattern or practice investigation" of both the Raymond Detention Center and the Jackson Detention Center downtown. A DOJ press release stated the investigation would focus "on whether Hinds County protects prisoners from harm at the hands of other prisoners and staff" and "improper use of force." Hinds County Circuit Judge Green said the probe is ongoing.
Lewis has long complained that his difficulty maintaining the building stems from the Board of Supervisors and County Administrator Carmen Davis holding the purse strings to the jail and must approve all repairs. Lewis is also a frequent target of District 5 Supervisor Kenneth Stokes, who this week offered a surprise motion to follow the grand jury's advice and remove the jail from the sheriff's purview. Stokes' motion only drew support from District 1 Supervisor Robert Graham; the remaining three supervisors voted to keep Lewis in place for the time being.
Judge Green empanelled a grand jury last year, she said, because a thorough inspection of the jail had not taken place since 2008. It found "a great deal of ongoing conflict in this 'arranged marriage' between the county and the sheriff."
"The sheriff claims that the county has failed to adequately maintain the basic maintenance needs of the facility. When they need a repair, a work order is submitted, but the County is slow to make the needed repair. The result is a facility that is in disarray in its basic electric, plumbing, smoke alarm, control boards, ventilation and security systems," they wrote.
In the most recent report, grand jurors also inspected the Hinds County Courthouse and found that "it is in good and safe condition," except for its outdated cameras and poorly functioning elevators, which have been a frequent source of conversation among county supervisors. Grand jurors also observed several areas of water damage, including "a constant drip from the ceiling that is damaging the clerk's office."
The JFP uncovered similar problems at the courthouse causing damage to thousands of files. Hinds County Circuit Clerk Barbara Dunn denies that any documents are at risk.
Supervisors also held an emergency meeting last week and, after an hour-long secret executive session, only to be used to discuss legal strategy and personnel issues, took no action. After that meeting, Board President Darrel McQuirter told reporters last week that taking any action on the grand jury report would be premature.
Mayor Tony Yarber of Jackson, which has the largest percentage of citizens incarcerated in the Raymond jail, urged officials to have a meeting of the minds to find solutions to problems that he said are bigger than the jail.
"Our criminal justice system in Jackson is not the responsibility of one person," Yarber told reporters in his office Monday.
Read the grand jury report at jfp.ms/jail_sheriff.
How We Got Here
Hinds County officials have long complained about jail's structural flaw that have existed since the day it opened in 1994. In the late 1990s, Hinds County went into mediation with Dunn Construction, which built the building and the jail's architect Allen & Hoshall Ltd., over a series of problems, including frequent electrical surges and a faulty foundation that kept cell doors from locking properly. The county poured about $500,000 into fixes, and eventually brought in an out-of-state consultant to perform a complete diagnosis. The architects eventually settled their part of the lawsuit for $650,000.