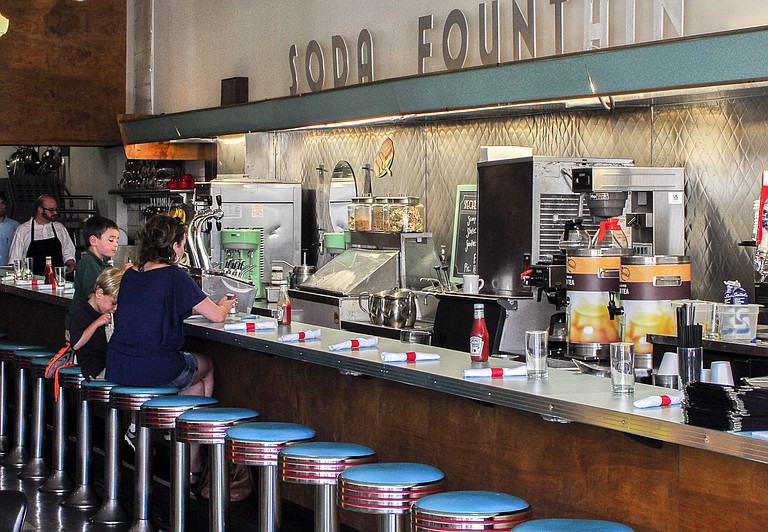 Brent's Drugs (655 Duling Ave., 601-366-3427) in Fondren has undergone quite a few changes in a little over a year. In June 2013, owner Brad Reeves opened The Apothecary, a "speakeasy" lounge inside the circa-1946 soda fountain that draws inspiration from the pre-Prohibition craft cocktail movement. In June of this year, Brent's underwent a few weeks of renovations that ended in July and introduced new additions such as a remodeled kitchen, a Sunday brunch menu and a to-go case at the front of the restaurant.
One unfortunate change that came to Brent's amid the new additions was the temporary changing of the restaurant's hours to an afternoon opening time, meaning it's been a while since restaurant patrons could enjoy breakfast at the Fondren soda fountain. However, as of last Wednesday, breakfast is back at Brent's.
Brent's offers classic breakfast items such as eggs your way, buttermilk pancakes, biscuits and gravy, French toast and granola parfait. Also available are a variety of omelets including cheese and egg-white omelets and the restaurant's own "Prescription Omelet." Brent's also offers breakfast sandwiches made with bacon, fried eggs and cheese on Texas toast, egg and cheese biscuits and sausage or chicken biscuits. Breakfast lovers can also choose from a variety of sides including hash browns, grits, oatmeal, fruit cups, waffles and more. Brent's also proudly serves Beanfruit Coffee, roasted locally in Jackson.
Breakfast hours at Brent's are from 6:30 a.m. to 10:30 a.m. Monday through Saturday. Also be sure to come in for Sunday brunch from 10 a.m. to 3 p.m.
UMMC and Mayo Clinic Deepen Collaboration Efforts
Mayo Clinic of Rochester, Minn., and the University of Mississippi Medical Center recently signed an agreement to deepen their collaboration in clinical trials, medical research, and education, UMMC reported in a release.
The clinics issued a memorandum of understanding to form an institutional bond in 2010, designed to enhance and expand shared initiatives in translational research and training. Mayo and UMMC launched their first collaborative study in 1995 in the Genetic Epidemiology Network of Arteriopathy, working with non-Hispanic White Americans from Rochester, Minn., African Americans from Jackson and Mexican Americans from Starr County, Texas.
Mayo's and UMMC's site principal investigators in GENOA—Stephen Turner, M.D., and Thomas Mosley, Ph.D., respectively—have been collaborating on GENOA and other genetic epidemiology-based research to better understand the differences in disease prevalence and progression between different racial and ethnic groups. Collaborative efforts between Mayo and UMMC also include clinical research projects that look at genetic variations in treatment response.
Many of the current Mayo-UMMC collaborations have been developed under the auspices of Mayo's Center for Clinical and Translational Science, for which UMMC's James Wilson, M.D., serves as an external advisory committee member. These joint activities include enabling UMMC investigators to access 26 online training modules offered by Mayo Clinic; designation of Mayo as an elite "Vanguard Center" of the UMMC-affiliated Jackson Heart Study; and a number of collaborative studies relating to kidney disease, uterine fibroids and more.
The clinics plan to collaborate in the future on graduate education, mentoring and development of emerging clinical researchers and faculty exchanges. The organizations will share Mayo's clinical research unit tools software, co-develop an Adult Congenital Heart Disease Clinic in Jackson and potentially develop a cooperative telemedicine program.
Lawyer Makes New Plans for the Landmark Center
Lawyer Zeev Yochelman, whose partnership acquired the Landmark Center downtown through an Internet auction in late July, recently detailed his plans to convert the vacant seven-floor office building into a mix of apartments, offices and retail, the Mississippi Business Journal reported.
Yochelman plans to build 80 residential apartments on the top two floors, as well as a restaurant, coffee shop, retail stores and a bank on the first floor. Yochelman will lease floors in between for offices. He did not give an estimate of costs involved in converting the more than 25-year-old building to mixed use, nor did he say how soon he can start the project.
Businesses involved in the project plan to make the Landmark's upper floors into apartments for downtown workers and professionals and will rent them at market rates. However, conversion to apartments on the lower floors will require extensive plumbing work before any office space leases can be issued. The residential component will also require creating about 150 parking spaces on site.
The newest designs on the Landmark Center follow a series of setbacks going back to when the Mississippi Department of Revenue passed over the building for its new headquarters in favor of the SouthPointe Business Center in Clinton. Then, last spring, the University of Mississippi Medical Center cancelled plans to purchase it.
The Board of Trustees of the Mississippi Institutes of Higher Learning had approved the sale of the building to UMMC for between $6.1 million and $6.5 million and planned improvements such as a new roof.