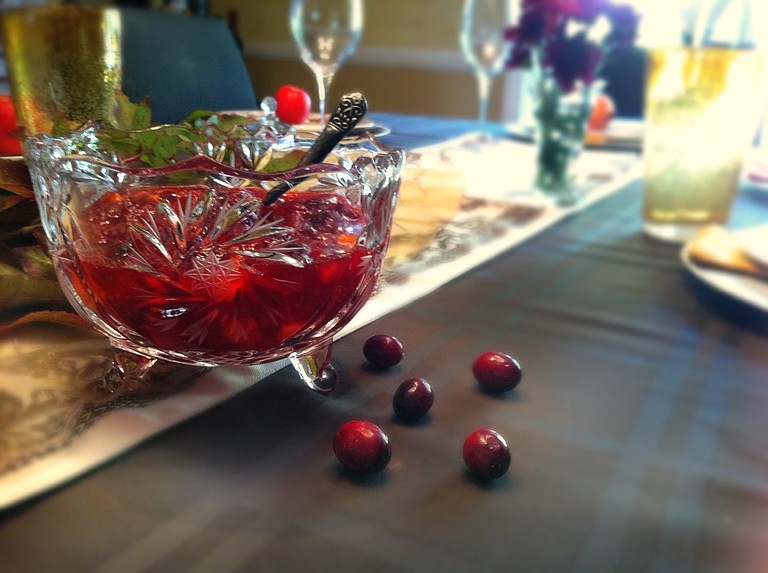 Tuesday, November 25, 2014
Because I was raised in an Italian household as a first-generation American, Pilgrims, native Americans and the American Thanksgiving were foreign to my family. Even though it was not a holiday my mother grew up celebrating, she wanted to make sure our Thanksgiving was memorable and focused on creating an amazing meal, adding an Italian flair to her dishes, of course. My mother also instilled the "thanks" in Thanksgiving, so when we sat for dinner, we would make sure to go around the table and share what we were most thankful for.
As much as I loved the traditions my mother created around food, I desired to create new traditions for my family. It took me years and countless mistakes to make a Thanksgiving dinner that I could say had my own flair, and was worthy of my mother's tradition.
The following three recipes—a traditional Italian-inspired turkey recipe, a sweet corn casserole (this one is a must, I promise) and a sweet-and-spicy cranberry sauce—have become part of my own Thanksgiving traditions.
For more of my recipes, visit mmgood.com.
Corn Casserole
This sweet-corn casserole is an amazing side dish that everyone will love. It is an easy recipe to make and does not require a lot of hands-on time.
Ingredients
1/2 cup butter, melted
1 15-ounce can creamed corn
1 15-ounce can whole corn, drained
1 cup sour cream
2 tablespoons sugar
1 box cornbread mix
Directions
Preheat oven to 350 degrees, grease an 8-inch by 8-inch baking dish and set aside.
In a large bowl, add creamed and drained whole corn, and stir to combine. Add your melted butter and sour cream and mix well. Add sugar and cornbread mix and stir until you see no lumps.
Pour your mixture into your prepared baking dish and bake for 35 to 40 minutes. The top should be lightly browned.
Sweet and Spicy Cranberry Sauce
Although cranberry sauce is a classic for Thanksgiving, I did not grow up eating it. When I created this recipe, I was looking for something a little different, something sweet and spicy.
Chipotles are a smoked jalapeno peppers often found in an adobo sauce. You can find them in the Mexican-food section of most markets. This cranberry sauce can be made a day in advance and stored in the refrigerator. Remove it from the refrigerator 30 minutes prior to serving.
Ingredients
1 cup sugar
1 cup water
1 12-ounce bag cranberries, fresh
Zest from an orange
1 chipotle (do not use the whole can, only 1 piece from the can), finely chopped
1/2 teaspoon adobo sauce from the can of chipotle
Directions
Place sugar and water in a pan and bring to a boil. Add fresh cranberries and bring back to a boil. Reduce the heat and let the cranberries cook for eight to 10 minutes, stirring occasionally.
While the cranberries cook, add the chopped chipotle and up to 1/2 teaspoon of the adobe sauce from the can (more or less to your desired taste) and stir. Serve the dish immediately or refrigerate it.
Brined Thanksgiving Turkey
Brining the turkey is a key factor for me. If you cannot find a brine or you are not comfortable with brining, you can omit that step.
I love the flavor of the citrus with all the herbs. Make sure to add the green apple because it really does makes a difference. Adding the bay leaves on top of the orange slices adds a slight smoky flavor and will also be great for creating gravy.
Ingredients
15 to 18-pound turkey
1 stick butter, room temperature
1 package poultry herbs, fresh
1 package sage, fresh
6-7 bay leaves
Zest from two oranges
Zest from one lemon
2 whole oranges, sliced
1 whole lemon, sliced
1 whole green apple, cored and chopped in large pieces
3 stalks celery, chopped in large pieces
1/2 cup orange juice
2 tablespoons vegetable oil
Salt and pepper to taste
1 bottle of white wine (doesn't have to be expensive), divided in half
Directions
Twenty-four hours before Thanksgiving, brine your turkey, following the instructions on the jar or package. Whether or not you brine, make sure to remove the neck and giblets that are in the cavity of the turkey.
On Thanksgiving Day, remove your turkey from the brine and, use half a bottle of wine to give your turkey a "wine bath," basically rinsing your turkey. This is my Italian secret). Reserve 1/2 of the bottle of wine for later. Pat your turkey dry with paper towels. Preheat your oven to 325 degrees.
On the bottom of a roasting pan, add the orange slices and lay the bay leaves on top. Set the pan aside.
Chop half the package of fresh herbs (excluding the bay leaves) and combine with the butter. Add the orange and lemon zest to the butter and mix well. Put the butter mixture under the skin of the turkey, focusing on the breast area. In the cavity of turkey, place lemon, and remaining orange slices, celery, apple and any remaining herbs.
Place turkey on top of the orange slices, breast side up. Add the orange juice and the remaining wine to the pan. Put some oil on the turkey and season it with salt and pepper.
Cover it with aluminum foil and cook until thermometer inserted into the thickest part of the thigh reaches an internal temperature of 180 degrees. The juices of the turkey should run clear.
It is amazing that more than 400 years ago, because of a successful harvest, a holiday celebration was created, one that is based around being thankful, family and food—three things I love most. This year, I encourage you to try new recipes in creating new traditions for your family. Also, do not forget to share what you are thankful for, whether you include your family, your health, the roof over your head or that Mississippi State is having an amazing year in college football.