Wednesday, November 5, 2014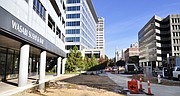 At close to 5 p.m. on Sept. 24, water spouted high into the air from a 12-inch water main into the air, flooding Capitol Street in downtown Jackson.
To her surprise, Lina Lynn, owner of Wasabi Bistro, says her restaurant never lost water. That's not to say she completely weathered the storm. The following day, even though Wasabi's water was working just fine, water to the McCoy Federal Building and most other downtown offices still had not been restored. Most downtown employees were sent home early, leaving Lynn with no customers. She had to throw out most of the food they prepped for the day.
"We were having problems paying the bills because we were closed down," Lynn said of the week they were dealing with water problems as she busily rolled sushi during a recent lunch hour.
Lynn declined to say how much money Wasabi lost that week, but said that it was substantial. She has said in the past that the restaurant's business has dropped 40 percent since construction began. The same is true of Wasabi's neighbor to the west, Elite Restaurant.
"At the end of the day, we're going to have a beautiful downtown," said Chuck Odom, who works with the Elite, adding "Right now we're not thriving, and we're not surviving very well."
"Even though they know it's a long shot, she and other businesses are talking about the possibility of legal action against either the city or the contractor, Madison-based Eutaw Construction Company Inc.
At the same time, Mayor Tony Yarber said the city is testing the section of water main that broke to determine the cause of the rupture. The possibility of the city seeking redress from contractors is "not off the table," Yarber told reporters recently.
Yarber dispatched one of his deputy chief administrative officers as an emissary to businesses on Capitol Street to smooth things over.
Before she opened Wasabi in December 2011, Lynn said then-landlords apprised her of the coming Capitol Street project, but assured her that business wouldn't suffer too much and, with the other developments like the Farish Street revitalization in the works, anyone moving downtown close to that action would be well-positioned to thrive. While downtown is slowly but surely picking up, with long-dormant office space filling up and the dark Landmark Building under new ownership and, reportedly, with at least one tenant lined up, downtown hasn't hit any King Edward-scale home runs in a while, which is making business owners like Lynn and (folks at the Elite) nervous.
Despite promises of a more walkable, business-friendly Capitol Street, it would be an understatement to say the project has been a headache—for the drivers who must navigate the construction and confusing system of newly installed roundabouts, city officials constantly bombarded with complaints and the frustration of local business owners. In that way, the trials and tribulations of Capitol Street represent a Catch-22 for growing Jackson's downtown.
How do you promote a downtown with such highly visible signs of growing pains?
Ben Allen, president of Downtown Jackson Partners, which controls the business-improvement district in downtown and thinks of itself as booster club for downtown, says being upfront is the best policy.
"We're honest with people. We don't sugarcoat anything," Allen said.
When courting private investors and businesses, Allen said his group is truthful about the challenges—he calls Farish Street a "mess" and said having three mayors over a span of one year disrupted the continuity of some projects—and admits mistakes were made. For example, of the $9.2 million Capitol Street project, which started construction back in July 2013, Allen said the window for completion in the original request-for-proposals was too wide. A larger window allowed the city to charge the contractor less than having a shorter timeline that would require crews to work fast and steadier, Allen said.
The project is slated for completion in February 2015. Even still, Allen is hopeful about the pace of public investment, which includes Capitol Street and Jackson State University's near completion of renovating the building at 101 West Capitol St., which will house between 300 and 350 students and 50 to 70 JSU faculty members. Crews have been prepping the property for more than a year, and JSU officials say they expect it to be finished in January, ahead of the spring semester. When government institutions invest, it tends to reassure skittish private developers, Allen said.
In the meantime, Lynn has proposed hosting a block party for Chinese New Year at the end of February and throwing downtown street festivals throughout the year.
City of Jackson officials have said they are open to Lynn's proposals. Jonathan Kiser of Neel-Schaffer, an engineering-consulting firm that is managing the project, declined to comment, citing the threats of legal action against contractors.