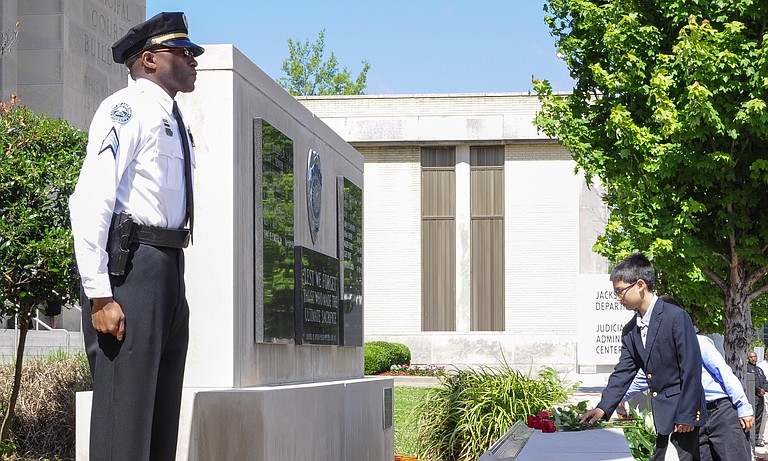 The Jackson Police Department held a memorial service this morning honoring the memory of fallen Jackson law enforcement officers.
The memorial was held outside of the department's headquarters downtown. Deputy Chief Dwayne Thomas served as the program officer, and Mayor Tony Yarber made special remarks to the families of the late officers.
The Jackson Police Department's ensemble supplied music, singing the hymn "My God is Awesome."
Sergeant Barry Hale called the names of the honored officers, and Renee Walker presented the families with lilies.
The program featured photos of two fallen officers, Detective Eric J. Smith of the Investigation Division and Officer Bruce D. Jacob of the Patrol Division.
Smith was killed last year in April during the interrogation of a homicide suspect, when the suspect obtained the officer's weapon. Jacob was killed last July after a car struck him on Interstate 55 while he was clearing debris from the interstate.
On behalf of the city, Yarber thanked the Jackson Police Department for its service and spoke about the integrity of the officers who gave their lives in the line of duty.
"Today, I want to take this opportunity on behalf of more than 175,000 people in this city to say to you men and women, we appreciate you," Yarber said. "... Men and women who put on these uniforms every day, they may not know you. They may not know your name, but they've taken a sworn oath to go out and possibly lay their lives down to ensure that you can sleep well at night, to ensure that when you ride these streets that you are safe, even when you don't know that danger is imminent.
"We will not forget, and we have not forgotten that our commitment is that we show you the same love that your loved ones showed to us."