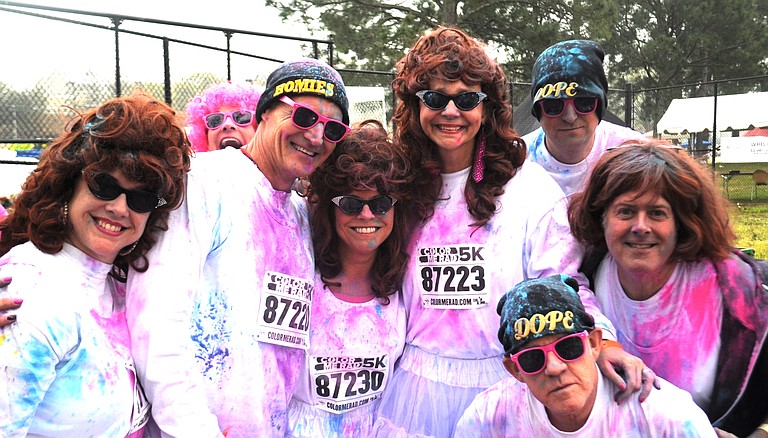 Wednesday, March 19, 2014
This week kicks off race and 5K season, and hopefully with it, beautiful spring weather just begging for folks to get outside and run around. Themed and charity runs are more popular than ever; here are a few hitting Jackson soon.
Color Me Rad 5K
This year marks the second Color Me Rad 5K in Jackson. Part of Zippity Doo Dah weekend, the route takes runners and walkers through Fondren's business and residential streets. Entrants who use the coupon code "fondren" will see 20 percent of their entry fee donated to Blair E. Batson Children's Hospital. Get out your fresh whites for 3.1 miles of color bombs.
When: March 22
Where: Fondren; starts at Mississippi Memorial Veterans Stadium
How much: $45 (until March 19)
Website: colormerad.com/race/jackson-ms
3.21 Run Up for Downs
This 3.21-mile run/walk is one branch of Running for Lily, an organization dedicated to raising awareness for Down's syndrome. The organization began when Jacksonian Brent Lape and his brother Todd decided to run 321 race miles in honor of Brent's daughter Lily, who has Down's syndrome. This year is the second Run Up for Downs event, with cash prizes for the top solo and team finishers, and a "virtual race" component for interested participants who can't make it on race day. Virtual racers sign up on the website and run 3.21 miles wherever and whenever they can during the event day—even on a treadmill.
When: March 22
Where: Old Trace Park, Ridgeland
How much: $15 for one-mile fun run/walk, $30 for 3.21 mile run/walk, $50 for 3.21 mile Buddy Up, $100 for 3.21 mile team, $25 virtual registration
Website: runnningforlily.com/3-21-run-up-for-downs
Fondren Urban Ultra
The brainchild of liveRIGHTnow and John and Beverly Brower, the first Fondren Urban Ultra is a 12-hour run where participants take on a 5K loop as many times as they can. The event benefits Cheshire Abbey, which will have dogs up for adoption. Capital City Beverage will have beer onsite, too.
When: March 29
Where: Fondren; starts at the corner of Duling Avenue and Old Canton Road
How much: Registration is closed, but the staging area at the start line is open to the community through the day.
Website: Find the event on Facebook
Sweetness Run/Walks Against Obesity
The Sweetness run/walk, now in its eighth year, offers a 5K and a one-mile fun run. Part of JSU's student life division, the event strives to "increase obesity awareness in Mississippi and to promote physical activity in the community with a concentrated effort on the youth," its website states.
When: March 29
Where: Walter Payton Center at JSU
How much: All prices until March 21; $10 one mile run/walk, $15 college students run/walk, $20 community 5K run/walk, $65 family team (4 member limit), $75 organizational team (3-5 member limit)
Website: jsums.edu/studentlife/event/8th-annual-sweetness-5k-runwalk
Racin' for the Seed
The Mustard Seed "seeks to meet the spiritual, physical, emotional and intellectual needs of  adults with developmental disabilities." This year, the Seedster community is throwing a fundraiser duathlon, which is a 5K run/walk, followed by a 15-mile bike ride and ending with another 5K run/walk. Entrants can choose the duathlon or just a regular 5K.
When: April 5
Where: Fannin Landing Park, Brandon
How much: $30 for individual 5K, $50 for individual duathlon, $35 per duathlon relay team member; registration is $15 more on event day
Website: racinfortheseed.com
Warrior Dash
Self-proclaimed as the world's largest obstacle race series, each Warrior Dash route offers a unique combination of landscape, mud, fire and boot camp obstacles. This year's Jackson race features an all-new route with 3.34 miles of moderately hilly terrain and 12 obstacles such as barricades to scale, barbed wire to climb under and watery trenches to wade through.
When: April 26
Where: Providence Hill Farm (2600 Carsley Road)
How much: $55 until April 1, $60 until April 22, $75 until April 24, $85 at event
Website: warriordash.com/location/2014-warrior-dash-mississippi
The Color Run
The Color Run calls itself the "Happiest 5K on the Planet" and promises 5 kilometers (3.1 miles) of color-splattering fun with a festival at the finish line. Another race where participants start wearing white and end painted every hue of the spectrum, the Color Run is calling its 2014 schedule the Kaleidoscope Tour, with surprises planned for each location.
When: May 24
Where: Mississippi Fairgrounds complex
How much: Until May 1, $30 for team members and $35 solo. After May 1, $35 for team members and $40 solo.
Website: thecolorrun.com/jackson/2014-05-24
Foam Fest 5K
With a catchphrase of "Get filthy clean," the Foam Fest 5K offers a plethora of obstacles, most of which involve mud, foam or both. Some of the obstacles include 40-foot slides, barriers, ropes, water tracks and giant slip 'n' slides. Foam Fest donates some of its proceeds to A Child's Hope Foundation.
When: May 31
Where: Mississippi Off-Road Adventures (118 Elton Road)
How much: $75 in advance, $90 on event day
Website: 5kfoamfest.com/Location/Index/40
Add more local races and 5Ks at jfp.ms/races2014.
More like this story