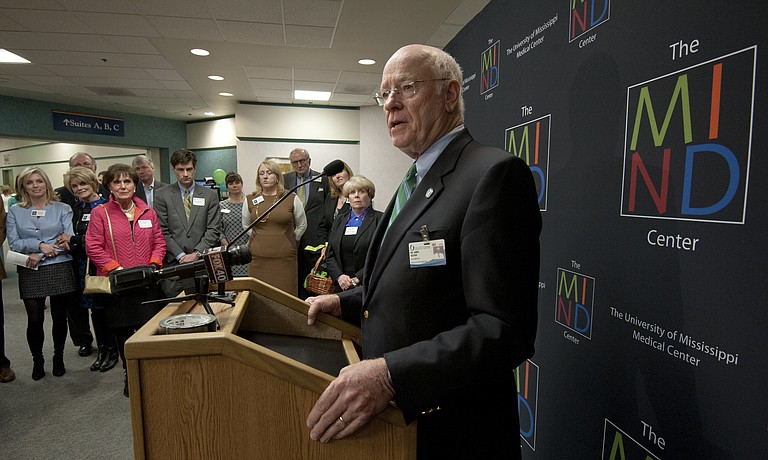 New Developments at UMMC
March 6 saw two important new developments for University of Mississippi Medical Center (2500 N. State St.).
UMMC held a gauze cutting and reception at the University Physicians Pavilion on the Medical Center campus for the opening of a new clinic in its Memory Impairment and Neurodegenerative Dementia Center.
The MIND Center is a major research and clinical care initiative for UMMC aimed at discovering the causes of and treatments for Alzheimer's disease and related forms of dementia. Dr. Tom Mosley, a nationally recognized expert in brain aging, leads the center, which brings together some of the largest neuro-epidemiologic studies ever conducted, state-of-the-art brain imaging and diagnostic studies, and powerful new genetic technologies.
With the opening of its clinic, the MIND Center at UMMC can move from a research-based operation to one that also provides patient care. The clinic will offer evaluative services, diagnosis and early intervention for memory loss. For information contact Jack Mazurak at 601-984-1970 or [email protected]
On the same day the MIND Center's clinic opened, the United States Department of Agriculture and the Appalachian Regional Commission selected UMMC to receive a three-year, $578,360 distance-learning and telemedicine service grant. The USDA will fund $378,360 with a $200,000 match from ARC.
The funding will provide infrastructure to connect health-care providers at 10 rural hospitals with the Telehealth Program at UMMC for emergency and specialty-care services. The sites, considered "medically underserved areas" and "health-professional-shortage areas" by the USDA, include:
• Calhoun County Medical Clinic, Calhoun City
• Trace Regional Hospital, Houston
• *Itawamba County Hospital, Fulton
• Kemper County Medical Center, DeKalb
• Tishomingo Health Services, Inc., Iuka
• Webster General Hospital, Eupora
• Yalobusha General Hospital, Water Valley
• North Mississippi Medical Center-Pontotoc, Pontotoc
• Kilmichael Hospital, Kilmichael
• Holmes County Hospital, Lexington.
Innovate Mississippi Hosts Startup Weekend
From May 16-18, Innovate Mississippi hosts Startup Weekend, a 54-hour event that will provide networking, resources and incentives for individuals and teams to take an idea and launch it into a business.
Formerly called the Mississippi Technology Alliance, Innovate Mississippi focuses on technology-based economic development and assisting innovative startup companies, inventors and entrepreneurs. Innovate Mississippi's goal is to strengthen the state's manufacturing and renewable energy innovation economies.
Startup Weekends allow entrepreneurs and aspiring entrepreneurs to find out if startup ideas are viable. On average, half of Startup Weekend's attendees have technical or design backgrounds while the other half have business backgrounds.
The event begins with open-mic pitches Friday. Attendees bring their best ideas and inspire others to join their team. Over the weekend, teams will focus on customer development, validating their ideas, building a minimal viable product and other vital activities. On Sunday evening, teams will demo their prototypes and receive feedback from a panel of experts.
More than 36 percent of ventures started at past Startup Weekend events are still going strong after three months. Roughly 80 percent of participants usually plan on continuing working with their team or startup after the weekend.
Startup Weekend takes place in the Leggett Center at Millsaps College (1701 N State St.). Visit the Startup Weekend website to register or learn about pricing, requirements and other information, or contact Tasha Bibb at [email protected] or 601-960-3624, or Lee Morris at [email protected] or 601-960-3640.
Entergy Mississippi Offers Grants for Nonprofits
Entergy Mississippi is offering grants to nonprofit organizations through its Open Grants Program and Micro Grants Program.
The amount and nature of an organization's request determines whether it can apply for an open or micro grant. Entergy's Open Grants Program focuses on improving communities as a whole, while the Micro Grants Program accepts requests for up to $1,000 in all program areas: arts and culture; community improvement/enrichment; economic development, education/literacy, environment and healthy families.
If a grant request is education- or literacy-focused, or focused on low-income initiatives, the organization can apply for an Entergy Charitable Foundation grant.
The deadline for open or micro grant applications is April 1. The Entergy Charitable Foundation's deadline for accepting applications for its second 2014 grant cycle is August 1.
All grant applications, whether from Entergy Mississippi or the Entergy Charitable Foundation, must be made online. The guidelines and grant forms are available on Entergy's website.