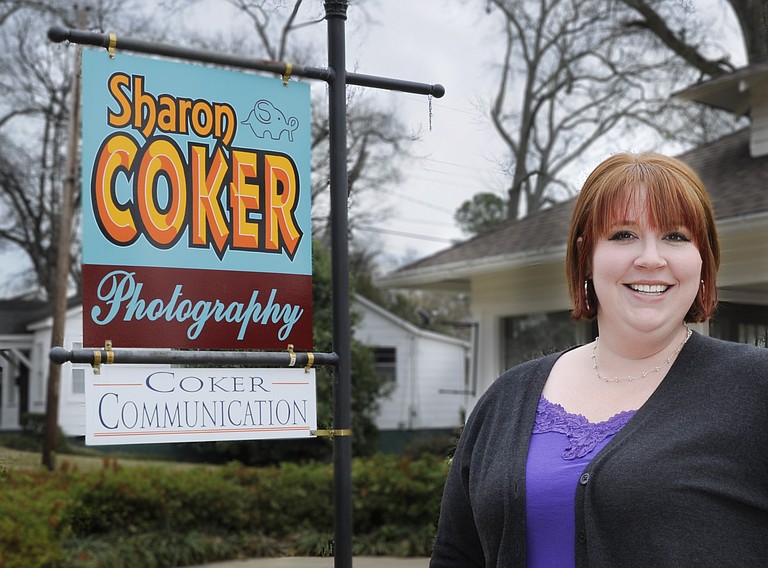 Lately, Sharon Coker's home has felt a little crowded, with her family and photography business all under one roof.
The photographer has been working out of her home since the birth of her daughter, Lily, who is now 2, but now, she says she's ready to take her work elsewhere, to her new studio in Fondren.
Before getting into the photography business, Coker attended Ole Miss for a couple of years, majoring in art, but she had to return home to help take care of a sick parent. She had a variety of jobs after that, ending up in an office situation where she sat across the desk from a woman "who looked so sad all of the time."
That woman made Coker realize that life isn't just about making money. The notion became a reality when, on her wedding day, her older brother, Robert Smith, who is also a photographer, gave her a camera and taught her how to use it. When he told her "to get with it," she knew it was time to try 
something different.
Weddings, senior portraits and fashion shoots are the biggest aspects of Coker's business right now, with nuptials being the lion's share. She already has 25 weddings scheduled for 2014, many of them out-of-town in places such as New Orleans, Phoenix, Wisconsin, and, maybe 
Miami Beach.
She says the first wedding she photographed was a nightmare. Originally, the bridal party consisted of seven bridesmaids, seven groomsmen and one ring bearer. But when Coker showed up for the rehearsal, it had grown to 14 bridesmaids, 14 groomsmen, six junior bridesmaids complete with wings, and two or three ring bearers. To top it off, one of the bridesmaids fell down the stairs when entering the reception.
Weddings pay the bills, but fashion and magazine photography are Coker's raisons d'etre. Jackson Free Press featured her work on the cover of its 2013 
Beauty & Style issue, and Coker has taken photos for fashion spreads in Social South Magazine. Magazines such as Beau NU, Essere and Visual Artistry have featured Coker's fashion and conceptual work in and on their covers. She was Visual Artistry's Artist of the Month in September/October 2013. Premier Bride Magazine has also featured Coker's photography multiple times. Her work is on the cover of the magazine's Winter/Spring 
2014 issue.
But Coker is interested in more than just personal success—she loves to make people feel good about themselves and help celebrate who they are. She tells the story of a young woman who lost 112 pounds in six months and wanted a set of photographs to celebrate feeling good about herself. Coker put together a creative shoot, and with the right posing, lighting, clothing, and location, "she opened up like a flower," she says. "It made me so happy to see her so happy."
Coker is planning an open house at her new studio March 6 during Fondren After 5 in conjunction with neighbor Trim Salon, which will do the hair and makeup for the event. During the open house, Coker's studio will have music, models and a fashion shoot with clothing from Mulberry Dreams, also located in the 
Fondren district.
Sharon Coker Photography is opening at at 
425 E. Mitchell Ave., along with her husband's business Coker Communications. Visit sharoncoker.com for 
more information.
More like this story