For years, lifelong Jackson resident Lee Williams Jr. desired to bring a taste of Memphis to the capital city.
"You hear about things like Chicago-style food, but for me I've always known how much I love Memphis-style barbecue," Williams said. "I wanted to be able to bring that distinctive, smoky flavor to a restaurant in Jackson."
In 2011, Williams, 50, made that dream a reality. He purchased a recipe for Memphis-style barbecue from a friend in Memphis who operated a wing restaurant, and after agreeing on terms and pricing, he opened the Purple Diamond Sports Bar & Grill together with co-owner Elnora Newson.
In August of last year, Williams made upgrades to Purple Diamond's kitchen that enabled him to expand the restaurant's menu to include wings.
Purple Diamond has a lunch special of three wings with fries and a drink for $5.75. The menu also includes burgers, chicken strips, pan-fried catfish and more. A 100-piece wing platter is available for large groups.
The restaurant is located at 3190 Highway 80. Purple Diamond is open Monday through Thursday from 11 a.m.-9 p.m., Friday, and Saturday from 11 a.m.-12 a.m., and is closed Sundays. For information call 601-949-3300 or follow Purple Diamond on Facebook.
Great News for Jackson Oyster Lovers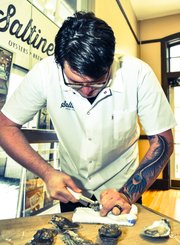 The coming months are promising for any oyster lovers in Jackson, as two new oyster-centric restaurants will make their debut.
Local chef Jesse Houston's Saltine Oyster Bar is opening in the middle of August in the west end of Duling School (622 Duling Ave., Suite 201).
Saltine will serve fresh oysters from the Gulf and both coasts, and also have a strong focus on local craft beers. Houston has been working closely with Lucky Town Brewery and plans to do beer pairings similar to wine pairings, craft specially flavored beers of the day and even introduce a special oyster stout that uses oyster shells as part of the brewing process.
In addition to Saltine, New Orleans eatery Drago's Seafood Restaurant is opening its Jackson location next door to the Hilton on County Line Road in the former Huntington's Grille building.
The Cvitanovich family, owners of Drago's, opened their original location in Metairie, La., in 1969 and another in the Hilton New Orleans Riverside. The Jackson Drago's will seat 400 and should bring about 150 new jobs to Jackson. A prominent feature of the eatery will be a 50-foot grill where customers can watch their oysters cooking. The Cvitanovich family expects the restaurant to open sometime in October.
La Brioche Comes to Fondren
Sisters Alejandra Sprouts and Cristina Lazzari opened La Brioche, an authentic French patisserie focusing on international sweets, breakfast pastries, mousse cakes, petit fours and confectioneries, in the Jackson Enterprise Building (931 Highway 80 West, Suite 174F) on Nov. 1, 2013. The two also brought La Brioche to the Mississippi Farmers Market (1207 Mississippi St.) soon afterward. Now, the sisters are set to open La Brioche in Fondren mid-September, in the space that once housed Blithe & Vine in the Fondren Corner Building (2906 N. State St.).
Originally from Rosario, Argentina, Sprouts and Lazzari have traveled across Europe and South America throughout their lives, inspiring them to fuse different cultures through pastries. Sprouts completed the L'Art de la Patisserie program at the French Pastry School in Chicago, Ill., under the teachings of Chefs Jacquy Pfeiffer and Sebastien Canonne, while Lazzari developed a love for fine pastries and well-made coffee through her travels to Sweden and to southern Italy, where her husband is from. The sisters' motto is "Bringing the world to artisanal pastries."
La Brioche offers croissants, Danishes, quiches, tarts, macarons, cream puffs, meringues with dulce de leche, handmade chocolates and candies, and more.
Sprouts and Lazzari can take orders via La Brioche's website or by phone at 601-988-2299. La Brioche products are also available at Whole Foods Market and Sneaky Beans in Jackson and Fusion Coffeehouse in Madison.