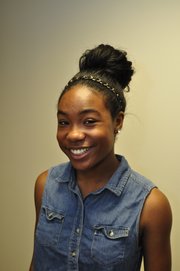 These past two weeks in Mississippi have been filled with workshops, conferences and programs commemorating the 50th anniversary of Freedom Summer, a major milestone in our state's history. After really learning about and understanding the events and occurrences of Freedom Summer, I had an epiphany. Well, it was more of a realization, but a really big realization. During the summer of 1964, young people around my age and older were the pioneers and advocates who led the movement that changed the United States of America.
Diverse groups of teenagers and young adults realized that injustice engulfed the South along with the rest of the U.S. But unlike what many modern young people would do, they actually banded together, took action by constructing a plan and executed it with courage.
The tenacity and fearlessness of those individuals continuously inspires me. I have asked myself time and time again, if I was alive in 1964, would I have the courage to stand up for my rights as an African American, or would I just have accepted the injustice and lived as a second-class citizen?
Honestly, I still don't know the answer to this day. Fast-forward to 2014, where an array of causes call for young activists to take the reins and make a change. As young people, we must stand up for what we believe in As cliche as that may sound, it's true.
It is a necessity for today's time and age. So many negative things occur in our society as we are faced with so many different challenges.
On that note, I challenge each and every young person, especially those under 30, to rise up, stand up and speak up when you see injustices. We can no longer sit around and wait for adults to handle it for us. The Freedom Riders and young civil rights workers didn't. Instead, they took the initiative to be the leaders of the community and lead the U.S. to civil and social equality.
In this issue, the interns at Jackson Free Press have highlighted young activists across the nation who actively striving to make a change in the world. Read their bios and take tips from them about being an activist and then try them in your own life.
There is no excuse not to be an activist today. Everyone has the means to do so. In this age, all one might need is a cellphone. Something as easy as tweeting about an issue or starting a digital movement can make all the difference in the world.
So once again, I challenge all brave, young activists to stand up and make their causes known. If we won't rise up, then who will?
Bria Paige is a rising senior a St. Joseph Catholic School and the editor-in-chief of the student newspaper, The Bear Facts.
More like this story