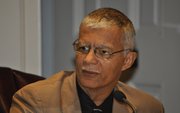 The Jackson Free Press interns need your help in giving young changemakers a pat on the back. Use the hashtag, #InspireJXN and tweet about the people that you admire most in the community. Here are some of the people who inspire us.
Jared Boyd—"I'm inspired by Rukia and Chokwe Antar Lumumba, as they both stand in the light of their father's legacy. Their passion for this community is immeasurable, but their work, words and influence are global."
Mary Spooner—"Natasha Trethewey and Jesmyn Ward (inspire me) because they are successful female writers who aren't afraid to write about social issues such as race and gender."
Deja Harris—"Shannon Malone is a young activist that is very inspirational to me because she is helping women and girls that have gone through experiences like hers and creating a positive outlook for them."
Maya Miller—"I'm inspired by Dr. Maria Luisa Alvarez Harvey of Jackson State University because she made a life for herself in America at the age of 14."