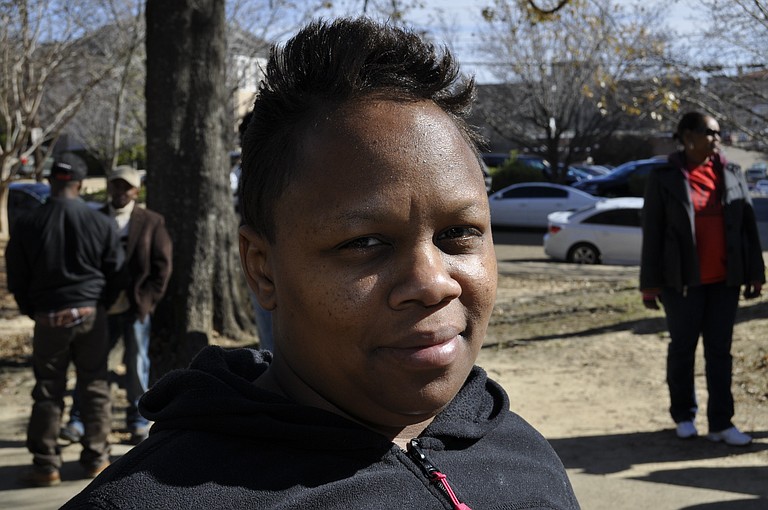 Wednesday, January 22, 2014
Every other week, Victoria Phillips drives three and a half hours from her Raleigh home to visit her husband, who is incarcerated at Mississippi State Penitentiary in Parchman.
The couple has two children together, including one conceived while he has been in prison. Families like Phillips' were part of Mississippi Department of Corrections Commissioner Chris Epps' thinking when he announced in December that he would end the practice of allowing an hour per week for married couples to spend some time alone.
"I still maintain (and) do what I need to do" to provide for her family, Phillips told the Jackson Free Press recently.
Besides, despite the odds that stacked against them, Phillips thinks they're doing a better job than a lot of families in keeping the family together—thanks in large part to the conjugal-visit program.
Phillips and about 30 women whose husbands are incarcerated and other loved ones met in Jackson at Smith Park Jan. 14 to push back on Epps' decision, which many characterized as political. Epps' order came days after a conservative lawmaker fussed about conjugal visits and weeks before the start of the legislative session, when lawmakers are considering a broad set of reforms for MDOC.
Angela Daniels, whose husband is serving a 40-year sentence for attempted armed robbery, questions MDOC's assertion that coordinating the visits was a budgetary budget. One correctional officer shuttles families to the camp, where families receive linens and soap that are similar to those distributed among the inmates, Daniels said.
Kelly Muscolino, director and a co-founder of a group called Mississippi Advocates for Prisoners that organized the rally, said conjugal visits were the only programs left that promoted family cohesiveness. Until last year, MDOC used to have an extended-family visitation program where moms and kids could spend a weekend at the prison, prepare family meals and even watch movies.
For her, the benefits of the conjugal visits far outweigh the financial costs for MDOC: "You get a chance to be a family."
County Blues
One of the biggest packages of legislation of the year slogged forward with the House Corrections Committee taking up a couple of bills from the Mississippi Task Force on Prisons and Criminal Justice.
One would put the so-called Inmate Welfare Fund, which pays for physical education, programming, and drug and alcohol rehabilitation from under the Department of Corrections' control and give it to the Mississippi state treasurer. Chairman Tommy Taylor, R-Boyle, said the move would allow the fund to earn interest. The second bill would require regular audits of county jails. Both bills passed out of committee.
Steve Gray, the governmental-affairs director for the Mississippi Association of Supervisors, wonders about the trickle-down effect the reforms will have on counties, which he says are already under a lot of stress. "Our concern is primarily fiscal," Gray said, adding that counties currently receive no reimbursement from the state to house prisoners held on parole and probation violations. He said the reforms should be phased in over time.
"We're just holding on," Gray said.
Quardious' Law?
State Rep. Deborah Dixon, D-Raymond, has introduced a bill that modifies the state's so-called Castle Doctrine, which establishes parameters for when homicide is justified (e.g. self-defense).
Under Dixon's legislation, HB 179, the Castle Doctrine would only apply within 30 feet of the exterior of a dwelling. Outside of that 30-foot threshold, the shooter would not be immune from criminal liability.
The legislation would also require some shooters in Castle Doctrine cases to "submit to a sobriety test or drug test at the time of investigation to determine whether the individual was under the influence of an intoxicating liquor or controlled substance."
Dixon said the May 2009 death of her 27-year-old son, Broderick, provided inspiration for the proposal. An off-duty police officer named Chevis Finley was convicted of chasing Broderick Dixon more than 800 yards before shooting and killing him in an Irondale, Ala., apartment complex. Finley was sentenced to 15 years in prison for manslaughter.
Dixon has also been in contact with the family of Quardious Thomas, a 20-year-old Jackson man shot and killed in July 2013. Eric Williams, the shooter in Thomas' case was not charged because police officials concluded he was protected by the Castle Doctrine. Thomas' family has also said shooters in Castle Doctrine cases should be tested for drugs and alcohol.
Dixon's bill has been assigned to the House Judiciary A Committee, chaired by Rep. Mark Baker, R-Brandon. Dixon does not expect Baker to call the bill up for discussion.