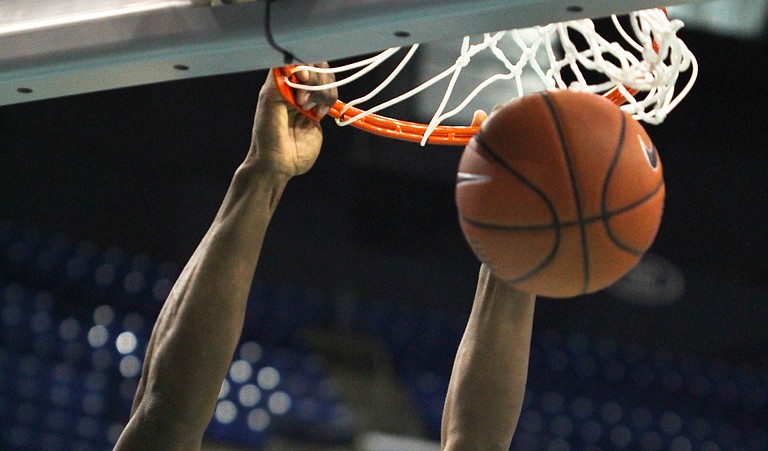 Tuesday, December 30, 2014
Last college basketball season, all six of Mississippi's Division I teams missed the NCAA Tournament. The closest any team came to the Big Dance was the University of Southern Mississippi. Neither SEC school, Mississippi State University or the University of Mississippi, made the postseason National Invitational Tournament. The Bulldogs had a losing record, and the Rebels didn't get an invite.
The three SWAC schools—Jackson State University, Mississippi Valley State University and Alcorn State University—all failed to win the SWAC basketball tournament and receive the automatic bid. To be fair, it is hard for Mississippi's SWAC schools to make any postseason tournament due to scheduling needs and perception of the conference.
Southern Miss made the NIT and hosted Toledo in the first round for 66-59 win. The Golden Eagles beat SEC team Missouri in the second round 71-63. USM lost in the third round falling 81-73 to Minnesota, the eventual tournament champion. Baseball has been successful in this state for a few years. Football had an amazing season that leaves everyone wondering if it can be replicated. Is it basketball's turn to shine in Mississippi?
Southern Miss Golden Eagles
Coach: Doc Sadler (149-107 overall, 1st season at USM)
2013-14 season: 29-7 overall, 13-3 Conference USA
2014-15 season so far: 5-5
Radio: 105.1 FM
Arena: Reed Green Coliseum
Last season recap:
Southern Miss had a legit argument to be a NCAA Tournament team last season. The Golden Eagles finished in a four-way tie for first in the conference with Louisiana Tech, Middle Tennessee and Tulsa.
Due to conference realignment, Conference USA didn't have the basketball pedigree it once had. That meant when Tulsa won the conference tournament, they got the automatic bid for the Big Dance. That left Louisiana Tech and Southern Miss heading to the NIT, while Middle Tennessee got left out of the postseason. The Golden Eagles easily could have taken the place of a major-conference team with a so-so record. Instead, Southern Miss had a nice run in the NIT before falling.
2014-15 outlook:
After last season, everything changed for USM. Southern Miss lost coach Donnie Tyndall to Tennessee and all five primary starters. That left USM looking for a new coach and in the midst of an NCAA investigation.
The Golden Eagles return Matt Bingaya, who will get a chance to be the main playmaker. Jeremiah Eason, Norville Carey and Chip Armelin also return to the Eagles' bench.
USM hired Doc Sadler, former head coach at UTEP and Nebraska. He was working as an assistant at Iowa State before Southern Miss. Sadler has his work cut out for him with the major player losses from last season. The Golden Eagles have Davon Hayes back from injury and the team added Rasham Suarez.
Prediction:
Southern Miss is rebuilding this season. There isn't any chance of a NCAA Tournament bid unless the Golden Eagles put it all together for a run in the C-USA Tournament. It will be tough for USM to even make the NIT this season. Just look at their 4-3 record thus far if you want proof of how rough things are going to be.
Jackson State Tigers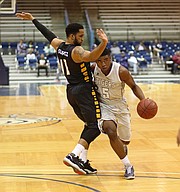 Coach: Wayne Brent 11-20 overall record, all at JSU entering 2nd season)
2013-14 season: 11-20
2014-15 season so far: 2-11
Radio: 95.5 FM
Arena: Lee E. Williams Center
Last season recap:
It was a building year for first-year coach Wayne Brent at Jackson State. The Tigers struggled to a 5-8 start in the out of their conference schedule. JSU went 7-9 in conference play. Tenth-seed Grambling State University upset the seventh-seed Tigers were upset in the SWAC Tournament. It had to be tough for a coach like Brent, who has been a winner everywhere he has gone. He probably knew it would be a slow process, but how much time will JSU give Brent to turn things around?
2014-15 outlook:
Last year was laying the foundation for the future. This season should build on that foundation. Jackson State has to replace its top scorers from last season. No returning Tiger scored double digits last season. That doesn't mean there aren't players returning with some experience, including Javeres Brent, Treshawn Bolden, Derrell Taylor, Donaveon Robinson, Janarius Middleton and Marcus Love. The Tigers signed Kaven Bernard, Dre'Sean Looney and Yettra Specks out of junior college. JSU also added Tennessee State transfer Jaleel Queary. Nonconference play is always tough for Jackson State. The Tigers lost 8 of their 13 out-of-conference games on the road last year.The most important part of the season begins in the new year. That is when JSU starts conference play.
Prediction:
It is all about SWAC play and the conference tournament for the Tigers. Being from a one-bid conference like the SWAC, JSU must make the most of SWAC play, and JSU only makes the Big Dance by winning the SWAC tournament. Winning the regular season title and not winning the tournament is the easiest path to the NIT. A postseason berth seems out of reach this season, but the JSU program could really take a leap with a tournament bid. It all comes down to how the Tigers respond to SWAC play.
Mississippi Rebels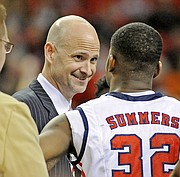 Coach: Andy Kennedy (192-115 overall, 171-101 entering 9th season at Ole Miss)
2013-14 season: 19-14 overall, 9-9 SEC
2014-15 season so far: 8-3
Radio: 93.7 FM
Arena: C.M. Tad Smith Coliseum
Last Season Recap
It was the Marshall Henderson show last year for Ole Miss. The Rebels weren't getting any outside love with Henderson on the roster as he was one of the few players in college basketball that was a lightning rod for fan reactions.
Things started well with a seven-game winning streak to start the season and a 9-4 start in non-conference play. Ole Miss looked to be in position to make a return trip to the NCAA Tournament after their nice run in the 2012-13 season. The Rebels started conference play by winning five of their first six games. That got Ole Miss off to a 14-5 start before the wheels fell off.
Ole Miss finished 5-9 and fell out of the tournament conversation. February did the Rebels in as they went 3-5 and lost their first two games to start March for a 3-7 stretch.
2014-15 outlook:
Henderson is gone, but the Rebels should be better with Jarvis Summers leading the show. Summers doesn't need to take a large volume of shots like Henderson to make an impact. Ladarius White, Sebastian Saiz, Martavious Newby, Aaron Jones, Dwight Colby and Anthony Perez join summers this season. That is a good core to go with Tennessee State University transfer M.J. Rhett and community-college transfer Stefan Moody.
This season started off with a bit of a stunner as Charleston Southern pulled a 66-65 upset on the Rebels at the Tad Pad. Ole Miss won its next five straight games including wins over a ranked Creighton team, beating previously undefeated Cincinnati and a big road win over Oregon.
Ole Miss has the talent to make a run at the tournament. Summers is one of the few players not from Kentucky that could be player of the year in the SEC.
Finishing out non-conference play strong and not suffering a letdown in the middle of conference play will help the Rebels build a nice resume this season. There is nothing that should keep Ole Miss from being the third to fifth best team in the SEC.
Prediction:
Ole Miss should aim for nothing lower than making the NIT. This team has too much talent not to make the postseason this year. Summers might have to carry the Rebels at points, but he is good enough to do so.
The NCAA Tournament is possible if this team can finish above .500 in conference play and finish the non-conference slate strong. A great showing in the conference tournament can't hurt, either.
Kennedy really needs this team to make the postseason. He owns every coaching record at Ole Miss, but if basketball is going to matter at the school, the fans should hold him to a higher standard.
It is far past time for this program to make a leap. Ole Miss should be more than just a hope to make the NIT each season. If Kennedy is going to build something special at Ole Miss, this program needs to become a consistent NCAA Tournament contender.
Mississippi State Bulldogs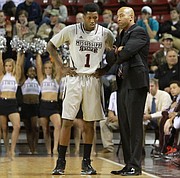 Coach: Rick Ray (record 24-41 entering 3rd year at MSU and overall)
2013-14 season: 14-19 overall; 3-15 SEC
2014-15 season so far: 1-5
Radio: 105.9 FM The Zone
Arena: Humphrey Coliseum
Last season recap:
Mississippi State University started last season with a 6-8 record in the non-conference schedule. The Bulldogs' out-of-conference losses were respectable against Utah State, UNLV and TCU. MSU began conference play going 4-2 before the wheels came off. Mississippi State lost 13 straight conference games as the young team seemed to hit a wall.
The long losing streak ended any postseason chances but there were flashes of potential. They finished the season with a win over Vanderbilt before losing to archrival Ole Miss in the SEC tournament.
2014-15 outlook:
It has been a slow rebuilding process for Ray and the Bulldogs. Mississippi State is one of the deepest teams in the SEC. The young Bulldogs now have to show that they are all grown up and ready to play for competitive postseason play.
The good news is that Gavin Ware, Craig Sword, Fred Thomas, Trivante Bloodman, I.J. Ready and Roquez Johnson all return this season, bringing back four of their top five leaders in scoring from last season. Sword is working his way back from a back injury, and the Bulldogs will be better if he gets healthy.
Mississippi State needs some production from newcomers Oliver Black, Maurice Dunlap and Demetrius Houston. MSU will finally get Fallou Ndoye, ineligible last season, on the court.
The Bulldogs have an easy non-conference schedule even with losses to TCU and a surprising Tulane. Only Florida State and Oregon State should pose a threat. Mississippi State doesn't play in a basketball power conference, which is a good thing. That should allow MSU be in games all season.
Prediction:
It is time for MSU to turn the corner in Ray's third year. If he is the man for the job, this team should make the postseason due to all the returning players.
That doesn't mean the Bulldogs will make the Big Dance, but they should make the NIT. They have a tough stretch of games from Jan. 28 to Feb. 25 that could make or break this season.
MSU can't afford to hit another wall during the conference slate and go on a long losing streak. If that happens again with such a weak non-conference slate, you have to wonder what the problem is: Rick Ray or the players. Ray won't be on the hot seat this season, but if MSU doesn't make a leap toward the postseason, he must prove himself next season.
It is going to be close, but I think Mississippi State will make the jump and earn a NIT berth. Things would have to go perfectly for the Bulldogs to go dancing.