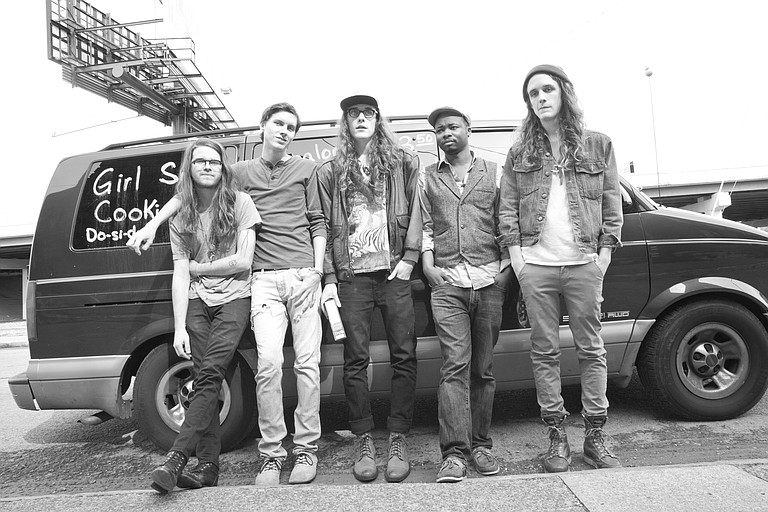 Tuesday, December 23, 2014
The members of indie-rock outfit The Weeks, natives of Florence, Miss., grew up on a blend of classic rock and alternative music. While the band has been stationed in Nashville since 2010, Mississippi fans have long provided the group with a second home. The Weeks return with fellow Jackson-area expats Cardinal Sons and El Obo for a performance at Hal & Mal's, Saturday, Dec. 27.
Vocalist Cyle Barnes and drummer Cain Barnes, 24-year-old twin brothers, formed the band in 2006 with lead guitarist Samuel Williams, 23, and bassist Damien Bone, 25. Keyboardist Admiral Collier, 28, of South Charleston, Va., joined the group in 2011.
Bone says each musician contributes something unique to the band's signature southern-grunge sound. For example, Cyle brings inspiration from poetry for the lyrics, and Collier regularly switches things up on the keys to keep it fresh.
Most members of The Weeks have performed together since they were teenagers, 15 or 16 years old, developing the driving rock from their Mississippi roots. The musicians had a mutual love of classic rock, and include more recent acts such as The Mars Volta and At the Drive In among their favorites.
"When we were younger, we would listen to Z106.7 and just jam out," Bone says. "It's those classic songs mixed with the newer stuff that influenced our sound."
Bone says the band members saw a void in Jackson's rock music scene, and felt like it was their responsibility to fill it.
While starting a band in high school certainly doesn't serve everyone as well, it helped members of The Weeks form the bond they now share. Bone says they're more like family than bandmates, which means each needs to be comfortable with a bit of tough love.
"When you get all these strong minds together, it can be frustrating," he says. "We're comfortable with calling each other out and then letting it all go. It's nothing but brotherly love."
The band members are also skilled at differentiating live performances from recordings, which Bone attributes to their years together and their ability to have fun on stage and feel the audience. Bone recalls a Christmas concert at The Capri in Fondren a few years ago.
"We wore these Christmas sweaters and just came in to have fun, and the crowd was feeling it," he says. "We're just a southern-rock band that comes in and (does) what (it) can do."
The band has grown in popularity since releasing its 2014 full-length album, "Dear Bo Jackson," from Serpents and Snakes Records, a record label founded by Kings of Leon. But Bone says it can still be overwhelming to play in major cities and realize that people came to see them perform.
"They have all these skyscrapers like you've never seen before," he says. "You get vertigo just looking up at them, but it's like, 'Wow. This band from little Florence, Mississippi, made it all the way to L.A.'"
The Weeks are closing out the year with a North American tour—they'll travel to New York to play the Brooklyn Bowl after Hal & Mal's—all the while writing songs for another album. The Weeks made stops at several of Mississippi's best venues, including The Thirsty Hippo in Hattiesburg, Proud Larry's in Oxford and Rick's Cafe in Starkville, but they have high hopes for Jackson.
"We want everyone at our show to have a rowdy good time," Bone says.
"It's like our little homecoming. It'll be nice to see everyone again."
The Weeks perform 8 p.m. Saturday, Dec. 27, at Hal & Mal's (200 S. Commerce St., 601-948-0888). For more information, visit theweeksmusic.com.