Wednesday, August 20, 2014
Jackson State University, Mississippi State University, the University of Mississippi and the University of Southern Mississippi—the state's "Big Four"—have one common goal this season—reaching new heights.
Returning starters on both offense and defense for Mississippi State and UM will attempt to break through the SEC West, arguably the toughest division in all of college football.
Southern Miss hopes to bounce back from last year's one-win season. Jackson State will focus on recruiting the top local talent and finally winning the elusive SWAC championship game that the Tigers have lost the last two years.
University of Mississippi
University of Mississippi Rebels
Head coach: Hugh Freeze (entering third season at UM, 15-11 at UM, and 45-18 overall record in sixth year)
2013-14 record: 8-5 overall, 3-5 SEC, season finished with a 25-17 win over Georgia Tech in the Music City Bowl
Stadium: Vaught-Hemingway Stadium
Radio: 97.3 WFMN FM
Last season recap:
2013 was a season of streaks for the University of Mississippi. The Rebels began with a thrilling victory over Vanderbilt, going on to trounce Southeast Missouri State and send Mack Brown into retirement from Texas to start the season 3-0. The tide turned for UM against Alabama with a 25-0 loss, followed by loses to Auburn and Texas A&M to extend its losing streak to three straight games. Mississippi bounced back in a big way with a 27-24 win over LSU. The Rebels reached bowl eligibility in early November and had seven wins by the middle of the month.
The regular season ended with two losses. First, Missouri beat Mississippi. But the toughest loss had to be in the Egg Bowl when quarterback Bo Wallace fumbled as he was headed into the end zone. The Rebels were about to tie the game and force a second overtime. That loss allowed the Rebels' hated rival to earn a bowl berth. Mississippi, to its credit, rallied after the loss to take care of business in the Music City Bowl with a 25-17 victory over Georgia Tech.
This season overview:
When you talk about quick turnarounds in college football, the job Freeze did in Oxford has to come to mind. He brought the Rebels back into the conversation in the SEC West with his ability to recruit.
The Rebels are one of the dark-horse favorites to win the SEC West. One reason to like Mississippi is Bo Wallace at quarterback. Wallace is the most experienced quarterback in the SEC this season, but he must cut down on his turnovers if he is going to take this team on an amazing ride in 2014. Wallace will have Laquon Treadwell as his primary receiver after Donte Moncrief left early for the NFL.
While the offense returns just six starters, the defense will return nine starters and plenty of depth. Just about everywhere on the defense, the Rebels have a star or a potential star in the making. Some names to know on the Mississippi defense are defensive end C.J. Johnson, safety Cody Prewitt, defensive tackle Robert Nkemdiche and his brother, linebacker Denzel Nkemdiche.
2014 outlook:
Freeze will now try to do what recent Mississippi coaches have been unable to do: make the Rebels a consistent player in the SEC. Several coaches looked like they were on the doorstep, but things fell apart.
The University of Mississippi has the chance to take the first big step to becoming an SEC power. If there was a year to make that step, this is that year, and with the Rebels schedule, they have a chance.
The Rebels' season begins with a chance to win four straight games. The team opens the season against a dangerous but beatable Boise State before heading to Vanderbilt, and then two home games, first against a Louisiana-Lafayette team that will be no cake walk (but winnable) and, finally, a rebuilding Memphis squad. Things get tricky with a home game against Alabama followed by a road trip to Texas A&M. The Rebels stay at home for a winnable game against Tennessee and then a tough road test against LSU.
November starts with a home game against Auburn and finishes with Presbyterian, Arkansas and Mississippi State with only the Razorbacks on the road. The time is now for the Rebels to make their jump.
2014 prediction:
The toughest road games of the season for Mississippi comes against LSU and Texas A&M. UM gets Alabama, Auburn and Mississippi State at home. If the Rebels find a way to win at home (a big if), a berth in the new playoff might be possible with a split against the Tigers or Aggies. Beating Alabama at home or away is a tough job, and Auburn was in the title game last season.
This season would be a success with 10 wins but would be special if the Rebels find a way to get to 11 wins or run the table. On paper, every game looks winnable for Mississippi. The season won't be a disappointment if this team reaches nine wins, but anything less than nine would be underachieving with an SEC schedule this good. I badly want to give the Rebels 10 or more wins, but I feel like they will lose at least one game that they have the potential to win, so I'm going with nine.
2014 schedule:
Aug. 28 Boise State (neutral site); Sept. 6 @ Vanderbilt; Sept. 13 Louisiana-Lafayette; Sept. 27 Memphis; Oct. 4 Alabama; Oct. 11 @ Texas A&M; Oct. 18 Tennessee; Oct. 25 @ LSU; Nov. 1 Auburn; Nov. 8 Presbyterian; Nov. 22 @ Arkansas; Nov. 29 Mississippi State
Mississippi State
Mississippi State Bulldogs
Head coach: Dan Mullen (entering sixth season; coaching record 36-28 all at MSU)
2013-14 Record: 7-6 overall, 3-5 SEC; season ended with a 44-7 win over Rice University in the Liberty Bowl.
Stadium: Davis Wade Stadium at Scott Field
Radio: 105.9 WKRS FM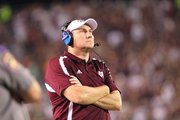 Last season recap:
Mississippi State struggled last season. The Bulldogs once again beat the teams they expected to beat, even if the victories weren't always trouble-free. For example, the team scraped by with a 21-20 win over the Bowling Green Falcons.
MSU started the season with a loss to Oklahoma State University but came back with a win over Alcorn State University, followed by a close loss to Auburn. The Bulldogs also won big over Troy University before being spanked by Louisiana State University.
Mississippi State won two straight games against Bowling Green and Kentucky State to get to four wins, needing only two to reach bowl eligibility. The Bulldogs lost their next three games against ranked teams—the University of South Carolina, Texas A&M University and the University of Alabama.
MSU escaped 24-17 over the Razorbacks in Arkansas in overtime, setting up a huge showdown at the Egg Bowl. MSU needed the opposite of its 2012 season when Ole Miss needed to win the Egg Bowl to reach bowl eligibility. The Bulldogs got it with a win in overtime once again, thanks to a fumble by UM quarterback Bo Wallace, which sealed the Bulldogs' 17-10 win and a bowl berth. Mississippi State would completely control Rice in the Liberty Bowl. The Bulldogs reached a program-record fourth-straight bowl and a fourth-straight winning season.
This season overview:
Since hiring Dan Mullen in 2008, MSU hasn't had a losing season. The Bulldogs haven't had the flashy recruiting classes as other SEC teams, but they have coached and developed players during their careers.
This season, Mississippi State is one of the favorite picks for dark horse in the SEC (one of the other favorites is Ole Miss). And why not? MSU returns eight starters on offense and eight starters on defense with a ton of depth on both sides of the ball.
MSU's hopes will live and die with quarterback Dak Prescott and his ability to make plays on the ground and through the air. He will have one of the deepest receiving groups to work with, including Jameon Lewis who had 64 receptions for 923 yards and five scores but needs to be more consistent. The biggest question on offense is how to rebuild the line after the loss of guard Gabe Jackson. If the Bulldogs can get the offensive line right, this team should be able to score against anyone on their schedule.
Mississippi State also returns with a strong core and plenty of depth on defense. The star of the defense is, without question, linebacker Benardrick McKinney, who can do just about everything in the front seven.
McKinney will be the glue that holds this defense together, and he will be the quarterback of the defense.
2014 outlook:
Mississippi State has a ton of potential to make noise in the always-tough SEC West. Nearly every team in the rest of the division is doing some rebuilding, and the Bulldogs might have just this season as a window of opportunity to break through and build the program even higher.
The schedule sets up nicely for MSU with three games that should be wins right off against Southern Miss, UAB and South Alabama. We will see the real Mississippi State in the next three games against LSU, Texas A&M and Auburn. Three more games that should be wins are up next with Kentucky, Arkansas and Tennessee-Martin, which leads to finishing the season against Alabama, Vanderbilt and the Rebels.
MSU plays Auburn and Texas A&M in Starkville but must play LSU, Alabama and Mississippi on the road. If the Bulldogs want to make the next level, they should take advantage of Auburn and A&M at home this season and find a way to pull off an on-the-road upset or two.
2014 prediction:
Last season, the Bulldogs over-achieved, if you consider most people thought guard Gabe Jackson was the best player on the team. Not many teams reach a bowl game in the SEC when a guard is the team's best player on the field.
This season will be a success if MSU wins the eight winnable games on their schedule. But for it to be a major success, the Bulldogs would need to win 10 to 11 games and that looks like they will need some Auburn 2013 luck for that 
to happen.
Expectations are high for Mississippi State fans, and anything less than seven wins will cause a riot in the fan base. Unless MSU gets hit with the 2013 Georgia injury bug, the worst this team does is six wins.
A fifth straight winning season and a bowl berth should be a lock. I figure at the low end the Bulldogs get seven wins, and high end, they get nine. I will take the middle and go with eight wins.
2014 schedule:
Aug. 30 Southern Miss; Sept. 6 UAB; Sept. 13 @ South Alabama; Sept. 20 @ LSU; Oct. 4 Texas A&M; Oct. 11 Auburn; Oct. 25 @ Kentucky; Nov. 1 Arkansas; Nov. 8 UT-Martin; Nov. 15 @ Alabama; Nov. 22 Vanderbilt; Nov. 29 @ Mississippi
Jackson State
Jackson State Tigers
Head coach: Harold Jackson (0-0, first season as head coach)
2013-14 season: 8-4, 8-1 SWAC. Season ended with a 34-27 loss to Southern in the SWAC Championship Game
Stadium: Mississippi Veterans Memorial Stadium
Radio: 95.5 WHLH FM
Last season recap:
It was a wild, successful and disappointing season last year for Jackson State. The season started with a loss to Tulane in which quarterback LaMontiez Ivy broke his leg in the third quarter and was lost for a second season in a row.
Clayton Moore replaced Ivy the next week in a win against Alabama State. The Tigers lost their next game against Tennessee State to fall to 1-2 on the season.
Jackson State had four straight wins after the loss to Tennessee State. JSU rolled over Texas Southern, escaped Southern and took care of business against Arkansas-Pine Bluff and Mississippi Valley State.
Things got wild when Grambling State, the Tigers' next opponent, didn't show up in Jackson to face JSU due to a player revolt. The SWAC awarded Jackson State the win due to forfeit but JSU lost their homecoming game because the Tigers didn't have an opponent.
The Tigers stayed focused even after the strange homecoming game that wasn't played. JSU won their next two games against Prairie View A&M and Alabama A&M to clinch their spot in a second-straight SWAC Championship Game.
Jackson State was shocked at home by Alcorn State in a 48-33 loss that broke the team's eight-game winning streak (including the Grambling forfeit). The Tigers lost the SWAC Championship Game for the second year as Southern won the rematch, 34-27.
It got even stranger in the offseason when JSU parted ways with long-time coach Rick Comegy for reasons that never were truly clear. Jackson State reached into its past and hired former great Harold Jackson to take over the program.
2014 outlook:
Under Comegy, Jackson State was the model of stability. The Tigers only posted one losing season in the eight seasons Comegy was at the helm.
The program is under a little uncertainty with Jackson at the helm. That doesn't mean Jackson won't do a great job, but he has never been given the chance as the head man.
JSU must replace leading rusher Tommy Gooden and the job will fall to whomever wins the battle between Rakeem Sims, Jarius Moore, Alexander Montgomery or freshman Derrick Wilkerson. At wide receiver, Tobias Singleton needs to be a star and leader. Singleton will get help from a wide-receiver and tight-end group with plenty of depth.
Overall, the defense should be solid once again this season. SWAC Freshman of the Year last season linebacker Javancy Jones will lead the defense. The strength of the defense will be at linebacker with Ariane McCree, Ryan Griffin and Tedderick Terrell all returning. Senior defensive back Antonio Sutton will be the leader of the secondary.
2014 prediction:
Two of Jackson's first hires were former Hawaii quarterback Timmy Chang as offensive coordinator and former Buffalo Bills cornerback Derrick Burroughs as defensive coordinator. This is Chang's first time as an offensive coordinator after being a graduate assistant as SMU last season, but Burroughs is a seasoned coach.
My guess is that under Chang, the Tigers will run some type of run-and-shoot/spread-offense hybrid. Chang played for June Jones, who is the master of the run-and-shoot, and you have to figure he will incorporate some of that offensive philosophy.
Jackson State faces Florida A&M and Tennessee State as their toughest out-of-conference tests but a split is more than possible. JSU's last non-conference game is against Virginia University of Lynchburg and should be an easy win. JSU plays Grambling State in an expected win, and we will find out about the Tigers' chances in SWAC play the next two weeks against Arkansas-Pine Bluff and Prairie View A&M, both of whom should be challengers in the west division.
The Tigers get an improving Mississippi Valley State team next and will face Southern after that in a rematch of the SWAC Championship Game. JSU gets the bottom of the East the next week in Alabama A&M.
Jackson State then faces the team picked first in the East, in Alabama State, and is followed by the team picked next to last in the West, Texas Southern. The SWAC schedule goes easy to hard the whole season, going off the predictions from SWAC media day and my best gut guess. The Tigers finish the season on the road against arch-rival Alcorn State. ASU is picked to finish second in the East, and many think they could win the division. JSU should be in the mix and could play spoiler in the final game of the season.
It is never easy picking the SWAC because it is a wild conference. There is nothing that says JSU can't repeat as East champion, but you may expect a step back with all the changes.
Seven wins looks easy just glancing at the Tigers schedule, and of course, there is room for more. This season will be successful if JSU wins those seven games and will be great if the Tigers can three-peat.
Six wins won't have the fan base longing for the days of Comegy, but a losing season could have them wondering if a change was even needed. A 2012 USM-type year would really get the fans to question the change.
I think Jackson and JSU will do just fine, unless he his hit with massive injuries. I think the Tigers get seven to eight wins with ease.
2014 schedule:
Aug. 30 Florida A&M; Sept. 6 Virginia University of Lynchburg; Sept. 13 Tennessee State (neutral site); Sept. 20 Grambling State; Sept. 27 @ Arkansas-Pine Bluff; Oct. 4 Prairie View A&M; Oct. 11 Mississippi Valley State; Oct. 25 Southern; Nov. 1 Alabama A&M; Nov. 8 Alabama State; Nov. 15 Texas Southern; Nov. 22 Alcorn State
Southern Miss
Southern Miss Golden Eagles
Head coach: Todd Monken (1-11 USM/overall record entering his second season at USM)
2013-14 record: 1-11, 1-7 C-USA, season ended with a 62-27 win over UAB
Stadium: M. M. Roberts Stadium
Radio: 105.1 WQJQ FM or 620 WJDX AM
Last season recap:
You knew it was going to be a tough season for Southern Mississippi when the team dropped the opening game to Texas. Things didn't get much better for the Golden Eagles. In fact, they got worse.
USM then dropped games to Nebraska, Arkansas and Boise State that weren't even close. Another low point came in a loss to Florida International by one point. Southern Miss kept right on losing against East Carolina, North Texas, Marshall, Louisiana Tech, Florida Atlantic and Middle Tennessee.
USM had one game left, against UAB, for a chance to avoid a second straight winless season. Things didn't look great at the half with UAB leading 21-13 at half-time, but then something magical happened. Everything came together for the Golden Eagles in the second half.
USM dished out nearly two years of frustration on the Blazers in the form of a seven-touchdown outburst to make a close game into a Golden Eagles rout. The 62-27 victory broke a 23 game losing streak for Southern Miss.
It didn't erase all the pain of 2012 and 2013, but it did give USM hope that brighter days were ahead.
2014 outlook:
Southern Miss was once the model of consistency with 18 straight winning seasons. The last two seasons were filled with bad luck, injuries, a bad coaching hire, a coach leaving, and just about every other bad break that a team can have.
Against UAB, it finally looked like USM found its man in freshman Nick Mullens, who had a career high with five touchdown passes. Mullens started midway through last season, and he showed the growing pains of a young quarterback.
Mullens didn't get any help from his rushing attack, one of the worst in FBS last season. USM will need more from returning running backs Jalen Richardson and George Payne if they are going to take some pressure off Mullens.
The wide receivers are an interesting group with a leader of slot receiver Tyre'oune Holmes, who led the team with 53 grabs for 410 yards and two scores. Holmes will be a playmaker, but the rest of the unit must grow with him to make an impact.
USM's hopes hinge on finding an offensive line. Part of Southern Miss' problems on offense are due to the offensive line not being able to keep defenders out of the backfield on passing and running plays.
Defense is where the Golden Eagles could shine. "The Nasty Bunch" returns with three leaders with linebacker Alan Howze, defensive tackle Rakeem Nunez-Roches and safety Jacorius Cotton all back on the field this season.
USM has depth all over the field on defense, and those blowouts of the last few years should start to come to an end. USM returns eight starters on offense and seven on defense this season.
2014 prediction:
Southern Miss fans have had all winter and summer to enjoy the UAB win. Don't look for the Golden Eagles to win its opening game against Mississippi State.
Alcorn State comes to Hattiesburg in what should be a win against one of the best teams in the SWAC. Next up is a trip to Alabama that should be another loss, but then it's a home game against Appalachian State. If USM can get to 2-2 with a win over Appalachian State then there will be proof the program is starting to take the next step.
C-USA play starts against defending champion Rice that will be tough to win, followed by another top conference foe in Middle Tennessee. Next up will be another tough game that could be a loss against North Texas. That would leave the Golden Eagles at 2-5 with winnable games against Louisiana Tech and UTEP up next. Southern Miss finishes the season with Marshall, another top C-USA team, before finishing with UTSA and UAB—both winnable.
There is no margin for error, but as many as six wins are possible. If the football gods finally give the Golden Eagles some breaks after two tough years, maybe an Auburn turnaround is possible. On the other hand, USM could not move forward at all and win just one game again.
While it would be a feel good story for the Golden Eagles to get six wins, it doesn't seem likely. A more realist goal would be three to five wins. I will split the difference and go with four.
2014 schedule:
Aug. 30 @ Mississippi State; Sept. 6 Alcorn State; Sept. 13 @ Alabama; Sept. 20 Appalachian State; Sept. 27 Rice; Oct. 4 @ Middle Tennessee; Oct. 18 @ North Texas; Oct. 25 Louisiana Tech; Nov. 1 @ UTEP; Nov. 8 Marshall; Nov. 13 @ UTSA; Nov 29 UAB