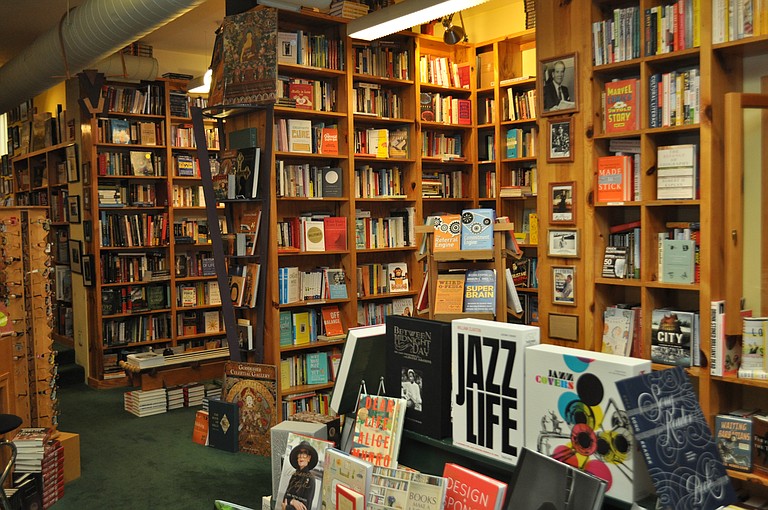 Wednesday, August 6, 2014
Just because you aren't of legal drinking age doesn't mean you can't have fun as a college student in Jackson. Here are 20 of the greatest places to be in the Jackson metro if you're under 21.
Babalu Tacos and Tapas (622 Duling Ave., Suite 106, 601-366-5757)
Brent's Drugs (655 Duling Ave., 601-366-3427)
Butterfly Yoga (3025 N. State St., 601-594-2313, butterflyyoga.net)
Cafe Ole (2752 N. State St., 769-524-3627)
CelticFest (Sept. 5-7, celticfestms.org)
Cups: An Espresso Cafe (Multiple locations, cupsespressocafe.com)
Doc 36 Skatepark (931 Highway 80, Suite 600, 601-272-2758)
Dog Days of Summer (Aug. 23, carams.org)
Duling Hall (622 Duling Ave., 601-292-7121)
Hal & Mal's (200 Commerce St., 601-948-0888, halandmals.com)
Jackson Rhythm and Blues Festival (Aug. 15-16, jacksonrhythmandbluesfestival.com)
Jaco's Tacos (318 S. State St., 601-961-7001; 7049 Old Canton Road, Ridgeland, 601-898-3242)
JFP Chick Ball Masked Jam (Nov. 1, Hal & Mal's, 18+)
LatinFest (Sept. 20, latinfest.org)
Lemuria Books (4465 Interstate 55 N., Suite 202, 601-366-7619)
New Stage Theatre (1100 Carlisle St., 601-948-3531, newstagetheatre.com)
Rooster's (2906 N. State St., 601-982-2001)
Sneaky Beans (2914 N. State St., 601-487-6349)
Swell-o-Phonic (2906 N. State St. Suite 103)
WellsFest (Sept. 27, wellsfest.org)
Summertime Blues (and Pop and Soul and ...)
by Adria Walker
One of the most important parts of being able to perfectly document or acknowledge something is having a playlist. The climatic scenes in "Twin Peaks" would not be as entertaining without the soapy music drawing everything together. Darth Vader would not be nearly as menacing without "The Imperial March" (more commonly known as "Darth Vader's Theme").
Here is a list of songs for you to jam out to or sob to—whichever emotion best describes your feelings about summer ending and school beginning.
"Two Weeks"—Grizzly Bear
"Le Temps de L'Amour"—Francoise Hardy
"Sweatpants"—Childish Gambino featuring Problem
"Cry Me a River"—Julie London
"Step"—Vampire Weekend
"Non, je ne regrette rien"—Edith Piaf
"The Baddest Man Alive"—The Black Keys featuring RZA
"Numb"—Gary Clark, Jr.
"Troubleman"—Electric Guest
"Laisse tomber les filles"—France Gall
"On the Sea"—Beach House
"Nights in White Satin"—The Moody Blues
"Feeling Good"—Nina Simone
"No Particular Place to Go"—Chuck Berry
"These Boots Are Made for Walkin'"—Nancy Sinatra
"Someday"—The Strokes
"4 Chords of the Apocalypse"—Julian Casablancas
Best of Jackson 2014: Favorites for Any Age
Best Place to Get Coffee
First: Cups: An Espresso Cafe (Multiple locations, cupsespressocafe.com) / Second: Sneaky Beans (2914 N. State St., 601-487-6349) / Third: Seattle Drip (Multiple Locations, seattledrip.com) / Finalists: Broad Street Baking Company (4465 Interstate 55 N., Suite 101, 601-362-2900); Fusion Coffeehouse (1111 Highland Colony Parkway, Suite A, Ridgeland, 601-856-6001)
Best Community Garden/Nature Attraction:
First: Mississippi Museum of Natural Science (2148 Riverside Drive, 601-354-7303) / Second: Art Garden at the Mississippi Museum of Art 380 S. Lamar St., 601-960-1515 / Third: Jackson Zoo (2918 W. Capitol St., 601-352-2580) 
Best Places for Community Service
First: Stewpot Community Services (1100 W. Capitol St., 601-353-2759) Second: Community Animal Rescue and Adoption (C.A.R.A.) (960 N. Flag Chapel Road, 601-922-7575) / Third: The Salvation Army (110 Presto Lane, 601-982-4881) / Finalists: The Good Samaritan Center (114 Millsaps Ave., 601-355-6276), Junior League of Jackson (805 Riverside Drive, 601-948-2357), Operation Shoestring (1711 Bailey Ave., 601-353-6336)
Best Local Live Theater/Theatrical Group:
First: New Stage Theatre (1100 Carlisle St., 601-948-3531, newstagetheatre.com) / Second: MADDRAMA at Jackson State University (5531 Spencer Drive, 601-454-1183) / Finalists: Actor's Playhouse (121 Paul Truitt Lane, 601-664-0930), Black Rose Theatre Company (103 Black St., 601-825-1293), Fondren Theatre Workshop (fondrentheatreworkshop.com)
Best Place to Buy Books
First: Lemuria Books (4465 Interstate 55 N., Suite 202, 601-366-7619, lemuriabooks.com) / Second: The Book Rack (1491 Canton Mart Square, Suite 7, 601-956-5086; 584 Springridge Road, Suite C, Clinton, 601-924-9020) / Third: N.U.T.S. (114 Millsaps Ave., 601-355-7458; 3011 N. State St.) / Finalist: The Bookshelf (637 Highway 51, Suite AA, Ridgeland, 601-853-9225)
Best Annual Event
First: Mal's St. Paddy's Parade (March, malsstpaddysparade.com)/ Second: Mistletoe Marketplace (November, jljackson.org) / Third: Wellsfest (September, wellsfest.org) / Finalists: CelticFest (September, celticfestms.org); Dog Days of Summer (August, carams.org); Jacktoberfest (October, jacktoberfest.com)