Wednesday, April 30, 2014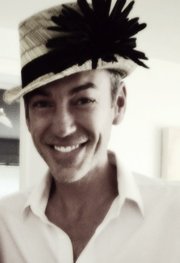 A little over a year ago, I was lucky enough to visit New York City with my girlfriend, Elizabeth. While she was busy fighting the crowd at Javits Center as the buyer for the Mississippi Museum of Art, I sauntered along the streets of The Big Apple. It was a crisp January day and I, layered and festooned in what I deemed to be appropriate "big city" attire, wandered in and out of shops on Fifth Avenue.
As I made my way back to our hotel, mindful not to stare like a slack-jawed yokel, I pointed myself in the direction of a coffee shop. Manhandling my haul from H&M, I bobbed and weaved along the bustling sidewalk lost in a herd of New Yorkers commuting on foot. Without warning, a young man sprang from a subway entrance, cutting me off and very nearly causing me to trip. I dismissed him as rude and inconsiderate, but watched him sprint up the sidewalk, across the street and into the arms of another young man.
I then noticed his duffle bag, as it landed at their feet, and I realized this guy was returning home or had traveled some distance to be reunited with the other. I stood on the corner of Lexington and 51st Street and watched these young men share a long kiss, locked in a loving embrace. A swiftly moving river of pedestrians moved around them, not one of them taking notice or stopping to glare. In that moment, I'd have given anything to have Justin there with me, to mirror the other couple, another random act of love in the middle of a crowded New York sidewalk.
No, I would never be so bold back at home in Mississippi, but wouldn't it be nice?
I've long maintained that I don't care for public displays of affection. I've said it countless times to two long-term boyfriends, a few suitors and my husband. By turning my nose up at other couples, I've been able to hide my fear of being spotted. To have a stranger see my hand on Justin's knee would confirm my queerness. If we dared to hold hands, it might invite hostile reaction. Should we share an impulsive kiss before heading in different directions, it could very well invoke blind rage.
As a pre-teen, I'd been clocked as a "fag," and I learned how to blend in out of necessity. I painstakingly monitored my walk, tone of voice, inflection and my facial expressions so as not to attract unwanted attention. So, in the 20-something years I've been out of the closet, I've managed to only be publicly intimate with my significant other when I know no one is looking. 
One Easter weekend, Justin and I traveled to New Orleans with Elizabeth and her husband, Blake. It's become a tradition for us, a way to kiss winter goodbye and also welcome the warmer weather. After dinner, we took a cab into The Quarter and wandered, as tourists do. Moving away from Canal, we made our way down Chartres at a leisurely pace toward Jackson Square. Conversation was easy until we turned onto St. Anne, where the sidewalks were choked with revelers. Eventually, we merged onto Bourbon and became four more souls in a parade of aimless drunks, scantily-clad college girls and parents free of children for the weekend.
Eventually, we found ourselves on "that end" of Bourbon Street, where rainbow flags are common and Sunday Tea Dance is the order of business. Instinctively, and without hesitation, Justin and I took each other's hand and leaned into each other, moving along with the crowd in a dance of sorts, keeping time with only each other, another random act of love in the middle of a crowded New Orleans sidewalk.
Later, Elizabeth would say she was almost moved to tears because she couldn't recall ever seeing us hold hands in public. She was suddenly and painfully aware of the reason why: Down on this end of Bourbon, there are more of "us" than "them." Down here, we can hold hands if we please, and we quite often do. "I want y'all to be able to do that everywhere," I think she put it.
I'd like to think that, some day not too far off, Justin and I could stroll up Fondren Place and onto State Street, arms interlocked as we make our way to dinner on the patio at Walker's Drive-In, without concerning ourselves with hateful comments from strangers. Eventually, the sight of two men holding hands will be as acceptable as any other couple, when there is no "down here" or "that end" of any street, merely another random act of love.
Eddie Outlaw co-owns William Wallace Salon and Fondren Barber with his husband, Justin McPherson. Read his other JFP columns at jfp.ms/outlaw.
More like this story