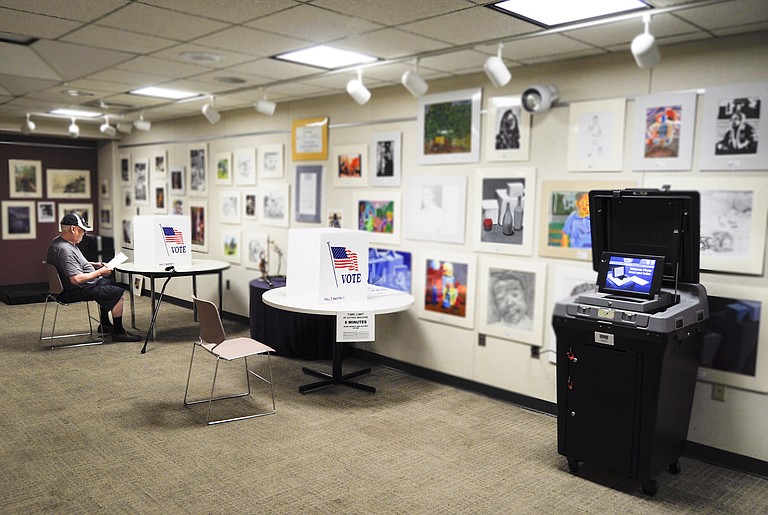 Originally published April 8, 2014 at 1:39 p.m., updated April 8, 2014 at 2:21 p.m.
Ever since the removal of a mural painted in tribute to late Mayor Chokwe Lumumba last Thursday, wide speculation has swirled about who pulled the trigger to have the painting removed and why.
Buzz on social media is that the individuals with the most juice to have the city's Parks and Recreation Department take the mural down in a jiffy are sitting council members, three of whom are vying to be the next mayor.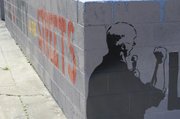 City Council President and Ward 2 Councilman Melvin Priester Jr. told the Jackson Free Press this morning that rumors that he complained about the mural are "absolutely false." Priester also said that he had a lot of respect for the Lumumba family since he grew up down the street from them in northwest Jackson.
Ward 7 Councilwoman Margaret Barrett-Simon said that she never knew the mural existed, let alone had anything to do with it being taken down. "I don't even know where you get this stuff," Barrett-Simon snapped when contacted by a reporter via phone.
Ward 6 Councilman Tony Yarber declined to comment about whether he thought the mural being taken down was appropriate. However, he said that anyone who suspects a City Council member authorized that the mural be taken down obviously doesn't know how city government works.
It's unclear who gave the order to have the mural covered. Calls to Parks Director Allen Jones and Chief Administrative Officer Synarus Green have not been returned. Nor have city officials responded to a public-records request seeking copies of the alleged complaints. Acting Mayor Charles Tillman issued a statement in which he reaffirms the city's respect for the late mayor.
"It came to our attention that one of our city-owned parks had been painted with certain words, slogans, and designs that had not been authorized or permitted by the City. Consistent with our policies and City ordinances, the painting was removed," Tillman wrote.
"In continuing our quest to honor the memory and legacy of our late Mayor, our actions, in this instance, were in keeping with Mayor Lumumba's high moral and ethical standards that we were fortunate to experience."
Reached by phone April 4, Ward 4 Councilman De'Keither Stamps said he does not know who complained about the mural to get it brought down, but that Tillman likely felt the city should remove it as a precaution ahead of what could be a tight and potentially testy special election.
"We need to do everything to not be another Hattiesburg," Stamps said, referring to the 2013 Hattiesburg mayoral election that was entangled in court challenges and allegations of impropriety before incumbent Mayor Johnny Dupree re-won his seat over the challenger.
"We shouldn't have been in this place. I don't think this (the mural) was a big enough issue to be contested," but someone could have used it to demand another election, he added.
Four Questions for Candidates
Because today is a Election Day in the city, a few big questions hang over the campaigns. Polls close at 7 p.m. If there's a runoff, it'll take place on April 22.
1. How will money influence the race?
The conventional wisdom says that municipal elections, particularly in Jackson, don't draw a lot of attention. And, therefore, a special election will draw even less. In most years, the conventional wisdom might be correct. But these are unusual circumstances and a review of campaign-finance reports demonstrates that there's plenty of interest in this election.
So far, donations, all of which have poured in a month's time, have topped $610,000 to date. The money leaders are:
Chokwe A. Lumumba: $138,801 Melvin Priester Jr.: $110,785 John Horhn: $104,593 Tony Yarber: $95,716 Harvey Johnson Jr: $67,355 Margaret Barrett-Simon: $54,680 Regina Quinn: $38,968
That Lumumba leads the money race in and of itself is surprising. In last year's mayor's race, Lumumba's father, had raised about $100,000 in a five-month period going into his runoff against Jonathan Lee and hardly spent any of it. Despite that, Lumumba bested Harvey Johnson Jr., no slouch when it comes to fundraising, and, eventually, Lee, the election's top money-getter, handily.
2. Who'll have the most effective turnout operation?
Several of the candidates have broad, enthusiastic support. Will that enthusiasm translate into people taking a few extra minutes before or after work or school to cast a ballot for their woman or man? A key difference in this election, as we've reported, is that there do not appear to be any safe voting blocs. Every part of the city is up for grabs, meaning campaigns won't be able to rest on their laurels. They'll have to be out knocking on doors and working phone banks to make sure their supporters get to the polls before they close at 7 p.m.
3. How will generational splits play out?
Much ado has been made about the fact that three candidates—Chokwe A. Lumumba, Melvin Priester Jr. and Tony Yarber—are under age 40. Likewise, a lot of questions have been raised about the experience of veteran officeholders such as former Mayor Harvey Johnson Jr., state Sen. John Horhn and Councilwoman Margaret Barrett-Simon, and how much that experience resulted in concrete accomplishments for Jackson.
The little polling we've seen suggests that two of the younger candidates emerge as the top vote recipients and slip into the runoff. But with the younger candidates focusing a lot of their attention on younger voters and more experienced candidates fighting for older Jacksonians, it's possible that we end up with a runoff between one of the veterans and one of the younger guys.
4. How much havoc will the lesser-known candidates wreak?
Aside from the Top 7—which includes former and present officeholders, candidates who had strong showings in previous elections and recent polls—there are five other people, some of whom have also run for city offices in the recent past, on the ticket.
The eccentric Gwendolyn Ward Osborn Chapman recently became a viral video sensation with a segment she taped for WAPT in which she advocated for the production of industrial hemp as a source of tax revenue, and is now in a position to draw some joke votes.
In a low-turnout, crowded race, any votes these folks get could be huge.
Watch jfp.ms tonight for election returns. Follow @rlnave, @newgirlhaley and @trip_jfp for tweets and short videos from election-night candidate events.