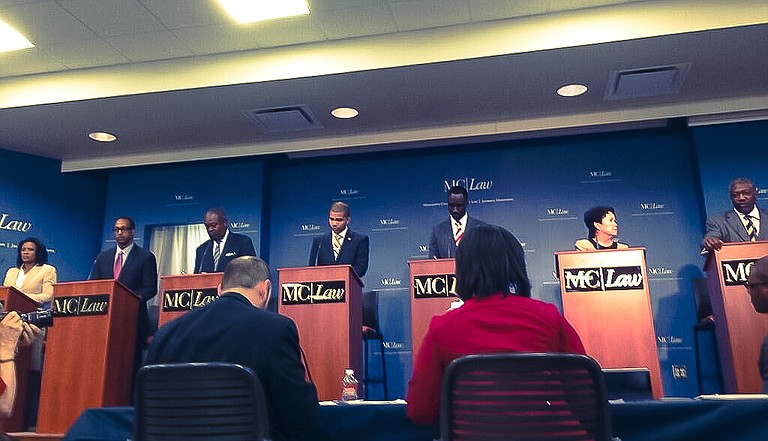 Seven of the top contenders for Jackson mayor made last pitches to a television audience Friday night at Mississippi College School of Law in an event that differed from recent debates.
In the debate, which WAPT-TV and The Clarion-Ledger hosted, candidates were allowed to pose their own questions to their fellow candidates, which made for more than a few raised eyebrows.
The moderators also asked several new questions concerning plans for the detention center, the impact of moving the Sanderson Farms Golf Championship to Jackson, the importance of downtown development, Jackson's business image and whether candidates support the current state investigation of the Madison Police Department for a dangerous police pursuit through Jackson.
When asked what Jackson should do regarding the county's Raymond Detention Center, Sen. John Horhn stressed the need for funding from the state in order to maintain the jail.
However, Regina Quinn, an attorney and past mayoral hopeful, took a more preventative approach, saying that funds need to go to getting at "the root of the problem."
City Council President and Ward 2 Councilman Melvin Priester Jr. said inmate transportation needs to be a priority. Chokwe Antar Lumumba disagreed, saying that sending prisoners away is too costly for the city, and that repairs should be top priority for the jail.
Most candidates were pleased with the fact that the Sanderson Farms Golf Championship is moving from Madison to Jackson. Lumumba said that Jackson should use this opportunity as an incentive to welcome more programs to the city. Priester also agreed, but felt that the marketing of small businesses to tourists coming to see the championship should be the main priority.
When asked what Jackson could do to improve its business image, Ward 6 Councilman Tony Yarber said using systems that allow people to track the city's progress would improve transparency. Ward 7 Councilwoman Margaret Barrett-Simon said it is time to let larger developers know that Jackson is "open for business." Priester disagreed, saying that small business should be top priority as they employ the majority of workers in the city.
Lumumba agreed with the notion that too much emphasis is put on Jackson's downtown area. He explained that, although downtown is important, he would like to focus more on "around town." Quinn disagreed, saying that it is "absolutely critical" that downtown Jackson continue to be developed, since it is the first thing that people see.
Moderators asked if candidates support the Jackson Police Department's current investigation of the Madison Police Department, due to the MPD's pursuit of auto-burglars within JPD's jurisdiction [LINK: http://www.jacksonfreepress.com/news/2014/mar/12/hot-madison-police-pursuit-under-investigation/]. Priester agreed with the investigation, saying that advanced technology—a primary Priester campaign priority—would help. Former Mayor Harvey Johnson Jr. also agreed with the investigation, saying that the case is proof that communication needs to be strengthened between jurisdictions.
The debate's second round allowed candidates to ask each other questions, with 30 seconds to respond. The older candidates seemed to target the younger candidates by asking about their experience levels, while the younger candidates fired back, questioning many of the older candidates about their past decisions.
Both Horhn and Yarber questioned Priester about his level of experience, to which Priester gave several examples of his past responsibilities as City Councilman. Barrett-Simon asked Horhn why he was recorded as voting yes on SB 2681, the controversial "religious freedom" bill, and Horhn replied that he disagreed with the bill and was only recorded as in agreement with it due to his absence from the meeting. Johnson questioned Lumumba's qualifications for mayor, to which Lumumba pointed to his experience as an attorney. Priester asked Horhn what he would do to bring more advanced technology to Jackson students, to which Horhn replied that bringing technology into the classroom is not a job requirement of mayor.
Election Day is Tuesday, April 8, with polls open 7 a.m. to 7 p.m. If a run-off election is necessary, it will be Tuesday, April 22.