Originally published September 30, 2013 at 12:02 p.m., updated September 30, 2013 at 1:21 p.m.
Civil rights and women's empowerment activist Evelyn Lowery, wife of the Rev. Joseph Lowery, died in her Georgia home Thursday, Sept. 26. Lowery had been hospitalized from a severe stroke since Sept. 18. She returned home after doctors said the stroke caused irreversible damage. Lowery was 88.
Lowery was born in Memphis, Tenn., in February 1925 to activists Rev. Dr. Harry Gibson and Evelyn Gibson. Lowery's father served as president of the Memphis chapter of the NAACP and her mother was involved in community organizations.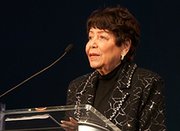 Lowery attended Clark College and Youngtown University. She married Rev. Joseph Lowery, former president and now President Emeritus of the Southern Christian Leadership Conference, in 1950.
In 1965, Lowery took part in the historic voting-rights protest marches from Selma to Mongomery, Ala. She and her husband also worked alongside Dr. Martin Luther King Jr.
Lowery founded a sister organization to the SCLC called Women's Organizational Movement for Equality Now, Inc. in 1979. W.O.M.E.N. champions the rights of women, children, and families. It aids disenfranchised individuals and families regardless of ethnicity, gender, age or religion.
In 1980, Lowery created the Drum Major for Justice Award, which is given out annually near the April 4 anniversary of the assassination of Dr. Martin Luther King Jr. The award recognizes individuals for their contributions to freedom, equality and achievement in their professional fields. Among the recipients of the award are Rosa Parks, the original Tuskegee Airmen, Maya Angelou, Bill Cosby, Oprah Winfrey, Rev. Jesse Jackson Sr. and James Meredith.
Lowery founded the Women's Empowerment Training Center for GED/computer training in 1988 and created the Bridging-the-Gap Girls to Women mentoring program in 1995. In 2004, she received a spot on the International Civil Rights Walk of Fame at the Martin Luther King Jr. National Historic Site (450 Auburn Ave. N.E., Atlanta).
A memorial service for Lowery will be held in the Martin Luther King Jr. International Chapel at Morehouse College (830 Westview Drive S.W., Atlanta) Wednesday, Nov. 2 at 11 a.m.