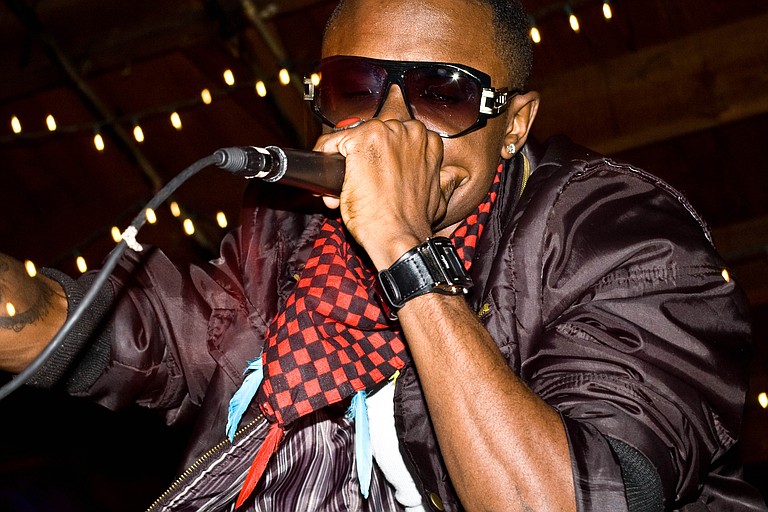 Wednesday, September 11, 2013
Throughout last year, Jackson hip-hop artist Herbert Brown, whose stage name is James Crow, struggled through an incredible hardship—one that no amount of talent, dedication or hard work could overcome. Crow's wife, Helena Walker Brown, was in desperate need of a heart transplant, which would cost the Brown family dearly in both finances and grief. After she was added to a waiting list for a donor and one "false alarm," Helena received a new heart in April 2013.
While their health insurance would cover most of the hospital stay, Crow and his wife were still in dire straits due to the cost of traveling back and forth from the hospital in New Orleans.
Where some men would see a wall, James Crow saw a stage and a chance to use his skills to help his family. Crow spoke with close friends DJ Young Venom and Garrad Lee, show promoter and former Jackson Free Press columnist, and they quickly came up with a plan.
Enter Jackson's genre-jumping concert series, the Blender, a series of shows that Lee originally put together with Cody Cox of Furrows.
"What inspired the Blender was the idea to have a comprehensive music scene. We have an incredible hip-hop scene and an incredible rock 'n' roll scene, and there were certain venues where these things happened," Lee says. "With the first one, we just tried not to force it, and it felt very natural, like with the first time that James Crow was on stage with Furrows. There was no disconnect."
One of the things that Lee most enjoys about the Blender series is the sense of community it brings to Jackson. "Each one has been very successful and builds upon the success of the previous one. These shows have become great for artist collaboration," he says. "It's about helping to foster an energy and environment (where that) can happen."
That emphasis on collaboration is evident in the lineup for this year's Blender. Hip-hop artists like DJ Young Venom and Mr. Franklin (aka Kamikaze, another former Jackson Free Press columnist) join rockers That Scoundrel and the big sound of the Southern Komfort Brass Band. The dream team of rappers Vintage Noize Crew—which includes 7evenThirty, 5th Child, Jaxx City and James Crow—will also perform.
Other community members including local artists donated items for a silent auction and a raffle drawing.
The location was just as significant as choosing the musical acts, and Lee only had one venue in mind. "Soul (Stacey Winters, owner of Soul Wired Cafe) has been on me to do a show there, so when we decided to do this Blender show for Helena, I immediately knew we wanted it at Soul Wired," he says. "Helping support her small business was incredibly important to everyone involved."
The Blender, Volume Four, is Sept. 13 at Soul Wired Cafe (111 Millsaps Ave.) Doors open at 8 p.m., and the show starts at 9 p.m. All proceeds from the $5 cover charge go to help James Crow and Helena Brown.
For more information, call 601-863-6378 or visit Soul Wired Cafe's Facebook page.
An earlier version of this story incorrectly described some personal details about James Crow and his wife, Helena Brown, including past health scares and logistical details. The Jackson Free Press apologizes for the errors.