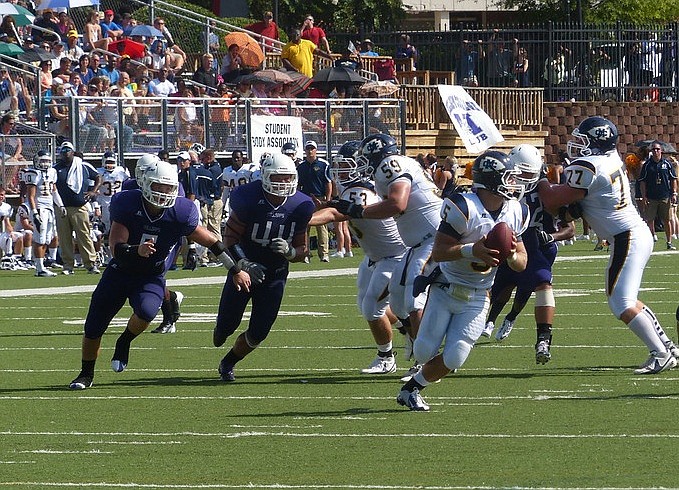 Thursday, October 31, 2013
Millsaps College provides plenty of reasons to "fear the sword." The Majors are the only four-year university or college football team currently undefeated in the state.
Millsaps now boasts a win count of seven for the season. The Majors have won close games and have won blowouts. They have won defensive battles, and they have won shootouts. What they haven't done is lose.
The 2013 season began with the Majors winning 52-19 over their main rival Mississippi College. Millsaps' win might be the last in Backyard Brawl history as MC begins its move to Division II.
Millsaps held on for a 28-24 victory over LaGrange for its second win of the season. The Majors cruised to a victory over Point University 38-17, earning their third win to stay perfect through September.
The first weekend of October, the Majors won a shootout against Hendrix 48-37 to move to 4-0. Millsaps needed a fourth-quarter rally to get past Trinity University (Texas) 27-24; the Majors scored 10 unanswered points in the final frame to earn the win.
Millsaps needed another fourth-quarter rally the next week to defeat Birmingham-Southern. The game was tied going into the last 15 minutes when the Majors scored 14 unanswered points to win 28-14 and move to 6-0.
Last week, the Majors hung on to defeat Sewanee 21-14 to move to 7-0. Millsaps is now three games away from a perfect regular season, and the final three games are all conference games.
This week the Majors host Berry for homecoming in another Southern Athletic Association game. Millsaps is tied for first place in the conference with Rhodes at 3-0. Berry is last in the conference at 0-4 and 0-7 overall.
Millsaps currently ranks 23rd in the American Football Coaches Association's top 25 poll. The Majors are the only team in their conference with a ranking.
Running back Mike Barthelemy has led the Majors on their winning streak. The junior running back has rushed for 1,062 yards and scored 14 touchdowns, including a long score at 72 yards.
Quarterback Zac Thrasher has been solid under center. The junior quarterback has completed 60 percent of his passes and has thrown for 1,035 yards with 11 touchdowns and eight interceptions.
Zander Romano leads the Majors in receiving. The senior wide receiver has 19 catches for 261 yards with three touchdowns. Freshman wide receiver Beau Wells is second on the team with 19 receptions for 187 yards and two touchdowns. Junior wide receiver Trevor King leads the team with four touchdown receptions on 17 catches with 176 yards.
The Majors have two wrecking balls on the defensive side. Zach Bell and Jeff Milner have been nearly unblockable this season.
Bell, a junior, has nine sacks with 13.5 tackles for a loss, one forced fumble and 41 overall tackles. Milner, a junior, has seven and a half sacks with 11.5 tackles for a loss, four forced fumbles and 30 overall tackles.
Junior defensive back Alex Jackson leads the Majors with 43 overall tackles, two and a half tackles for a loss and two forced fumbles. Senior defensive back Nick Arnold leads Millsaps with two interceptions on defense.
Millsaps faces Berry for homecoming this Saturday, Nov. 2, at 1 p.m.