Wednesday, November 27, 2013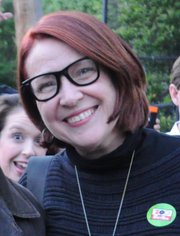 I have a feeling that I will always look back at 2013 as a mega-intense year of change and pain, not to mention renewal. Put simply, since the last day of June, Todd and I moved into a new house (that we adore!); I shattered my upper arm requiring surgery and a hardware store full of metal in there (yes, I have a special card for airport security); and we moved the JFP-BOOM offices from Fondren into downtown Jackson where we've wanted to be for several years now.
I'm tired, I'm sore, and I couldn't be more grateful.
Yes, oddly, even for the accident. Afterward, I largely stayed at home recuperating and using voice recognition to work for three months, and I call it one big Zen session. I had a good attitude 90 percent of the time, and when I felt down, I cried, Todd gave me a foot massage, and I 
felt better.
The best part of being forced out of my daily routine is that I had time to think and give thanks, as I unpacked into a house I'd admired for awhile and hungrily eyed the huge bathtub I couldn't get into just yet.
I've done an almost-daily grateful list for several years now, and it makes such a difference in my life, even when work is the most stressful, bloggers are telling lies about me and mine, and even friends are mad at us because we do our jobs well.
That little bullet list of seven items I'm grateful for—everything from my yellow bar stools to a great cup of coffee to getting a wild hair to move back to Mississippi—keeps me in balance. The list, along with the mini-prayers and meditations I do throughout each day, has helped make me tougher and a lot calmer and happier moment to moment. I've never been more mindful, and I'm oh-so-grateful for that. What a contrast to my younger, self-obsessed years.
Last year, I woke up to tweets on Thanksgiving morning congratulating me because Rachel Maddow had included the JFP on her annual giving-thanks list the night before. She focused on our voter-ID reporting about that needless, expensive, political legislation that probably won't even work, and said her team couldn't have done their coverage without us. And considering how stellar her voter ID coverage was, this made me feel really good.
In that spirit, I'm starting my first annual public grateful list this week. Here goes:
I'm grateful for a remarkable partner in life and business, who put everything he had into starting a good newspaper in a state he didn't grow up in. And who took such good care of me after my injury, while keeping the business going. He deserves an Oscar, an Emmy, a Grammy and a lot of respect.
I'm grateful for a passionate staff that gets better every month. They are creative, driven and care so much about social justice, not to mention Mississippi and Jackson's future. No wonder they're the model for so many young (and older) journalists.
I'm grateful for the chance to talk to aspiring journalists at colleges around the state, including Mississippi State, Ole Miss and Jackson State—all of which I visited in the last three weeks. (See Nos. 1 and 2 to understand how I managed it even during an office move.) These young people are this industry's future, and they need to be believed in and mentored. They inspire me more than I inspire them, I promise.
I'm grateful for the network of journalists (past and present) around the state and the nation (and abroad) who both recognize our work, as well as Mississippi's progress. They cancel out the ones who simplistically come down here hunting a Klansman. I'm especially grateful for the network of strong female journalists (and businesswomen) I've developed in the last couple of years. Yes, there is sexism even among progressive media (and organizations), and women must help each other through and around it.
I'm grateful to the owners and staff of Capitol Towers, who have jumped through hoops to help the JFP move and settle into a new wonderful space they built out for us. The Mattiaces and their staff seem to get that downtown Jackson needs shots of energy such as our staff brings, and have been so kind. They make us feel special, and that's never a bad thing for such a hard-working staff.
I'm grateful for the collaborative space we're now working in at Capitol Towers with wondrous views and super-cool neighbors and, yes, a blackboard wall (it's the backdrop for the cover wreath this issue). The staff interaction is already better and more productive, not to mention fun. We're going to do rockin' things in this space, including cool gatherings and classes. Stay tuned.
I'm grateful for the family I'm going to get to spend time with the rest of this week—people who are much more a part of my life than during all those years I lived away. One in particular has given us so much business advice and encouragement this year, and we thank her profusely for what we've accomplished with her help.
I'm grateful for Caroline Lacy-Crawford who re-appeared in my life about the time I fell in late June. She has been more than an assistant; she helped me put my life back together again in so many ways, and helped Todd when he was pulled a million directions. And she's an amazing vegetarian (and other) cook. Hire her to do a holiday party or re-organize your house! Write her at [email protected]
I'm grateful to all the readers and supporters I've met through doing this paper and BOOM magazine. All of you keep my passion strong for what I do because you tell me so often how much our reporting has meant to you. Thank you for being so engaged in the city's progress and for participating in Jackson's renaissance in whatever way you can. We're here to chronicle your progress and give you the information you need. Cheers for stepping up and out.
Finally, as a local business owner and consumer, a resounding thank you to all the local businesses in our metro that are thriving and growing and working and opening and creating despite the odds that huge corporations stack against you. Like you, the JFP has weathered corporate attacks on our business (especially by the shrinking newspaper conglomerate that I look down on out my new office window).
The locally owned business community sticks together and supports each other. I urge everyone reading this to support them during the holidays and throughout the year. They have the best gifts at all price points, and the coolest people selling them to you. Think local first and always.
Todd and I, and the JFP-BOOM staff, wish all of you a glorious, safe, loving and peaceful Thanksgiving holiday.