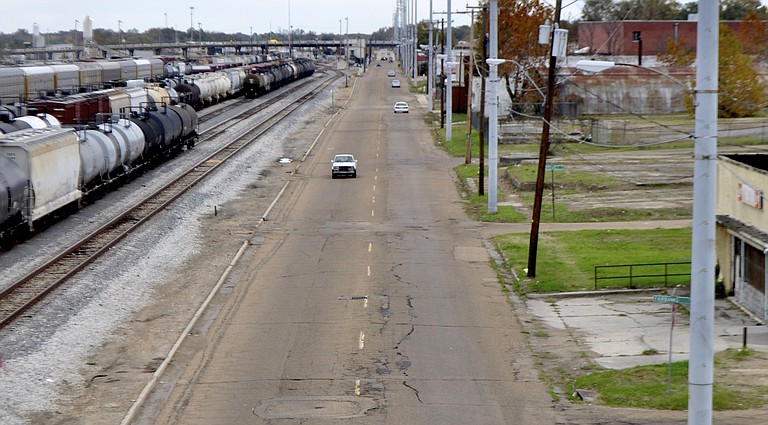 Wednesday, November 20, 2013
With all the talk about putting Jackson first, attracting business and teaching kids other parts of American history besides the Christopher Columbus discovery myth, reforming the city's public works department took a back seat during the 2013 municipal elections.
That's ironic, because after it all shakes out, the reorganization of Jackson's public works department could end up as a highlight of Mayor Chokwe Lumumba's legacy.
The change—a physical, economic and philosophical one—began long before Lumumba dismissed former department director Dan Gaillet on Oct. 29, citing philosophical differences.
Instead, the change began at a Jackson City Council meeting July 30. Ward 4 Councilman De'Keither Stamps and Ward 3 Councilwoman LaRita Cooper-Stokes killed a motion to adopt a change order to the contract the city had with Florence-based Hemphill Construction to rebuild Fortification Street.
The construction company's original bid for the project was $8,988,961, nearly three times the city's annual street-resurfacing budget, to reconstruct 1.2 miles from Farish Street to Greymont Avenue. The work included replacement of water and sewer mains, including a 24-inch water main on Jefferson Street between Fortification and Manship streets. It also provided for Americans with Disabilities Act-compliant sidewalks, changing the street from four lanes to three lanes between Jefferson Street and Greymont Avenue, replacing six traffic signals, adding traffic-monitoring cameras and fiber-optic communication wires, and installing decorative lighting fixtures.
But workers had found a 42-inch water drainage pipe clogged with trash underneath the street, and it was going to cost an additional $151,000 to clean it out.
Stamps took a stand, saying nothing would change in Jackson's municipal government if it didn't start with the way the city managed its money. His phone blew up for the next week. His email was full. Business owners on Fortification were furious that he had seemingly delayed the project.
In the end, it may prove to have been worth it, he says. Even though the same measure came before the council and was approved two weeks later, the message, Stamps says, got through.
"I wish I could explain how much of an effect that one 'no' vote has had," Stamps said Thursday. "With that one vote, we changed the way companies bid on projects that the city puts out requests for proposals for. People aren't lowballing us and just expecting us to approve subsequent change orders anymore."
The next shoe to drop was Lumumba's decision to dismiss Gaillet, who had held the position since 2009 under former Mayor Harvey Johnson Jr.
Lumumba promoted Gaillet's assistant Willie Bell to serve as interim director. Gaillet re-surfaced in Biloxi, where that city council has tabled mayor A.J. Holloway's nomination of him to lead that city's department of public works.
Bell has become the new face of public works, even if his job does carry the dreaded "interim" moniker.
"One thing we're doing differently is that we have more people involved in the decision-making process," Bell said at a Nov. 4 council meeting. "For example, we had a representative from human and cultural services sit into a meeting yesterday to talk about City Hall. In the end, that means more aspects of a project are taken into account on the front end, and that kind of collaboration will help us make better decisions for the city."
Now, the mayor and the city council are looking inward, ready to change the way the city handles public roads and pipes—doing the exact opposite of the privatization that more conservative elected officials tend to favor.
The council has already approved the 2014 city budget, in which Lumumba increased the public works budget $22 million to a whopping $398 million. That opened the door for the department to hire more workers and purchase equipment to and supplies to fix the streets.
Whether Bell, who worked on Lumumba's campaign and served as Gaillet's deputy director, will hold the position long-term is uncertain, but Stamps says he has confidence in him.
"I don't know if he is the long-term answer," Stamps said. "But I think he is more than capable of becoming that leader we desperately need in that position."