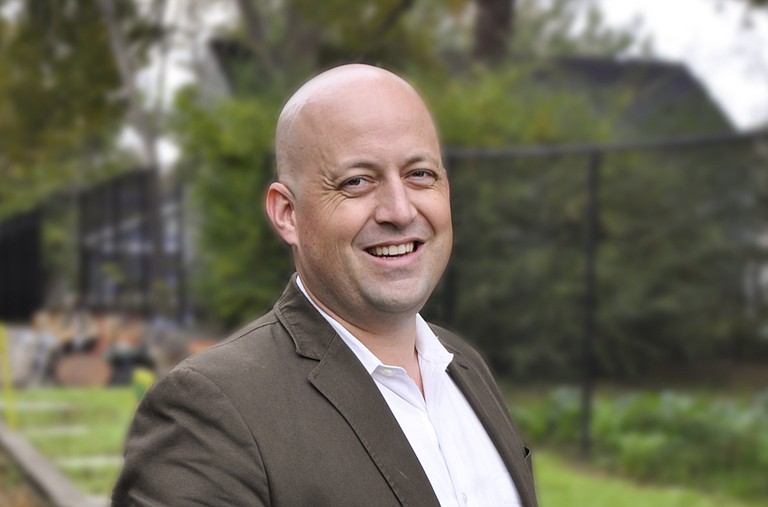 Wednesday, November 20, 2013
Kass Welchlin calls his bike ride from northeast Minneapolis, Minn., to Jackson in 1998 "12 days of the best conversations I had between myself and God."
The trip took a total of 1,134 miles, or at least that's what his odometer said when his bike broke down at the intersection of Fortification and State streets. Before that journey, the longest he had ever ridden was 720 miles.
Fortunately, he already had a job here.
Around 1997, while he was living in Minneapolis, Welchlin met Spencer Perkins. Perkins, then the owner and editor of "Urban Family & Reconcilers," and his friend Chris Rice, who currently serves as the director of the Center for Reconciliation at Duke Divinity School in North Carolina, had been to Minneapolis several times in their work across the country with Christian community development and racial reconciliation. Welchlin attended Park Avenue United Methodist Church, which had been having some problems within the congregation. Perkins and Rice did a reconciliation workshop that Welchlin calls "a cross between a workshop and an intervention" during the week.
Welchlin was amazed by the work the pair was doing in communities across the nation, including the Christian commune in Jackson, the Antioch Community.
"(It was like) Amish culture, but you didn't have the Puritan guidelines," Welchlin says about Antioch.
"It was a very unique social experiment."
After Perkins' passing in 1998, Perkin's father, Dr. John Perkins, hired Welchlin to help the Perkins Foundation with fundraising and volunteering while they revived its racial-relations ministry, Reconciler's Fellowship, after the organization closed its doors on the Antioch Community, and almost shut down the race-relations ministry.
Youth for Christ asked him to be on the board in late 2008, after he had given to the organization for a year and volunteered for a while. In October of this year, YFC asked him to be the executive director.
The organization's mission is to "reach young people everywhere." Welchlin's five-year goal is to grow the organization and saturate the metro area and surrounding middle schools with YFC's programs and outreach. He also wants to begin a capital campaign and find another facility for the organization.
Welchlin calls his biggest inspiration his family: his wife, Cassandra, whom he met here, and their three children, Kyita, Zia and Corban. Zia, 5, was diagnosed with severe Childhood Apraxia of Speech, a rare disease that gives a child trouble forming speech movements. "Having a child with a disability is a whole different category of parenting," Welchlin says.
For more information on Youth for Christ, visit jacksonyfc.org.