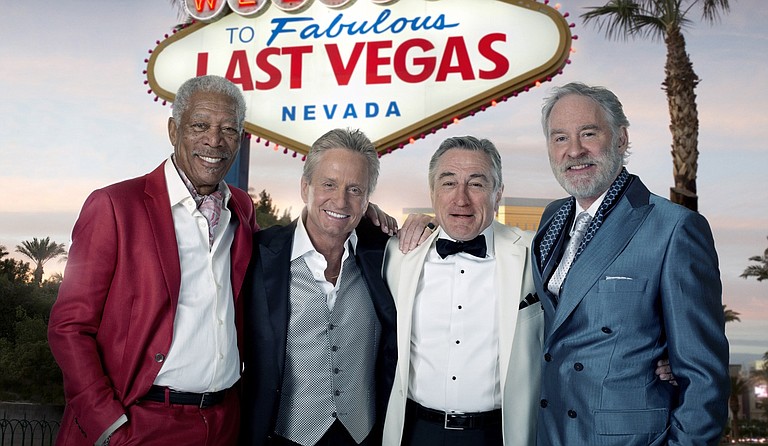 Wednesday, November 6, 2013
I recently celebrated another birthday—not a milestone, but another year toward reaping full benefits of an AARP membership. With my mind focused on lost youth and faded glory, I set out to see Jon Turteltaub's "Last Vegas." The theater was packed. The mood, light. The overall experience was much better than the film itself, because it was a shared experience among a self-selecting crowd who understood the disconnect between an active mind and an aging body. 
Where does youth and invincibility go? It's here today and gone tomorrow. While nothing in "Last Vegas" breaks new ground, it reminds us that old dogs can have just as much going on as young pups. In fact, it demonstrates Dan Buettner's "Blue Zone" principle that people live longer, happier lives in the company of their family and friends. 
In "Last Vegas," written by Dan Fogelman, four old fellas break out of a geriatric conundrum of medications, overbearing kids and feeling useless for an unforgettable weekend in fun city. It's a mellowed "Hangover," without gross and grosser. What happens in Vegas naps in Vegas and then gets forgotten, but I still laughed because there's nothing funny about getting old except reveling in the absurdity of it all.
Screen legends Morgan Freeman, Robert DeNiro, Michael Douglas and Kevin Kline play the Flatbush Four. In their youth, they owned the Brooklyn streets. In their retirement 58 years later, the boys have grown up. Each character has his own unique story to tell.
Sam (Kline) lives in Naples, Fla., with hordes of other senior citizens. He participates in retirement center-sponsored water aerobics sponsored led by an aging matriarch who should not be grinding her hips in public. He dines with friends at 4:30 in the afternoon and raids the medicine cabinet. He feels old and worn. 
After suffering a stroke, Archie (Freeman) is under lockdown in his son Ezra's home. Ezra (Michael Ealy) means well, but his good intentions are sucking the joy out of Archie's life. Archie feels useless.
Paddy (Robert DeNiro), a grouchy curmudgeon, stews and broods in his easy chair, surrounded by photographs of his dead wife Sophie. Except for the pesky neighbor girl who brings him homemade soup, Paddy has built a wall between himself and the dead. He's depressed and lonely.
Then there's Billy (Douglas), who refuses to age without a fight; he's a huckster trying to cheat death. Billy maintains the facade of youth with hair implants, spray-on tan and a girlfriend (Bre Blair) who could be easily mistaken for his daughter. (This is where life and art meld together). But something's gnawing at him. At a funeral, Billy blurts out a proposal to his baby-girlfriend and then calls the guys to invite them for a Viva Las Vegas wedding. 
The Vegas playground, a character in its own right, allows the four friends to laugh, joke, insult each other and resolve old hurts. A gorgeous beauty with sultry singing and a badda-bing, badda-boom mouth spewing one liners (Mary Steenburgen) keeps the guys grounded in reality. Female impersonators, Cirque du Soleil performers and brides on bachelorette weekends showcase Vegas and keep the story lively and entertaining.
"Last Vegas" is unabashedly commercial, almost suffocating with brand placements, lusciously funny at time and leaves you with a warm DorisDayland feeling. The message is simple, old fashioned, but updated for the times.