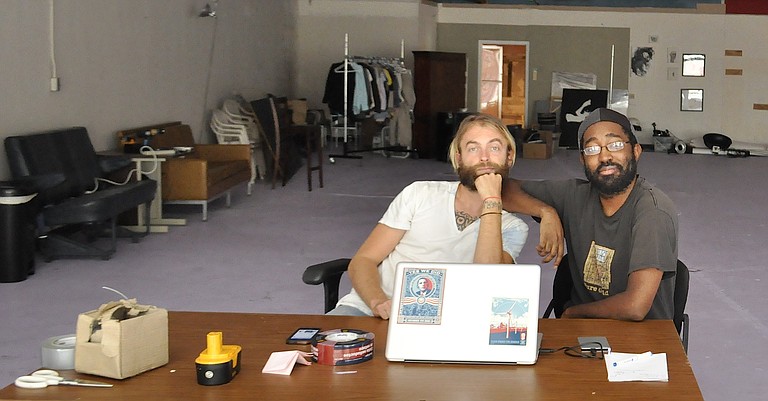 Wednesday, November 6, 2013
The HeARTalot pop-up studio is, for the most part, a bare-bones storefront. Brightly patterned photo backdrops hang in one area, a smattering of mismatched tables and chairs occupy random groupings around the space, and art supplies are tucked into nooks. It's only when people fill the space, for body-painting workshops, Photoshop classes or just a good old-fashioned party, that the space comes to life.
Artists Josh Hailey and Brittany Schall are transforming this space into a place to "activate, educate and communicate through art"—in other words, a flexible venue to share their creative energies with other artists, students, teachers and community members alike.
The studio is at 3009 N. State St., a previously empty building with asbestos-covered floors, and is now a place for classes, workshops and teaching opportunities for artists.
"It's a thing I've been passionate about for some time," says Hailey, 32, of "pop-up art," or temporary rental spaces for artists to use. "I don't think Jackson knows much about the pop-up mentality. It's basically just renting a space temporarily. Most of the people making local art or anything like that don't have the investment to put into a building."
Huge down payments and yearlong leases are unmanageable for the average artist. The answer for Hailey, Schall and many other artists in urban areas is quite simple—rent a space for a short period of time, offer free classes, shows and events, and trigger the community's interest in the potential for the arts and the spaces that surround them.
"It's really stupid to have vacant space in a city," Schall says. "It's a money-hole in anyone's pocket if the space isn't being utilized."
Schall, 27, says re-invigorating a vacant site can help both the space and the artist. "It's good for the space because it shows what you can do there and gives you, as an artist, a sense of credibility," she says. "You look like an actual businessperson."
As opposed to having a storefront and selling a product, Hailey and Schall hold classes at their location on State Street, as well as a weekly "Art Church" event on Sunday afternoons, which allows members of the community to visit the studio and make suggestions about how the space could be used. By letting locals contribute to the planning, the duo entered into a symbiotic relationship with the community they serve, offering their artistic insight and their venue to those who can help support it financially and voluntarily.
"This whole thing and everything I want to do is letting the community steer the course," Hailey says. "I try to let everyone put in their two cents."
This isn't Hailey's first go at community-oriented projects. He spent the last two years on the road, traveling 160,000 miles to do a photo documentary called "Photamerica."
Photamerica was part of Hailey's Story Projectors nonprofit organization. He spent time in each state taking photos, shooting footage and interviewing Americans in the hope of shaping a narrative around their perceptions of community. He met Schall in New York during his travels, and they quickly realized that they shared similar artistic interests.
Now, under the nonprofit HeARTalot, which includes Story Projectors and the website Where's North Arts, Hailey temporarily takes the wheels off the van. You could consider this an active reprieve for the photographer, a way to give back to his native city in hopes of furthering art education and community outreach.
"There's a lot of talent here," Hailey says, as well as "a lot of support and respect."
Though Hailey grew up in Jackson and credits his high-school years at St. Andrew's Episcopal School for shaping his interest in art, Schall has only gotten to know Jackson in the last month or so. She comes to the south from New York, where she moved shortly after earning a fine arts degree from Colorado State University. In New York, she held a variety of jobs in the art world, including working as a studio assistant at an "art factory"—a place where artists work hourly to produce art for already established artists.
"I was a little disenchanted by how art was handled," Schall says. "There was no way for me to work on my own because I was constantly producing someone else's work."
This disillusionment motivated Schall to start Where's North Arts, a project that helps artists create online and in-person collectives where they can network, create and receive advice from other artists, all things that are difficult to do without a community of supporters. She and Hailey's newest venture on State Street will reflect some of the things WNA tries to accomplish.
"Realistically, anyone can afford real, original art work," Schall says. "The idea that art is only for a special few is the worst thing ever. Art is for everyone."
Hailey and Schall plan workshops on photography, line drawing, watercolors and more, depending on who wants to volunteer their time to teach at the location.
Similar to how Hailey funded Photomerica through crowdsourcing, Hailey and Schall are fundraising and looking for donors to cover the basic expenses of the building. Visit heartalot.com to learn more about their projects and goals, donate, and keep up with events or classes place at the new studio through January. The couple hosted a fundraising party on Halloween night, and plan a Photamerica release party Dec. 23. For more information, email Hailey and Schall through heartalot.com.
For a gallery of photos, visit jfp.ms/HeARTalot.