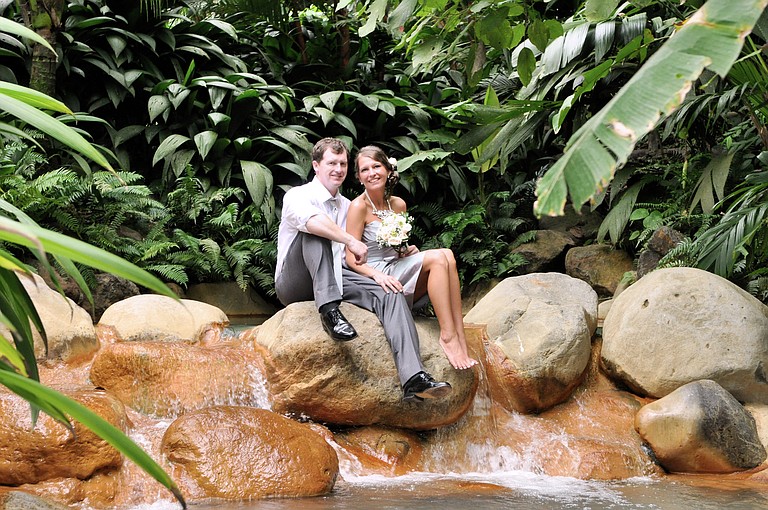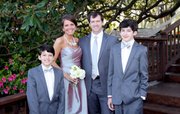 Not many couples can say they had their first fight before they even went out on a date. But then again, most couples aren't lawyers on opposite sides of a case. Shanda Yates' and Yancy Burns' first-meeting story could be a scene in a romantic comedy: They met when he was suing one of her clients. As lawsuits are prone to do, things dragged on, more suits were filed, and soon they had known one another professionally for several years.
Then, one night when Yates was at Pi(e) Lounge at Sal & Mookie's with some friends, she ran into Burns, who suggested he'd like to take her out for drinks sometime. Without missing a beat, Yates responded, "If you stop suing my client." When their last case settled, Burns asked her out. The rest, as they say, is history, and in May 2012, Burns popped the question.
When both the bride and groom are busy lawyers, scheduling a wedding around trials, hearings and depositions can be a challenge, so the couple ended up having a year-long engagement that gave them plenty of time to figure out exactly how to make their ceremony and celebration special.
Yates explains that since this was a second marriage for both, they felt no need for a big "frou-frou" wedding, but still wanted to include their family and friends. The solution? Combining the wedding and honeymoon into a trip just for two, then returning home for a reception with their loved ones.
For a wedding and honeymoon destination, the couple found a location compromise offering something for both him and her: while Yates is a self-professed "beach person," Burns is not, but he always wanted to visit Costa Rica. Traveling the country by car, and staying at three different resorts, allowed them to experience beaches, rainforests and a volcano.
The wedding ceremony itself took place at The Springs Resort and Spa on the Arenal volcano. While planning a wedding remotely from another country might at first seem daunting, Yates says it was easy and stress-free thanks to the resort's stateside wedding planner. "I told her what I wanted, and when we got there, it was done," she says.
The couple wanted the ceremony to be intimate and private. They wed at the base of the volcano in a sheltered space away from any other resort guests. Yates knew she didn't want a traditional wedding dress; her two requirements were that it be short and have pockets. She found a lavender dress at Bella Bridesmaid that she loved, and the groom wore a custom suit and tie.
After wrapping up their Costa Rica trip, which also included stops at Peace Lodge in the rainforest and the Westin at Playa con Chal on the beach, the new husband and wife returned to Jackson ready to celebrate. Since they both call Fondren home and are building a new house in the neighborhood, they wanted to keep the reception in the area. They settled on the Fairview Inn in nearby Belhaven.
The bride's overriding concern in reception planning was for everyone to have a good time without it feeling fussy. Yates even went so far as to tell many of the reception vendors that it was simply a private party, rather than a wedding reception. To ensure the focus stayed on family and fun, Yates gave vendors broad brushstrokes as far as ideas and just let them run with it; she did not want to get bogged down in planning the details.
"It was nice to be removed from the minutiae so I really could just enjoy everything," she says with a smile.
Before the reception, Burns' sons, 13-year-old Morgan and 10-year-old Harper, joined the couple for family wedding portraits, wearing gray suits matching their dad's and bowties to match Yates' dress--their special request. At the reception, as Hunter Gibson and the Gators played, and guests enjoyed cake by That Special Touch, members of the couples' family mingled together.
The new Mrs. happily says that thanks to making sure the wedding and reception was personal, fun, and allowed the professionals to handle the planning, she and her husband were able to fully focus on their guests and each other.
And in the end, that whole "stop suing my client" thing worked out, too. The couple is now going into practice together.
Vendors:
Officiant: Rev. Kelly Pope of Brandon
Reception location and caterer: The Fairview (734 Fairview St., 601-948-3429)
Groom's and groomsmen's attire: Yancy's suit was from Latham Thomas—now Mozingo Clothiers (4500 Interstate 55 N., Suite 140, 601-713-7848) in Highland Village
Bride's attire: Bella Bridesmaid (118 W. Jackson St., Ridgeland, 601-898-0303)
Cake: That Special Touch (2769 Old Brandon Road, Pearl, 601-932-5223)
Florist: Wendy Putt (wendyputt.com)
Photographer: Susan Margaret Barrett Photography (susanmargaret.com)
Invitations: custom reception invitations by Murray Printing in Natchez (154 E. Franklin St., Natchez, 601-446-6558).
Music: Hunter Gibson & The Gators (huntergibson.com)