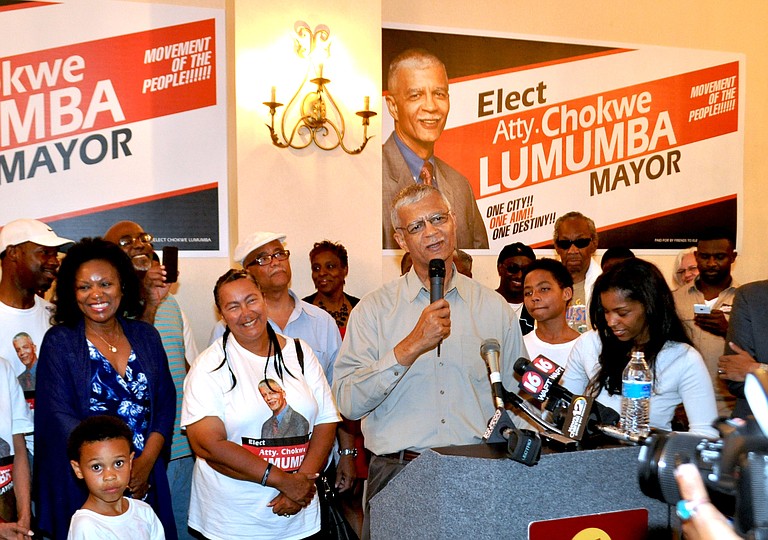 This week's Democratic primary runoff saw a huge spike in white voter turnout while black turnout held steady. But the effect on the results seemed negligible: Councilman Chokwe Lumumba defeated businessman and newcomer Jonathan Lee 54 percent to 46 percent.
Lee's stronghold—Jackson's predominantly white precincts—saw about a 27 percent increase in voters in this week's runoff over the Democratic primary May 7.
The businessman also picked up 3,314 more votes than Councilman Lumumba in six precincts--precincts 38 through 43--the same precincts he won handily in the primary.
After dominating in the northeast Jackson precincts in the primary, businessman Jonathan Lee did even better in the runoff, picking up about 2,400 additional votes in that area.
In fact, Lee captured close to 100 percent of the vote in some precincts. Take Precinct 33, where only 2 percent of voters are black, for example. On May 7, Lee won 91.5 percent of the votes cast (his nearest challenger, Mayor Harvey Johnson Jr. got 6 percent). This week, Lee's votes in Precinct 33 jumped to 99.2 percent over Lumumba.
Similarly, in Precinct 34, where 99 percent of voters are non-black, Lee won 90.1 percent on May 4. Lee captured 97.6 percent of the vote over Lumumba in the runoff.
The problem for Mr. Lee was the rest of Jackson, where voters went overwhelmingly for the other guy.
Turnout more or less remained level in precincts with the highest proportion of African Americans, with about 2 percent more people participating in the runoff than the primary. In those precincts, Lee slightly increased his vote totals; on average, Lee scored about 4 percent more in these precincts in the runoff.

Lumumba wiped the floor with Lee in practically every other ward in Jackson. He picked up 3,380 more votes than Lee in Precincts 80 through 94, which all fall into either Ward 2, 4, 5 or 6. That was more than enough to cancel out Lee's super-majority in Jackson's predominately white precincts and put Lumumba in the driver's seat to be the next mayor.
The councilman also garnered a lot of support in Wards 3 and 4. In precincts 18-31, which are all situated in those wards, Lumumba picked up 2,506 votes over Lee. The turnout improved from almost 31 percent to nearly 37 percent in those precincts, and the councilman picked up 2,155 more votes than he did two weeks ago, while Lee's numbers stayed the same or improved very little.
Precincts with Lowest African American Percentage
Precinct 34 (1 percent black) Ward 1
Turnout: 63.89 percent
Lumumba 25
Lee 1,018
Precinct 33 (2 percent black) Ward 1
Turnout: 63.7 percent
Lumumba 5
Lee 645
Precinct 9 (4 percent black) Ward 7
Turnout: 50.08 percent
Lumumba 38
Lee 603
Precinct 45 (4 percent black) Ward 1
Turnout: 52.49 percent
Lumumba 52
Lee 971
Precinct 17 (7 percent black) Ward 7
Turnout: 54.45 percent
Lumumba 16
Lee 332
Precincts with Highest African American Percentage
Precinct 23 (100 percent black) Ward 3
Turnout: 37.61 percent
Lumumba 376
Lee 128
Precinct 31 (100 percent black) Ward 3
Turnout: 34.47 percent
Lumumba 341
Lee 103
Precinct 28 (99 percent black) Ward 3
Turnout: 36.6 percent
Lumumba 380
Lee 138
Precinct 41 (99 percent black) Ward 2
Turnout: 37.49 percent
Lumumba 570
Lee 171
Precinct 85 (98 percent black) Ward 2
Turnout: 37.28 percent
Lumumba 806
Lee 232
Precinct 58 (98 percent black) Ward 5
Turnout: 36.77 percent
Lumumba 365
Lee 156
Precinct 59 (98 percent black) Ward 5
Turnout: 19.87 percent
Lumumba 329
Lee 106