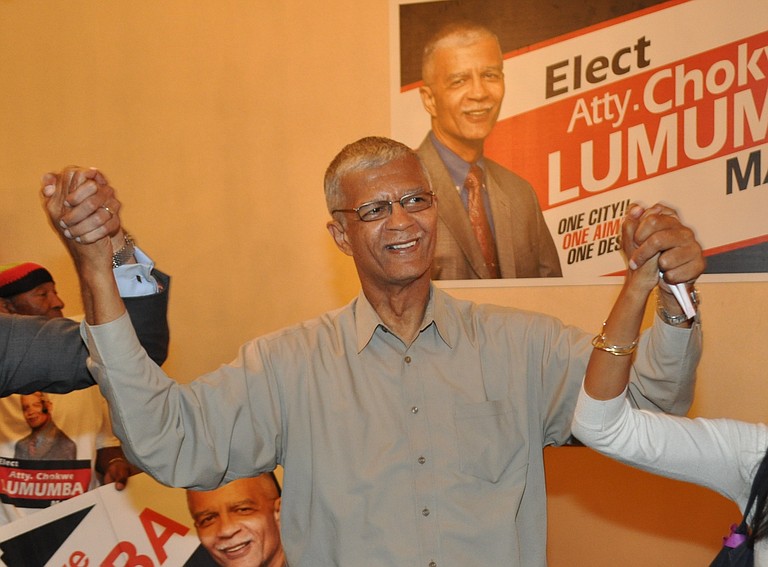 Originally published May 21, 2013 at 9:14 p.m., updated May 22, 2013 at 11:06 a.m.
JACKSON — In a race that changed rapidly over the last week, City Councilman Chokwe Lumumba has taken the Democratic primary runoff, and likely the mayor's office, with 20,180 votes over 17,103 for Jonathan Lee.
At a celebration party at the Clarion Hotel Tuesday night, the crowd of 150 to 200 campaigners, friends and supporters went wild when news stations began to call the race.
About 15 minutes later, Lumumba entered the room to chants of "Chokwe! Chokwe! Chokwe!"
After being introduced by his son and daughter, the civil rights leader took to the podium to chants of "The people must decide!"
"I want to express myself first of all and say that I love every single one of you," Lumumba said, thanking his campaign workers. "...This has been a long and stressful day, but it's not the first one I've ever had. I have a long list of stressful days. God kind of prepares us for the moment. He gives you those little hurdles to jump until you get to the big hurdles, and he's smart enough, and we're blessed enough, to be empowered to jump those hurdles when you get to them."
It was a family affair, with all of Lumumba's Jackson staff, a handful of his youth-league basketball players and his extended family from all over the country joining him behind the podium.
He was also joined by former mayoral candidate Regina Quinn, who endorsed him after finishing fourth in the first primary vote two weeks ago.
According to polls, Lumumba was down 14 points (49 percent to 35 percent) just six days ago. But following last Friday's WAPT/Clarion-Ledger debate at MC's School of Law, he closed the gap to four points in the same poll by Monday afternoon.
Lumumba shared a story of how he listened to a radio program the night before the election to some guys saying "off the chart" things about him in a negative way. "I was trying to figure out how I could be too black and be a race traitor at the same time," he said to big laughs from the audience.
"But the people of Jackson could not be fooled," Lumumba said. "It's really amazing when you look at it. I think that the representation selected by the people is a representation of the readiness of the people, and I think the people of Jackson are ready to get it done."
Lumumba finished by reminding his supporters he still faces three independent candidates in the general election, and urged them to support him on June 4. "There's no telling what they'll make up about me by then," he said.