Wednesday, March 27, 2013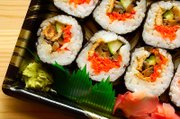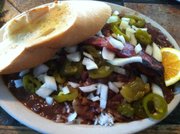 Tom Head Red curry at Thai House, I think. (Runner-up: the Chirashi bowl at Sakura Bana. Honorable mention: Portabella po-boy at Capitol Grill.)
Galean James Baked chicken at Sugar's Place Downtown Jackson.
Deborah Blakeney Brisket plate at State Street BBQ.
Vergie Redmond Carnivore Pizza at Pizza Shack.
Jakob Clark Redfish Anna at Walker's.
Colendula Green Parlor Market's PM Burger. This burger takes me on a journey of happiness. Every time I take a bite of it I smile & say to myself, "That PM is a juicy burger." (Also,) Congress Street's shrimp & grits. That dish makes my stomach feel pleasant. The Penguin Restaurant & Bar's chicken Neely, Hal and Mal's red beans & rice, Sugar's Place Downtown breakfast. Bruno's Adobo shrimp creole over rice.
Dana Larkin Salmon at The Penguin.
Greg Faiers Fried pickles at Fenian's Pub.
Chico Harris Something at the Cherokee when Lance is bartending.
Max Edgar Renfroe Chicken Lula w/hummus at Aladdin.
Lucian Dixon Chicken Chef's Salad at Basil's Belhaven--or anything else from Basil's.
WC McClendon Chicken and waffles at Mint.
Keisha Real Talk Varnell Seafood Bisque- Char (the best). Hmm--that supreme at Pizza Shack leaves me feeling some kind of way too. ....
Kim Brown Robinson Smoked pimento cheese at Parlor Market ... mmmmm.
Chip Sheppard Fried everything at Cherokee with a Cherokee Po-boy! On the topic (Po-boys), Sal&Phils is delicious! And in the area of Sal&Phils, you could get some take home from La Guadalupe. ... Sorry, a little much, but my on again diet gets me really pumped when people talk about food!
Carl Black Can I vote for two places? High Noon Cafe and Seaside Cakes.
Tyrone Hendrix Smothered pork chops from Bully's Restaurant.
Tom Allin I'll second Tyrone if I can get a side of the greens of the day.
Scott Essex Stacked enchiladas w/ extra cheese and onions at The Elite.
Tom Freeland Broiled softshell crabs at the Mayflower (or the broiled oysters ... or the crabmeat salad ...).
Nicole Clinkscales Crawfish tails at CHAR!
Chris Goodwin Three-flavor Red Snapper at Fusion.
Eliza Garcia Delicious veggies (everything) at Roy Dixon's Country Kitchen.
ShaWanda Jacome Crab, Shrimp and Andouille Gumbo at Char; Barbacoa tacos at Taqueria La Guadalupe.
Andrea Smart Chick Thomas Bobby Flay Burger at Sal & Mookie's!
Eliza Garcia Sweet potatoes fries, Shrimp & Scallop Skewers at The Islander!
Judykay Jefferson Que Sera's gumbo.
David Martin Buchanan Fried chicken sandwich with portabella fries at Julep.
Jezabelle von Jane Babalu Ahi tuna and slaw.
Jo B. Williams The fish tacos at Downtown Cafe are scrumptious.
Deanna Graves The fried dill pickle spears at Reed Pierces and the Comeback sauce at the Cherokee Inn. Oooh and Gouda grits at Julep. Great, now I'm hungry.
Carl Black Keifer's Restaurant's Pita Mozz.
Elaine Talbott Amerigo's caramel crunch cake.
Laurie West McCarthy Shrimp tempura rolls at Sakura Bana. Yum!
Thea Faulkner Anything at Koinonia. You just can't beat the atmosphere! It's like coming home.
Jackie Warren Tatum Guacamole at Babalu; vegetable quiche at Broad Street.
Donny-bruce Browning Any hot Pho on a spring Sunday morning at Saigon.
Sheila Holmes Bread pudding with whiskey sauce at Two Sisters!
Rachel Jarman Myers Babalu's guacamole!
Philip Gaines Bravo's lasagna!
See and add more at jfp.ms/localdish