Wednesday, March 27, 2013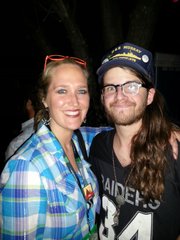 As some of you may know, I was fortunate to attend the South by Southwest Music Conference and Festival (SXSW) in Austin, Texas, during my spring break a couple of weeks ago.
I thoroughly enjoyed seeing the sights of Austin, hearing some great regional, national and international bands, and enjoying the Texas cuisine that is hard to come by east of the Mississippi.
It was awesome to listen to legendary record producer Clive Davis' interview and to the Foo Fighters' Dave Grohl's emotionally charged keynote speech. Running toward the microphone stand to ask Stevie Nicks and Depeche Mode a question at their Q&A interviews was a memorable experience, and listening to a panel of singers/songwriters (Rodney Crowell, Ron Sexsmith, Robyn Hitchcock, etc.) explain the influence of The Beatles for the past 50 years was fascinating. It was also fun to spot celebrities at SXSW enjoying the festival's highlights.
I was proud that Mississippi had great singers/songwriters and bands playing at this year's festival. Roscoe Bandana from the Gulf Coast, Cary Hudson from the Pine Belt (he opened for Texas singer/songwriter Alejandro Escovedo), Charlie Mars, The Weeks from Florence and Jackson (who opened for one of my favorite bands, The Polyphonic Spree), Como Mamas, Grady Champion, Water Liars and Dent May all performed. Mississippi digital record label This is American Music also hosted parties in support of its regional bands playing at the festival.
While I had a complete blast out in Austin and would love to move there one day (even though there are signs throughout the city that say, "Welcome to Austin. Please don't move here." or "Thanks for visiting Austin. Don't forget to leave."), I couldn't help but ask why more Mississippi bands didn't play at the festival this year. I mean, we are the birthplace of American music--we should have bands playing all over Austin, the Live Music Capital of the World.
I got to talking with friends back in Jackson, and they brought up that it costs an exorbitant amount of money--in gas, lodging, food, equipment--to get a band out to Austin, especially if it is on its last leg financially. Sadly, a lot of bands don't have the money to travel out of state and play for a crowd that doesn't know them; however, that doesn't mean that this situation can't be reconciled right here in Jackson.
I am a huge fan of the Crossroads Film Festival here in Jackson, and sadly, I've missed a few years due to playing gigs out of town. The festival always brings in a great mixture of indie films and music to our fair city. My wish is to see Crossroads become a mini-SXSW for Jackson. We have been blessed with great talent in this city, both musically and in filmmaking, as well as multiple venues that could showcase a variety of bands from the state.
Of course, I'm not saying that I don't want our state's talented musicians playing at the world's largest singers/songwriters festival in Austin. If it were up to me, I'd have every singer and band in Jackson and the state playing at every festival imaginable. I want local and state bands to get out there and get their music out to the masses instead of using social media as the only outlet to get heard by a national audience. As I heard someone say long ago: "Time is too short to waste the pretty."
You still have a couple of weeks to get in touch with one of the wonderful Crossroads committee members or volunteers to see if your band can play at one of the shows. For more information, visit crossroadsfilmfestival.com, and get your music out there!