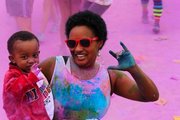 Each year, thousands of Hindus around the world celebrate Holi, a festival of colors commemorating the beginning of spring. After attending a Holi festival in Utah, friends and avid health enthusiasts Matt Ward, Scott Ward, John Malsatto and Scott Crandall wondered, 'What if we combine a celebration, a colorful atmosphere with running?'" Last year, they made that thought a reality.
The resulting event, the Color Me Rad 5K, will be in Jackson March 23 as part of the Zippity Doo Dah weekend. The concept is simple: Participants wear white or light clothing and hit the 3.1-mile route, where "color bombers" throw colored powder cornstarch at them as they run, walk, skip or whatever they choose to do. And it's not about competitiveness; Color Me Rad is all about people having a good time. In addition, every Color Me Rad 5K raises money, usually $15,000 to $30,000, for a local charity. As part of Zippity Doo Dah, the run is raising money for Blair E. Batson Children's Hospital in Jackson.
In its first year, 36 cities in the country hosted Color Me Rad. This year, that number has more than doubled to almost 100, and it includes cities in the U.S. and Canada. Each city that Color Me Rad visits this year requested the 5K to come, race director Scott Ward says. In Jackson, it was Jim Wilkirson of the Fondren Renaissance Foundation who sought to fill the city's lack of color.
Some might wonder about Color Me Rad's success in Jackson because it is a small town compared to some of the other stops. "Jackson is a smaller demographic from a lot of places; however, Jackson has gotten a better response than some of our bigger demographics," Ward says. Organizers anticipate somewhere between 7,000 and 10,000 participants here.
A similar 5K, simply called The Color Run, is making the rounds across the county and will be in Jackson in July, but Color Me Rad will be the first run of this kind in the city. Ward insists the experience is not quite the same, though. "(It's like) the difference between Skittles and chocolate M&Ms," Ward says. "Skittles have lots of color and are really vibrant. With a lot of other color-type runs, there's not a lot of color going around. We give out more color than other color-based runs." Each race uses about 5,000 pounds of the FDA-approved colored cornstarch.
One of the many goals of CMR is for participants to be soaked in color by the end of the race and have lots of fun getting that way. "We're not focused on competition or how fast you can go. We try to make it about fun," Director of Public Relations Gretchen Willard says. Willard, who initially got involved with the project as a runner, can't stress this enough.
"Let loose," she says. "Don't worry about getting your best time. Don't worry about being the best runner. Just come out and have fun with your friends."
People of all types recognize the potential fun of Color Me Rad. Roughly half of its runners have never done a 5K before, Ward says. The staff likes to call the event the gateway drug to fitness. "When you throw some fun in with it, it takes out the competitiveness and makes it easier for people who might be a little bit more shy," 
Ward says.
Themed 5Ks are getting more popular in general, though. "I think overall, people are becoming more active and more conscious of health. ... And people are getting tired of going out and doing the same old 5K," Ward says.
Willard agrees: "A lot of people do want to be fit. A lot of people want to get into running. But the themed events really give people a noncompetitive way to be involved in running or fitness or whatever type of activity they want to do."
The Color Me Rad 5K on March 23 starts at the Mississippi Veterans Memorial Stadium (2531 N. State St.). Register at colormerad.com before March 8 for $45 per person over 7 years old (those under 7 participate for free). After March 8, registration is $50 until March 20 or until the event sells out.
5K Fever
by Kathleen M. Mitchell
Funky 5Ks are all the rage these days, from Color Me Rad in a couple weeks to the Pride 5K last Saturday to the Warrior Dash in April.
The Warrior Dash boasts being the "world's largest obstacle race series," and it's no walk in the park. Race courses vary, but clock in just around a traditional 5K distance, which is 3.1 miles. The Jackson course, at Mississippi Off Road Adventures, is 3.34 miles.
Runners must dash through mud, crawl through trenches and under wires, climb over various obstacles, leap across flames, and more to make it to the finish line. Survivors earn the coveted Viking helmet medal and get to party down the rest of the afternoon, with live music and beer for all. Costumes are encouraged, with prizes on the line for Most Ridiculous Costume and Best Warrior Beard, in addition to the fastest finishers.
Warrior Dash Jackson is April 20 at Mississippi Off Road Adventures (118 Elton Road). For more information or to sign up for Warrior Dash, visit warriordash.com. Registration is $55 per person through March 20, then $60 until April 10, and then $75 until the final deadline of April 16. liveRIGHTnow is also offering a Warrior Dash training camp--to learn more, visit liverightnowonline.com.