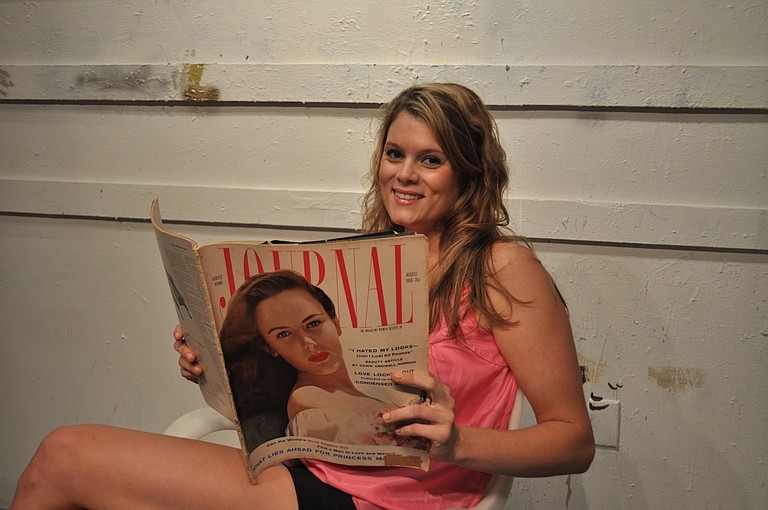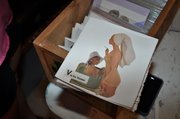 When Nell Knox took her wares to her first artist festival, Fondren Unwrapped in 2011, she wasn't confident. "I was like, I don't even know how to do an art festival, what am I doing? I've only been an artist for like three months, nobody's going to want this stuff. And people ate them up, people were hysterically laughing," she says.
The stuff she's referring to are the cards she makes under the brand name Lo-Fi Lux. The cards are collages made from '50s and '60s women's magazines compiled into humorous conglomerates that mix food, retro glamour and sometimes a warped sense of humor.
Knox's work with Lo-Fi Lux has expanded to include canvas collage pieces, two of which recently went for "very good" prices during an art show at the Mississippi Museum of Art.
Growing up, Knox didn't see herself as a creative person. Knox went to St. Andrew's Episcopal School before attending Millsaps College. While at Millsaps, she worked her artistic sensibilities by volunteering to design posters for her sorority's events. Even though she was using the collage aesthetic that would later become her signature, Knox didn't see her work as special.
"I never thought about that being my creative side," she says. She left Millsaps with a major in English and a minor in classics without taking a single art class.
She wouldn't start making art for fun until 2011. Knox was hanging out in her boyfriend William Goodman's Fondren art studio when she found some Seventeen magazines from the '60s that someone had given him.
"The ads were hilarious, and it was right around the time we had started (watching) 'Mad Men,'" she says. Something about watching the shows and looking through the old magazines struck a chord, and she began cutting out her favorite ad taglines and images with an X-Acto knife and making collages just for fun.
The cards juxtapose images such as housewives and processed food for a piece that mixes irony and satire with a knowing wink, or even a full-blown raspberry.
"It started out recreating this raunchy ad, like maybe it was an ad for tampons, and I took a picture of a hamburger or ground beef and added it in," Knox says. Unlike similarly vintage cards that veer on the inappropriate, she pulls the taglines straight from the magazines for an ironic twist. One card has a woman holding a large pair of tighty-whities with the headline, "I have the nicest husband."
Knox was inspired by the dichotomy of the heavily processed food and the feminine hygiene products so blatantly advertised in the magazines.
"You're eating all this sh*tty processed food, and there's ads for laxatives," she says. Other cards poke fun at the strict gender roles of the time. The line, "for a sensuous man," is paired with an image of a man on a lawnmower. A woman in a bra and pearl earrings clutches a huge bottle of schnapps with the tagline "profession: housewife."
While she is recontextualizing the magazine content with a modern eye, Knox isn't trying to be overtly political or feminist with her work. "I make fun of it, and I love it at the same time," she says. "I try and stay away from politics."
More recently, Knox has been trying her hand at collaging canvases. "I want to make something that's a little nicer--something that someone will want to hold onto," she says.
On canvas, the tone of her work changed. The two forms are brother and sister, but the cards are a darker, more twisted sister. While her canvas work still features Knox recontextualizing vintage imagery, the tone is sentimental, as opposed to snarky. In a piece called "Cold War Day Dream," a cutout of a girl perched on a typewriter stares up at a series of hot air balloons. Other work includes the repetition of floating clocks surrounded by negative space.
"Like the cards, it's got a dreamy, put-together feel, but it's more of a sweet sentiment as opposed to a raunchy one," Knox says. A bit of snark still remains, however: one canvas features a Xanax bottle overturned spilling out a combination of daisies and pills.
Knox plants to take Lo-Fi Lux to more art festivals and continue making cards, but has little desire to mass produce them or sell them online. "If Urban Outfitters wants to mass produce them, sure; they can pay me," she says.
Until then, check out Lemuria Books (4465 Interstate 55 N., Suite 202, 601-366-7619) for her greeting cards and Fondren Muse (3413 N. State St., 601-345-1155) for her canvas work. You can also see her art at lofilux.tumblr.com, and on her 
Instagram @lofilux.