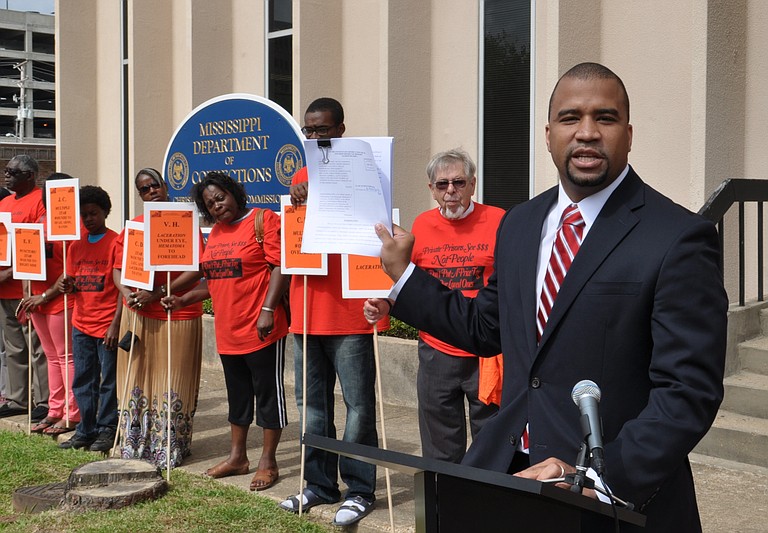 Victor Voe warned them: "Don't let them kill me. I be hearing them say they going to kill me. I am hearing voices that others don't hear."
That's what Voe told mental-health staff at East Mississippi Correction Facility eight days before a church group found him hanging in his solitary-confinement cell. The night before his death, he was overheard repeating that he felt unsafe and reading passages aloud from the Bible.
As troubling as the circumstances of Voe's death are, his is just one of dozens of stories of mental-health needs allegedly being ignored at EMCF, which houses the most seriously mentally ill prisoners in Mississippi. Some of the stories are detailed in a class-action lawsuit, filed in federal court May 30. Defendants' attorneys, from the Southern Poverty Law Center and the American Civil Liberties, describe the prison as "hyper-violent, grotesquely filthy and dangerous."
"The conduct that happens at East Mississippi Correctional Facility is a shock to the conscience of a decent civilized society," said Mississippi SPLC managing attorney Jody Owens at a press conference outside MDOC headquarters last week.
The 83-page complaint details claims that range from unsanitary conditions, such as perpetually broken toilets that result in people sometimes having to defecate in trash bags or food trays, to an "overt culture of violence, threats and fear."
That violence can take the form of correctional officers' excessive use of force to prisoner-on-prison attacks, including sexual assault. For example, William Easterwood was repeatedly raped at knifepoint using a 15-inch store-bought butcher knife within 24 hours of arriving at the prison in February 2012. The complaint states that Easterwood was raped four or five times while his attacker snorted cocaine to sustain his erection. Also, a rat infestation has caused some of the prisoners to adopt the disease-carrying vermin as pets, sometimes taking them on walks around the prison on leashes fashioned of paper clips and string; others cover their cells with sheets to try and keep the rodents out.
A lawsuit prompted the state to move severely mentally ill prisoners from the Mississippi State Penitentiary at Parchman to EMCF in Meridian in 2009. Under the consent decree that resulted from the suit, mental-health professionals believed that EMCF would be a better facility than Parchman for providing individualized treatment and care. Two years later, MDOC has made no progress in caring for its mentally ill prisoners. During a monitoring review, a mental-health expert found mental care at EMCF "entirely inadequate." Since July 2012, MDOC has contracted with Jackson-based Health Assurance LLC to provide health care at EMCF as well as Walnut Grove Youth Correctional Facility and the Marshall County Correctional Facility in Holly Springs.
Under the contract, Health Assurance would provide dental and optometric care, drug testing and pharmacy services as well as mental-health care. Health Assurance's agreement with MDOC also includes a list of medical staff positions and the pay rate per employee. It calls for a total of seven mental-health professionals and lists hourly rates for each including a director ($22 per hour), three social workers ($15-$19 per hour) and three counselors ($12 per hour). In total, MDOC has issued $23 million in payments to Health Assurance since 2003.
In April 2012, a federal judge admonished MDOC and Health Assurance "for being deliberately indifferent to the needs of children and youth incarcerated" at Walnut Grove. This indifference contributed to "a picture of such horror as should be unrealized anywhere in the world," the complaint states. Two weeks after the scathing critique, MDOC awarded Health Assurance the contract for EMCF.
Physicians Carl Reddix and Michael Reddix own the company, state records show. Carl Reddix served on the Mississippi Board of Health for a short time. The records also indicate Melvin Priester Sr., a Hinds County judge, is the registered agent for company. Messages left for the Reddixes at Health Assurance's corporate office in Jackson were not returned by Monday afternoon.
Only MDOC and its officials are named as defendants in the suit. Neither Health Assurance nor the private firm that manages the 1,500-bed prison, Utah-based Management & Training Corp., is named as a defendant.
Grace Fisher, spokeswoman for MDOC, told the Jackson Free Press the agency would respond to the allegations in court.
The class-action lawsuit filed against MDOC coincided with the third anniversary of a disturbance at the Walnut Grove Youth Correctional Facility. A federal investigation into a culture of corruption and violence, including guards' sexual misconduct toward the boys housed at Walnut Grove, resulted in a 2012 consent decree. Formerly run by Florida-based private prison contractor GEO Group, MTC took over that facility in 2012.
MTC also operates Marshall County Correction Facility in Holly Springs and, starting July 1, will hold the contract for Wilkinson County Correctional Facility in Woodville.
Issa Arnita, a spokesman for MTC, said because the company is not named as defendant in the class-action suit, commenting on the allegations would be improper.