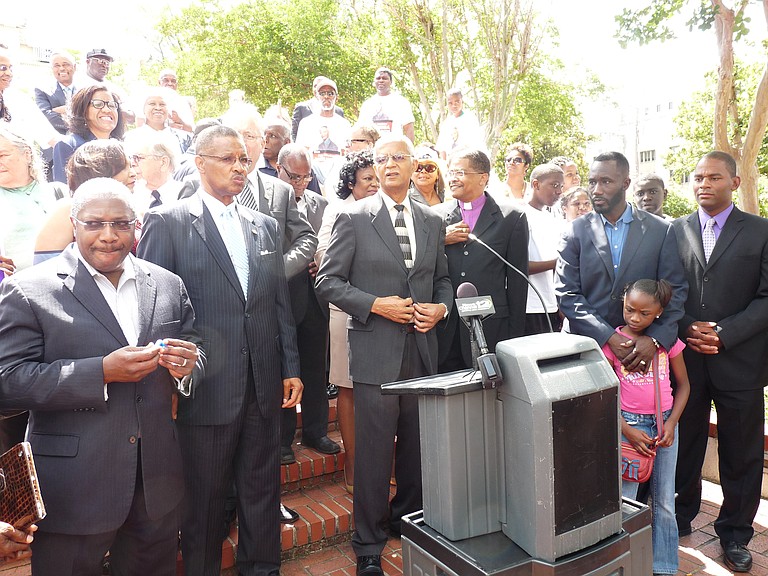 Originally published June 3, 2013 at 4:57 p.m., updated June 3, 2013 at 4:59 p.m.
Chokwe Lumumba brushed off the notion that a rumored write-in campaign for fellow Jackson Councilman Quentin Whitwell would derail his plans to become the city's next mayor in Tuesday's general election, but he still wants every man and woman in Jackson to vote.
The Democratic nominee held a press conference May 29. Flanked by practically every elected Democrat in the city, Lumumba asked Jackson voters to support him once more. "I want every citizen in Jackson to vote," Lumumba said. "If your dog is registered to vote, bring him, too."
The civil-rights leader, community organizer and Jackson city councilman shared the podium with Council President Tony Yarber, Tax Assessor Eddie Fair, and state Sens. Hillman Frazier, Sollie Norwood, John Horhn and David Blount. Presumptive new council members De'Keither Stamps and Melvin Priester Jr., Democratic Party chairman Ricky Cole, former mayoral candidate Regina Quinn and Lumumba's pastor, Rev. Jeff Stallworth, were there as well.
Yarber, who hadn't hit the campaign stump for any candidate before last Wednesday, challenged the media cameras to take a look at the crowd assembled near the fountain on the front steps of City Hall.
"This is what a unified Jackson looks like," he said. "This is what one city together behind one man looks like."
Lumumba has been on a unity tour since his win in the Democratic run-off May 21, when he beat challenger Jonathan Lee by more than 3,000 votes that were largely predicated along racial lines.
Quinn was the last to take the podium before Lumumba, and said she believes Lumumba will be a mayor for all of Jackson, which prompted one campaign worker to respond, "One city! One destiny!"
All of Jackson may not be ready for that just yet, though.
Chain emails circulated last week promoting a "secret" write-in campaign for Ward 1 Councilman Whitwell, who denied knowledge of the campaign and said he has no desire to be mayor--at least not right now.
The threat of a voter surge against him didn't keep Lumumba from pushing for the citizens of Jackson to get out and vote in the General Election where he faces three independent candidates--Francis Smith, Cornelius Griggs and Richard "Chip" Williams--on June 4. The Republicans did not field a candidate in the race.
Following Mayor Harvey Johnson Jr.'s final State of the City address the same day, Lumumba said he has been pondering how he'll fill some crucial municipal positions such as police chief.
"I've been thinking about all of those positions a lot," Lumumba said. "But I haven't officially interviewed anyone. I'm not going to start doing anything mayoral until I am officially elected mayor."
The inauguration of Jackson's next mayor is set for July 1.