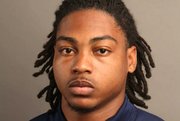 On July 15, the Southwestern Athletic Conference held its media day in Birmingham, Ala. Like most Football Championship Series conferences, the SWAC Media Day was not given the treatment the SEC is receiving this week.
Unless you followed the SWAC on social media sites or on SWAC.org, you might have missed that the conference even had a media day. SWAC announced the Preseason Offensive and Defensive Players of the Year and first and second team Preseason All-SWAC during the media day.
SWAC named Jackson State defensive back Qua Cox, a redshirt senior out of Tuskegee, Ala., Preseason SWAC Defensive Player of the Year, and SWAC named Arkansas at Pine Bluff quarterback Ben Anderson Preseason SWAC Offensive Player of the Year.
Cox led the SWAC for the second consecutive season in interceptions. He finished last season with five picks, eight pass break-ups and 13 passes defended.
The defensive back also added 50 tackles, 36 solo tackles, five tackles for a loss and two sacks. JSU's defense led the SWAC last season with 43 sacks, and Cox was named All-SWAC First Team at the end of the regular season. He received defensive Player of the Week honors in October last season.
JSU finished last season with five straight wins to win the Eastern Division and play in the SWAC Championship Game. Cox appears on several preseason watch lists including College Football Performance Awards and The Sports Network.
Cox is on the Buck Buchanan Award watch list—an award given to the best defensive player in FBS. He is also a TSN FCS preseason All-American and on the Phil Steele's College Football 2013 Preseason FCS All-America Team.
Joining Cox on the first team defense of the All-SWAC Preseason Team is defensive lineman Tedderick Terrell. The Tigers placed five players on the second team All-SWAC Preseason Team.
Running backs Tommy Gooden and Rakeem Sims join offensive lineman Jordan Arthur on the second-team offensive team. Linebacker Todd Wilcher and defensive back Cameron Loeffler are on the second team defensive team.
The league's football head coaches, sports information directors and select members of the media, Offensive & Defensive Preseason Players of the Year, First & Second Team All-SWAC Preseason Teams predicted the order of finish for the 2013 season in a vote.
The vote put Jackson State second in the Eastern Conference, just behind Alabama State. Fellow Mississippi SWAC teams Mississippi Valley State and Alcorn State were selected to finish fourth and fifth, respectively, in the Eastern Division.
The Delta Devils placed defensive linemen Robert Simpson and defensive back Kevin Eugene on the first team defense and wide receiver Julian Stafford and offensive lineman Antonio Griggs on the second team offense. The Braves placed defensive back Jamison Knox on the second team defensive team.
Jackson State opens the 2013 football season on the road against Tulane August 29 at 7 p.m.