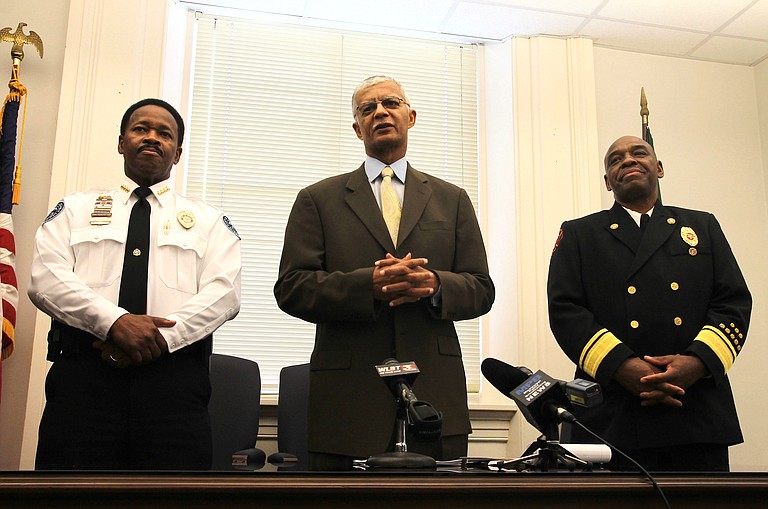 Originally published July 19, 2013 at 1:38 p.m., updated July 19, 2013 at 2:13 p.m.
Thursday, in front of a shoulder-to-shoulder crowd in the council chambers that spilled out into the hallway, the Jackson City Council unanimously confirmed Mayor Chokwe Lumumba's nominees for police and fire chief, Lindsey Horton and Willie Owens, respectivelyon July 18.
The mayor presented both men to the city council at a public hearing prior to the vote, and the nominees answered questions from council members. Fireworks were few and far between, but there were some.
After Lumumba's brief introduction, Councilman Quentin Whitwell, Ward 1, launched right into Owens with the question on everyone's mind. Whitwell asked Owens about a suspension he served in the early 1990's while police investigated accusations about a stolen vehicle (he allegedly stole).
Owens stated plainly, "I was never convicted of anything." He did not elaborate further, nor did anyone press him to do so.
Among his priorities, Owens listed his desire to create a top-notch training facility for the Jackson Fire Department, and he said JFD has money in its $21 million-plus budget to hire 80 new firefighters by this time next year.
Next up was Horton, who read a prepared statement that brought the council and the overflow audience to its feet. After Horton talked about turning JPD into an arm of the community, even Councilwoman Margaret Barrett-Simon, Ward 7, and Councilman Tony Yarber, Ward 6, joined in the standing ovation.
"When I think about what prevents crime," Horton said. "I first think about the schools, then the churches, then the neighborhood and youth programs. When it gets to the police department, which should be at the end of the list, that means the other things that should stop crime have broken down. But we're going to be there to do our job."
The council then voted unanimously to confirm the nominees, both of whom had been serving in an interim basis since the first of July, when Lumumba took office. The mayor has indicated that the two men have wide support among the firefighters and policemen of Jackson.