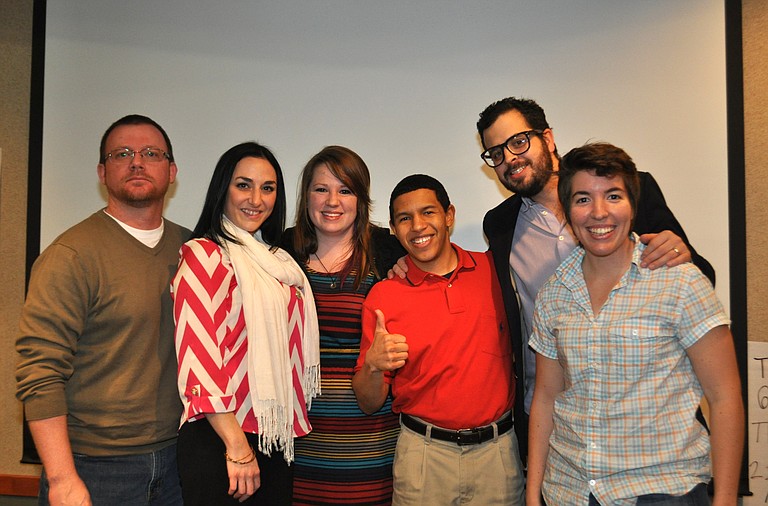 Wednesday, January 23, 2013
Last Friday afternoon, all Craig Kinsley had was an idea for a new mobile app. By Sunday night, the idea had a six-person development team, a Facebook page, a mockup website and a first-place prize at Startup Weekend Jackson.
The Else Business School at Millsaps College hosted the 54-hour event, which brought more than 70 entrepreneurs together to pitch their new business ideas and develop the best of the bunch.
Startup Weekend, an international organization that sets up events around the globe throughout the year. Innovate Mississippi organized the weekend, and the Jackson Free Press was a sponsor.
"(Startup Weekend) has really pushed for local, grass-roots efforts in creating businesses and pushing for entrepreneurial opportunities," Tiffany Langlinais, event organizer with Innovate Mississippi told the Jackson Free Press.
Langlinais and organizers gave each participant a chance to pitch their ideas Friday night. Afterward, participants chose their three favorite ideas. The top 10 vote getters then had the rest of the weekend to develop their ideas along with any other participants who wanted to join their team.
Kinsley and his team presented AudiTour, an idea for a mobile app that provides audio tours of locations all around the city, based on the listener's GPS location. Kinsley, a Jackson native who recently moved back when his mother was diagnosed with cancer, told the Jackson Free Press that he wasn't surprised Auditour won. He said he has received great feedback on the idea for about a year.
"I used to live in San Francisco. It's the hotbed of startups," Kinsley said. "This (idea) was one of these things where all of my friends that were in tech were like, 'That's amazing, (but) I'm busy.'"
The AudiTour team, made up of Valerie Blakey, John Dolan, Bryan Tenort, Mikel Mangipano and Chelsea Thomas, all said they'd like to continue to work on the company in the future.
Charles "Bubba" Weir, vice president for innovation resources development at Innovate Mississippi, said Sunday that a few companies may come out of the weekend, but participants had already achieved the real goal of Startup Weekend: face-to-face networking with other creative entrepreneurs.
"That's what it's all about," Weir said.
Marion Desmazieres, a former Startup Weekend New York winner, travels and leads Startup Weekend events around the world. She said Startup Weekend does help launch successful businesses. About 11 percent of Startup Weekend top 10 ideas become businesses that continue past the first year, and some of those have become quite successful, including FoodSpotting and Zaarly.com.
The second-place prize for the weekend went to The Closet Cloud. Will Trapp, a University of Mississippi student, came up with the idea for an online consignment-style clothes shop. By Sunday night, Trapp and his team--Mississippi State students Ross Waycaster and Darrius Taylor and Ole Miss alumnus Russell Adams--had a website, theclosetcloud.com. Though it's not yet a fully functioning site, their pitch impressed the judges.
"I'm ready to upload my closet immediately," said Nathan McNeill, Startup Weekend judge and chief strategy officer at Bomgar Corp.
What sets The Closet Cloud apart from online shops like eBay, Trapp said, is that it will allow sellers to show off their entire closet, including the stuff that's not for sale, and allow users to follow certain sellers, "like" their posts and even make offers for items not listed as for sale.
While most of the presentations featured mobile apps, websites or marketing companies, Home Fuel Station took third place overall, and participants voted its product the "Most Likely to Raise Capital" award.
Natural gas-powered vehicles, or NGVs, are part of a fast-growing market in the United States, idea presenter Kelly Warnock said. Honda already has the Civic GX, a car that runs on compressed natural gas, on the U.S. market. Other major manufacturers, including Ford and Toyota, plan to introduce natural gas-powered vehicles in the U.S. later this year, Home Fuel Station team member Nathan Cox said.
Drivers are having trouble finding fueling stations for the cars, though, Warnock said. The Alternative Fuels Data Center at the U.S. Department of Energy reports only 558 such stations in the country and just one in Mississippi: NGV Solutions on Lakeland Drive in Flowood.
Warnock's idea is to manufacture and sell a device that would allow NGV owners to fill up their tanks at home.
About 62 million U.S. homes have natural gas heat, according to the American Gas Association. That's about 56 percent of U.S. households. If Home Fuel Station is successful, its device will allow customers to use their home natural gas connection to fuel their vehicles while they sleep.
"You drive in your garage, you plug it in, you go in the house, you're done," Warnock said. "In the morning, you unplug it, and you've filled your tank."
The advantages come in both dollars saved and cleaner air, Warnock said. When compared to the equivalent in gasoline, natural gas is much cheaper. About 125 cubic feet of natural gas can equal the fuel capabilities of gallon of gasoline.
The U.S. Energy Information Administration reports that from May through October 2012, the latest that data is available, the average cost of 125 cubic feet of natural gas for residential consumers was $1.76.
"We all would love to be able to fuel our car for $1.50 a gallon. We've got a product that not only lets you do that, but it lets you drive the car with lower greenhouse emissions," Warnock said.
Comment at www.jfp.ms. Email Jacob D. Fuller at [email protected]
Correction: A previous version of this story stated that Ross Waycaster and Darrius Taylor were Ole Miss students. Both Waycaster and Taylor attend Mississippi State.