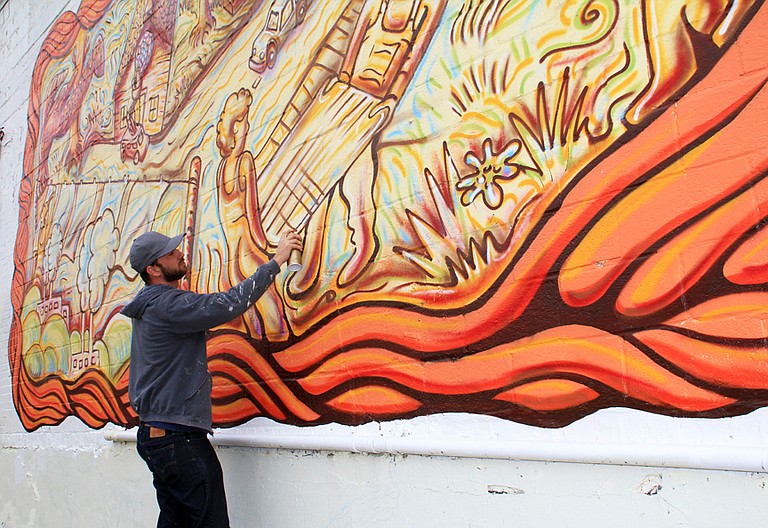 Wednesday, January 16, 2013
When Scott Allen was a kid, his parents let him draw and paint on a stretch of wall in his home. These days, Allen, 33, is still painting on walls, but he has a bit more space to work with. This week, he unveils an outdoor mural nearly 40 feet long, the first of a new crop of public art funded by a grant aimed at bringing art to Midtown.
The grant, called an "Our Town" grant, requires the artists it funds to collaborate with the community that will enjoy the finished piece, which Allen found different than the way he normally works. "I've done a few (murals), but never one in this way, having to deal with so many people," he says. "That was tricky to navigate. We started out with some open discussion meetings with community leaders and Midtown people and school people and then started doing revisions through email."
The completed mural features scenes of everyday life in Midtown, all surrounding a large tree of life motif.
"The whole concept was kind of a balance between the creative economy that's there and then the people that live and work there outside of that. I wanted a balance between people working and then people living," Allen says.
One corner features hills and factories as homage to the neighborhood's old nickname of Factory Hills. Another scene shows a community garden, another the bridge that allows Midtown kids to get to Brown Elementary School without crossing railroad tracks. The mural features artists, welders, children, parents and others.
Although Allen has worked on more traditionally sized art in the past, he finds himself drawn more to larger-scale public works. "I guess when you make a painting and you just sell it to an individual, you don't know what they do with it. Maybe they put it in a basement," he says. "I think there is something better about doing public art that you share with the community, especially hopefully in a positive way."
He feels the art he does gives him another outlet to share his skills with Jackson besides his day job. "I feel personally that I need to contribute to my community by doing public art," Allen says. "I own a sign company as well, and that's a way for me to provide a basic service, things people need. Doing public art, maybe people don't need it, but it's a way to share something with people that is free. It beautifies the neighborhood and creates a sense of pride. I think by involving the community, too, it gives them a sense of ownership since they all had their hand in there."
Allen's mural is just the first of several creative, artistic and entrepreneurship initiatives funded by the National Endowment for the Arts' "Our Town" grant. All the projects receiving money from the grant will take place in Midtown and focus on growing the Midtown Arts District.
"I could go on and on about how important art is. It's the only thing that makes your town unique, you know, culture," Allen says.
"Without that, it's just Applebee's and strip malls."
UPDATE: The unveiling has been postponed due to inclement weather. Check here or follow @JxnFreePress on Twitter for rescheduling updates.
The free mural unveiling has been rescheduled for Feb. 28 at 3:30 p.m. at 
126 Keener Ave. For more information on the Our Town grant projects, call Mary Elizabeth Evans at 601-354-5373 or email [email protected]