Wednesday, January 16, 2013
JACKSON — The Mississippi Senate had just one piece of legislation on its calendar this afternoon, a bill that would establish charter schools. After about three hours of question-and-answer and debate with House Education Committee Chairman Sen. Gray Tollison, R-Oxford, the measure passed 31-17.
After the vote, Lt. Gov. Tate Reeves, who supports setting up charter schools, said the bill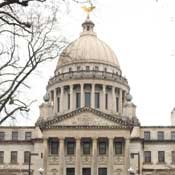 is a part of a large number of measures the Legislature started working on last year toward transforming education in Mississippi.
Sen. David Blount, D-Jackson, said because a small number of charter schools would serve a small number of students charter schools do not represent a radical overhaul of public school education in the state.
Blount also unsuccessfully tried to amend the bill to prohibit charter schools and other educational services organizations that contract with the state from making political donations to lawmakers. Blount along with Sen. John Horhn and Sen. Hillman Frazier, both Democrats from Jackson, all voted no on the bill.
Sen. Hob Bryan, D-Amory, took to the podium several times to express his concerns about charter schools.
"What's this mania about charter schools? It's as though it's going to solve every problem of mankind," Bryan said.
Next, the bill will be transferred to the House. A similar charter school bill died last year in the House Education Committee, but Speaker Philip Gunn rearranged committee members to make passage of a charter school bill more likely this time around.